Mark as New

Bookmark

Subscribe

Mute
Re: Error 00230 Service layer ...blah blah
OK, I wasn't able to glean anything from similar posts. And the Error Help page didn't help.
The Share As > Web Map Analyzer indicates the Graphics Layer with the issue.
But, that is associated with the Text, "Atlantic Ocean" (see below)
What does that have to do with a "Service layer"..? And, does a Graphics Layer really have a projection..?
Somewhere it suggest clearing the cache ...if so, I wouldn't know which option (see below)
Yes, it's true that the actual map layers are in a Puerto Rican coordinate system, and the Current Map View is in WGS 84 Web Mercator (auxiliary). Is that the problem? If so, I can fix it, but the Error message doesn't seem to indicate that, so that's why I'm confused
Any ideas what's going on here?
Thanks,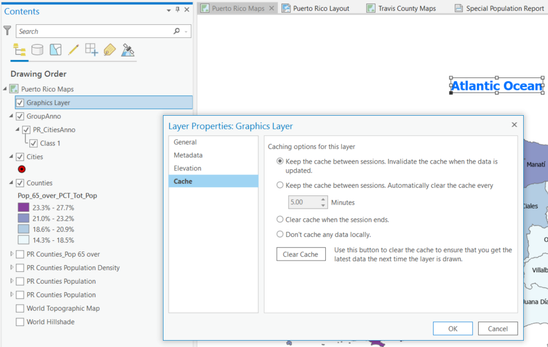 1 Solution
Mark as New

Bookmark

Subscribe

Mute
OK, well, after a separate response from Esri Support, the answers are:
1. A Graphic Layer will take on the coordinate system of the Map Frame's coordinate system at that instance
2. The Graphic Layer's coordinate system CANNOT be changed
So, the workarounds are to either
Delete and re-insert with the Map Frame coordinate system set appropriately
Reset the Map Frame coordinate system (and potentially re-project other Layers) to match that of the Graphics Layer
Convert Graphics to Features, then potentially re-project
2 Replies
Mark as New

Bookmark

Subscribe

Mute
Here's the actual Error (00230).
And like say above, the Error Options [...] and associated Help Doc don't give me much to go on
Thanks for any help out there!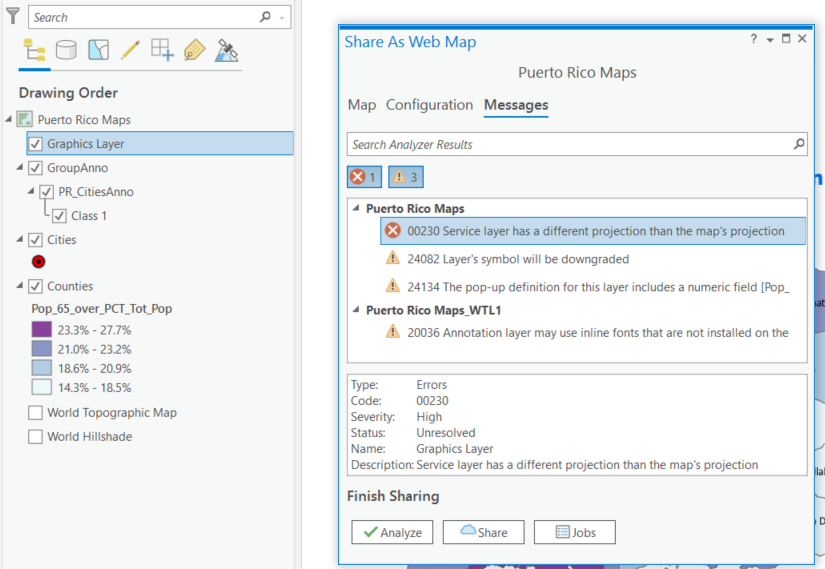 Mark as New

Bookmark

Subscribe

Mute
OK, well, after a separate response from Esri Support, the answers are:
1. A Graphic Layer will take on the coordinate system of the Map Frame's coordinate system at that instance
2. The Graphic Layer's coordinate system CANNOT be changed
So, the workarounds are to either
Delete and re-insert with the Map Frame coordinate system set appropriately
Reset the Map Frame coordinate system (and potentially re-project other Layers) to match that of the Graphics Layer
Convert Graphics to Features, then potentially re-project