New Contributor
Mark as New

Bookmark

Subscribe

Mute
Hello all,
I have a question regarding Highway Shields and the scaling marker to fit text option in ArcMap that I don't see in Arc Pro.
We created our Road Annotation in ArcMap and when we bring in the Road Annotation to Arc Pro it disavows our previous setting of applying "Scale Marker to Fit Text", increasing the size of the Shields well beyond the size we had utilized in our maps in ArcMap. And now there's tremendous overlap as a result.
Hence all our highway shields are not Scaled as they were in ArcMap. Is there a simple fix for this? I was looking at settings but didn't find a scale to fit text option. I saw several scale options but not what ArcMap actually did. The fit to width, fit to height, fit to both did nothing to reduce the shield size to fit to the text.
We do shields across multiple states and they vary by county, state, federal etc. It's difficult to set a standard Size for the shield as the text varies by length and you'd have overlap.
If you are able or know someone who has an answer please let me know.
Thank you for any assistance you can provide.
Brad Fisher
2 Replies

Esri Contributor
Mark as New

Bookmark

Subscribe

Mute
Yes the option for this is on the Point symbol callout and is named scale. Specifically you'd want the "Width and height" option: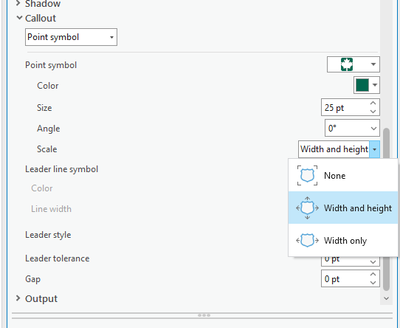 However you'll find it only grows the callout it doesn't shrink it. This is an oversight from how this worked in ArcMap and we'll look into satisfying your case.
New Contributor
Mark as New

Bookmark

Subscribe

Mute
Sounds good. We could definitely use scaling down... gotta fit lots of text around those shields. We want to minimize the size not maximize it.