New Contributor
Mark as New

Bookmark

Subscribe

Mute
Hello, I am attempting to use the Create Random Points tool in ArcGIS Pro 3.0.0, but am having issues with the minimum allowed distance. I am attempting to create 40 points spaced 5 km apart along a river network, which is composed of many small segments (like a branched structure) that I have dissolved together. The attribute table for the dissolved river network feature contains only one entry.
So, the "constraining feature class" is the dissolved river network, the "number of points" is 40 (value, not field), and the "minimum allowed distance" is 5 kilometers (linear unit, not field). Beyond that, everything is left at a default. When I run the tool, unfortunately it does not respect the minimum allowed distance, neither in terms of river-distance or absolute-distance. I have run the tool many times, but it still places points directly next to each other on occasion.
I am aware of the below information found on the ESRI help page for the Create Random Points tool, found here:
"Random points may be within the minimum allowed distance if they were generated inside or along different constraining feature parts."
I suspect that the tool is still considering each segment of the river network as a separate feature parts, even though I have dissolved them. This is because if I go back and reference the original network, it doesn't place more than one point per line feature, and nearby points occur close to the transition of one segment to another.
Example attached below, displaying two points created using the tool. The points were generated using the dissolved river network, NOT the original river network. The original river network is displayed for reference, one segment selected. Despite the minimum allowed distance specified at 5 km, the points are less than 500 m apart.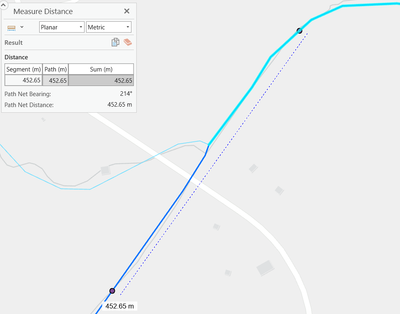 Interestingly, if I specify an absurdly large minimum allowed distance, such as 10,000 kilometers, it only generates 1 point. If the explanation above were correct, wouldn't it generate one point per segment?
I have tried using a narrow buffer of the river network instead of the river network itself, but this yielded the same result. I have also ensured that the tool is using the correct coordinate system, and I have tried restarting the application, to no avail.
Any insight into how I can make the minimum allowed distance function properly would be greatly appreciated. Alternatively, if there is a way to force ArcGIS to "forget" the original boundaries of the river segments, that may also work. Suggestions of other tools the could randomly generate points in this manner would also be helpful.
Thanks you in advance,
Casey Davis.
1 Solution

by
DuncanHornby

MVP Notable Contributor
Mark as New

Bookmark

Subscribe

Mute
The ArcMap tool RivEX can sample the river network in a fixed distance or randomly, check the help file out here. It is designed to over the branching issue you are attempt to deal with.
5 Replies