ArcGIS Pro Roadmap - July 2022
ArcGIS Pro 3.0 was released on June 23, 2022. For information on the latest updates, please see the ArcGIS Pro 3.0 Release Notes.
Our goal is to build the best GIS software available. This ArcGIS Pro Roadmap* gives you a sneak peek of what we're focusing on for the near, mid and long-term of ArcGIS Pro development. This gives our current estimate of when each capability will be released. Some new capabilities will be made available for testing through Early Adopters Programs prior to a release. We'll revise the roadmap throughout the year to ensure it reflects the latest information.
What would you like to see next in ArcGIS Pro? Share your ideas in the ArcGIS Pro Idea Exchange. See Ideas in ArcGIS Pro 3.0 for customer ideas that were included in this release.
* Capabilities on this roadmap are tentative and subject to change, delay, or cancellation. The continued development or release of a capability is at the sole discretion of Esri.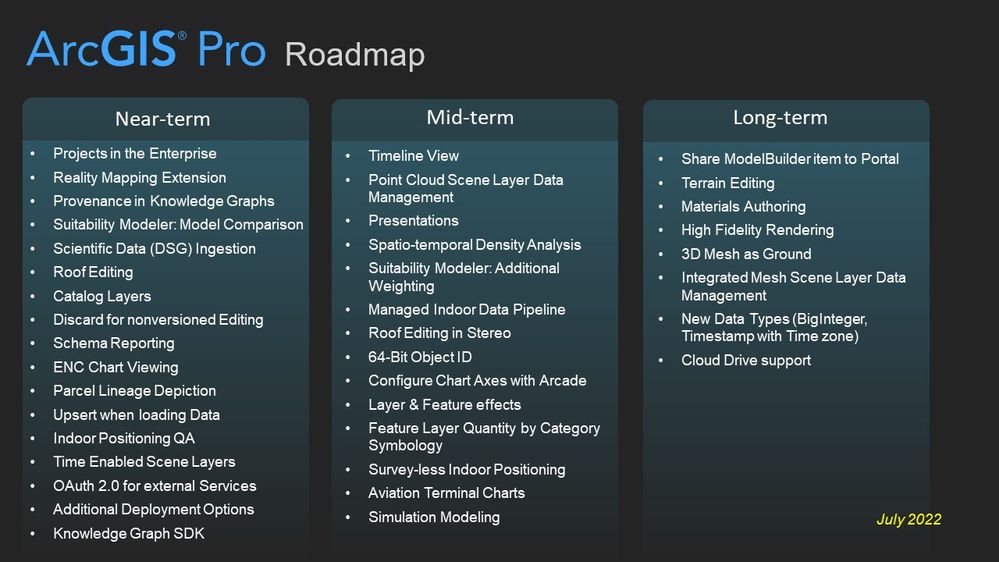 Near-Term (next release or two)

Projects in the Enterprise - Use your Portal to share projects, collaborate and work more effectively with others in your organization.
Reality Mapping Extension - Capture and analyze 3D data from aerial, drone, and ground-based sensors in an automated end-to-end process. Support for professional photogrammetry workflows improved precision, speed. Transform imagery and lidar data into point clouds, phototextured 3D meshes, and true orthos.
Provenance in Knowledge Graphs - Support provenance for property values of Entities in Knowledge Graphs.
Suitability Modeler: Model Comparison – Explores the output suitability and locate maps between different weighting methods or various scenarios. The comparisons will identify where the various maps are similar and where they differ and will quantify the results.
­Scientific Data (DSG) Ingestion– Improve the performance and scalability of multidimensional features such as Discrete Sampling Geometries (DSG) ingest from netCDF file.
Roof Editing - New Roof tools and functionality to be supported only on Local and Global scenes.
Catalog Layers - Working with collections of layers within ArcGIS.
Discard for non-versioned editing – support of workflows similar to those implemented in ArcMap for editing non-versioned data. When implemented, edits against non-versioned data will not be written directly to the database, giving the user the ability to discard edits before committing.
Schema Reporting – tools to generate data model reports and data dictionaries (similar to the ArcMap X-Ray add-in)
ENC Chart Viewing - View Electronic Navigational Charts from formats such as S-57 as layers and change chart display settings.
Parcel Lineage Depiction – depict the parent-child relationship between parcels to support 'chain of title' research.
Upsert when loading data - The Append tool will support an "upsert" operation, which refers to updating existing records with new attribute information or geometry and inserting new records, all within the same operation.
Indoor Positioning QA - tools that help our users to increase the IPS resolution. They will be able to analyze their IPS deployments and to improve the bluedot experience.
Time Enabled Scene Layers – Support time for feature-based Scene Layers like 3D Objects, Points and Buildings.
OAuth 2.0 for external services- Support connecting to external services using OAuth 2.0, like cloud stores and OGC services.
Additional Deployment Options - Make ArcGIS Pro easier to deploy for IT admins/GIS coordinators by adding additional options that can be configured during deployment.
Knowledge Graph SDK- .NET SDK to customize and enhance Knowledge Graphs.
Mid-term (next two or three releases)

Timeline View - Visualize your data along a temporal axis. Timelines complement the spatial view of your data on the map by showing where in time your data falls. By plotting your data along a timeline, you can understand the temporal order of your data and discern temporal trends that emerge.
Point Cloud Scene Layer Data Management - Add, Delete, Change very large point cloud services based on references data sources.
Presentations - Create and share a collection of map and scene views along with titles, graphics, and descriptive text as presentations.
Spatio-temporal Density Analysis - Kernel Density will be enhanced to calculate density for observations that changes over space and time.
Suitability Modeler: Additional Weighting - Additional suitability modeling weighting methods such as Pairwise, Generalized Linear regression, Logistic regression, etc. to provide more objective approaches.
Managed Indoor Data Pipeline - Managed indoor data pipelines will consist of a suite of new capabilities aimed at organizations desiring a coordinated control process for managing recurring change to floor plans and other indoor information provided by designers and contractors, or in-house operations teams when new construction, remodeling, or other activities alter source information that must subsequently be reflected in the indoor system of record/engagement.
Roof Editing in Stereo – Tools specifically designed to create and edit pitches, ridge lines, gables and other roof specific features.
64-Bit ObjectID - Enhancing ArcGIS platform ability to work with very large datasets.
Configure chart axes with Arcade expressions - Write an Arcade expression to use a virtual field with on-the-fly calculated values displayed on chart axes.
Layer & Feature effects - Apply visual effects such as blur and drop shadow to layers or a subset of features for emphasis.
Feature Layer Quantity by Category Symbology - Support for "Quantity by category" symbology from ArcMap, including its legend capabilities. This symbology type is a specific combination of unique value symbology and a secondary symbology type (color or graduated symbol variation).
Survey-less Indoor Positioning – Tools to enable indoor positioning without the need of performing an on-site IPS survey.
Aviation terminal charts – Aviation terminal charts.
Simulation Modeling - Simulate complex phenomena like airflow and fluid dynamics in 3D/4D based on physical models.
Long-term (in the plan but not assigned to a release at this point)

Share ModelBuilder item to portal - Author a ModelBuilder model in Pro and share it as an item to your portal. You will be able to run and view the model from a browser and download and use the item in Pro projects.
Terrain Editing - Edit features participating in a terrain dataset. Add, remove and replace data referenced by terrains.
Materials Authoring – Author properties on surfaces to support reflectivity, roughness, and other properties for more photo-realistic visualizations in 3D scenes.
High Fidelity Rendering - A series of display improvements to support more photo-realistic 3D scene visualizations.
3D Mesh as Ground - The ability to use integrated mesh or TIN information as a true triangulated ground surface that would be more precise than our raster surfaces and allow structures such as tunnels and mines.
Integrated Mesh Scene Layer Data Management - Add, Delete, Change very large integrated mesh services based on SLPK.
New Data Types: BigInteger, Timestamp with Time zone - Add support for new data types required for critical user workflows related to time, observation data etc.
Cloud Drive support- Support storage of ArcGIS Pro files and data in common cloud drives like OneDrive and Google Drive.