New Contributor III
Mark as New

Bookmark

Subscribe

Mute
My CEO is my only field collector so my workflow is a bit backwards compared to most.
Boss asked me to update colors on symbology for irrigation heads. He needed this to happen ASAP, while he was in the field and collecting. He had already collected a few points so my options were limited to telling him to stop collecting, download the map, change the symbols and reupload the group or change the symbology in ArcGIS Online. I ran into issues with online and chose to go the former route and have it good for now. I'll need to come up with a better workflow for this.
1: I figured out how to make changes in Map Viewer(new) but the fill option is still greyed out. Is there another method? I also tried looking in field maps and in the content settings for the group layer.
2: See pic 1 and pic 2. Pic 1 shows me successfully changing a symbol's fill that I uploaded from Pro.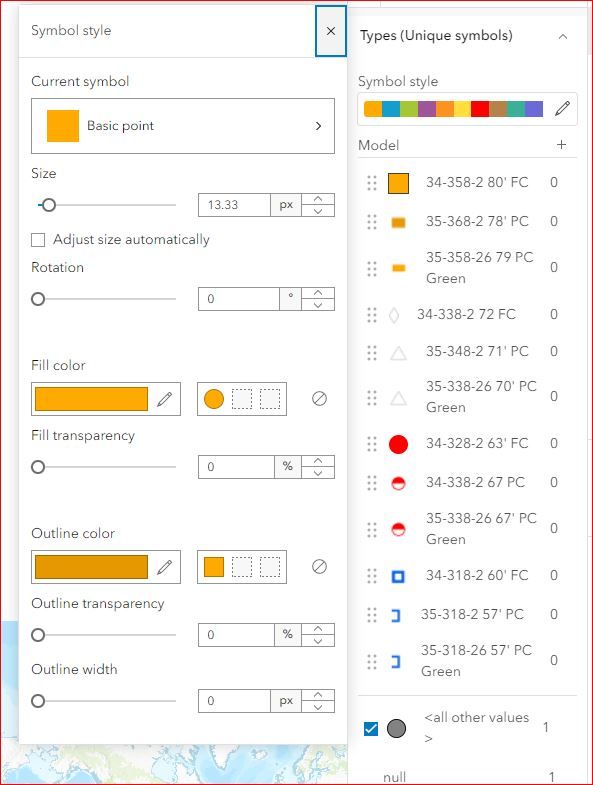 The second picture is this option greyed out.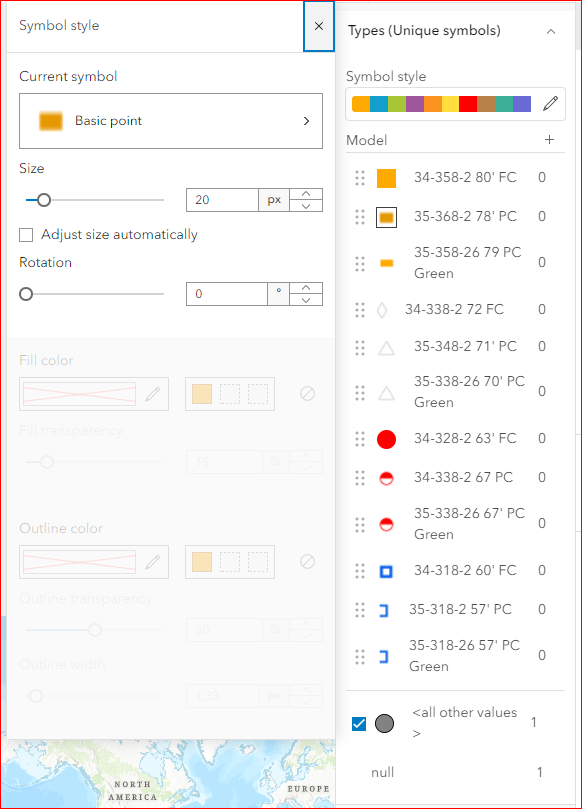 I've noticed that I can change the fill for symbols chosen in the "arcgis 2d" symbology galley (not from esri AM/FM Sewer and Water fonts which I need). If this is the case, it harshly limits my options and makes emulating someone else's (cad architect) symbology impossible.
I did find a post with a similar issue from 2017 but the "map viewer classic, symbology as image, edit transparency and color in another program" method isn't a solution as doing this process for 10 point features will take longer than re-uploading the layer.
1 Solution
New Contributor III
Mark as New

Bookmark

Subscribe

Mute
Solved
I was using shape markers in symbology in Pro. There's a limited number of Vector markers that you can use in Pro to allow for Map Viewer editing, but font markers like the ones found in "ESRI AM/FM Water" are converted to images when a feature layer is shared online.
There is a workaround:
You can use "web styles" to upload these font markers as vectors. Be careful! this 2020 documentation leaves out the fact that you will need to create a group online with the "shared update" group designation, which can only be selected when creating a new group.
7 Replies