New Contributor II
Mark as New

Bookmark

Subscribe

Mute
I am interested in being able to change the vertical exaggeration of the map surface, so that elevation data is scaled. I'd like to be able to provide a scaling factor, and scale the vertical axis by that value, and also be able to change that exaggeration scaling factor for the same elevation data source.
For example, using an exaggeration scaling factor of 5, I'd want to visualize elevation data as if the altitude at each point was 5x higher. So starting with the following, with no exaggeration:

After applying an exaggeration scaling factor of 5, it should look more like:

The way I implemented it to get the screenshots above, I tried scaling the `ArcGISMap` transform's Y-component, and initially it looked fine like in the screenshots. However, based on some other threads, it sounds like changing the ArcGISMap transform scale is not really supported. I started seeing some issues like tiles becoming disconnected after experimenting with this and changing the map origin position a bit: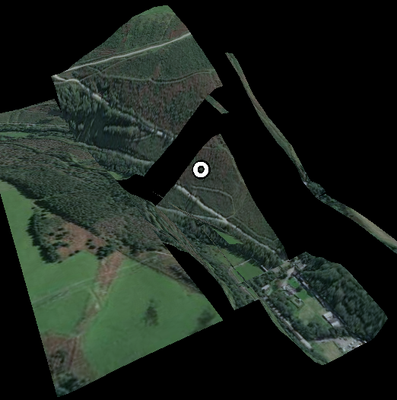 Another approach I've considered is doing it in a vertex shader, however I can't find a way to use a custom map tile material.
So what I'm looking for is a more robust way I might be able to achieve the exaggerated elevation effect I'm aiming for.
Thanks!
1 Solution
New Contributor II
Mark as New

Bookmark

Subscribe

Mute
Update
Although this doesn't feel like a truly supported or ideal solution, I've managed to get this working by scaling the vertical axis of the ArcGIS Map transform.
The reason for the issues with disconnecting tiles in my original post seems to be related to changing the map transform scale very soon after changing the map origin, camera location, and extents centre when changing the target map position in my application. Providing a long enough time is waited (e.g. 1 second) after changing the target map position, scaling the vertical axis of the transform does not result in the tiles disconnecting.
Some additional information about my setup if it helps anyone:
I am using a Local map with extents. When I say "changing the target map position in my application", I mean changing the ArcGISMapComponent's origin, the ArcGISCamera's position, and the extents geographic centre so that the map is centred about a different geographical location.
6 Replies