New Contributor
Mark as New

Bookmark

Subscribe

Mute
Hi there! I created a slider instant app to show how my polygon layer evolves through time and we are experiencing some unexpected behavior regarding pop ups.
Link to view app: https://arcg.is/0nXGG1
Link to view web map: https://arcg.is/44bDu
link to layer shown on the web map: https://arcg.is/PDeP1
The main issue we are experiencing is that an active polygon's pop up does not appear when the time interval on the slider begins after the start date and before the end date. Thus, a polygon is still active within this time frame yet the attribute information in the pop up is unable to be read by a user.
For example, look at polygon located on the corner of East 64th Street and South Evans Avenue in the heart of Chicago (show below).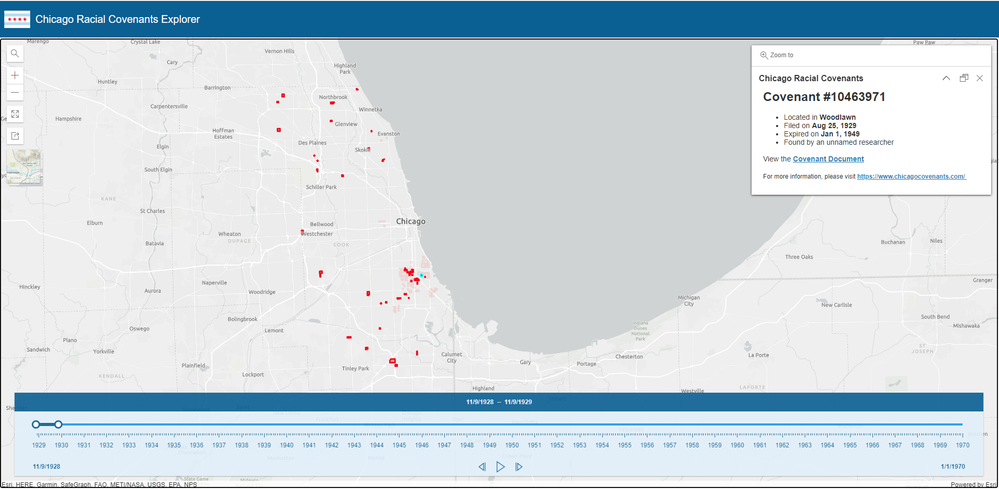 This polygon is active from Aug 25, 1929 to Jan 1, 1949. In the image above, the pop up is viewable since it's start date, Aug 25th, 1929, is within the current time interval from Nov 9, 1928 - Nov 9, 1929. However, when I change the current interval to a year after, Nov 9, 1929 through Nov 9, 1930, the pop up does not appear upon click even though this polygon is still active. This problem is shown below.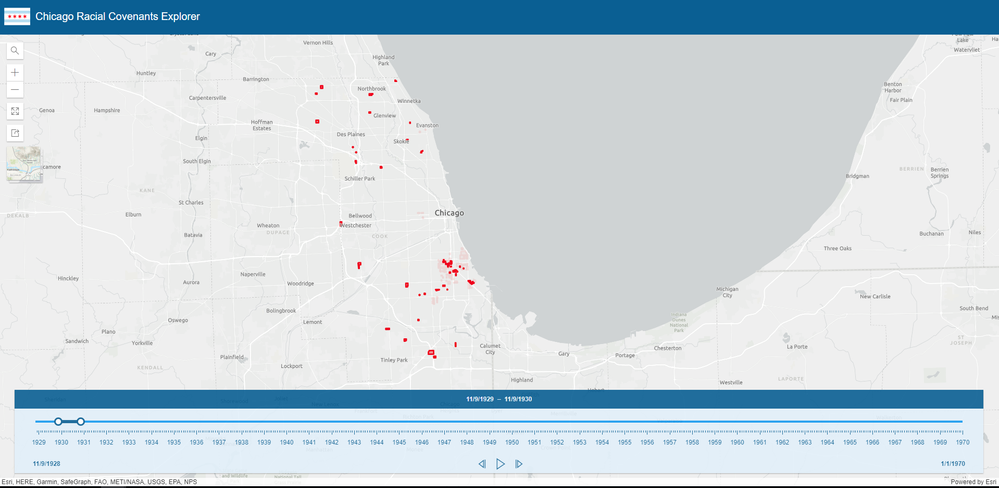 The app recognizes that this polygon is active since it is not colored light pink, but the app does not pull up the pop up information upon click.
The pop up is important because it provides our users with attribute information about the racial covenant the polygon is representing. Without the pop up, the user is provided with no information even though this polygon is active during the current time interval.
- Katherine Humphreys
2 Replies

by
BethRomero

Esri Contributor
Mark as New

Bookmark

Subscribe

Mute
@KatherineHumphreys this is a bug with the slider app and I've logged an issue. A workaround, until this is resolved, is to remove the non-active feature layer effects. This will keep the pop-ups working while the slider moves.
New Contributor
Mark as New

Bookmark

Subscribe

Mute
Thank you so much for logging that Beth, this bug is now working properly! I appreciate it.