New Contributor III
Mark as New

Bookmark

Subscribe

Mute
Bottom Line up Front: There may be a way to improve the mobile editing experience on the Sidebar Instant App by providing an edit confirmation prompt?

Real-world Problem: Urban Search & Rescue Task Force members collect waypoints and tracklogs in the field to show where they have been and what they've seen. Occasionally, the Plans Team Manager wants to edit or update the information from the Incident Command Post.
Technical Problem: We have used Web AppBuilder (WAB) in the past to allow for editing in a configuration, we call "Intel Manager". It has served us well, but we want to get ahead of the retirement and take advantage of editing and performance improvements in newer apps. (Sandbox https://experience.arcgis.com/experience/9051a07ffd1947bbb395e9f9b4088f85/page/Intel-Manager-1_0/)
As we transition to Experience Builder over the next year (it will be considerable effort and there is missing functionality like copy features and batch attribute editing), we wanted to expose our users to the editing capabilities they'll be using in the future (which is MUCH improved with Javascript 4!!!). Sidebar Instant App looks like a good fit and we found it very quick & easy to configure.

Here is our "Intel Manager 2.0" configured with the Sidebar App https://experience.arcgis.com/experience/9051a07ffd1947bbb395e9f9b4088f85/page/Intel-Manager-2_0-Ins...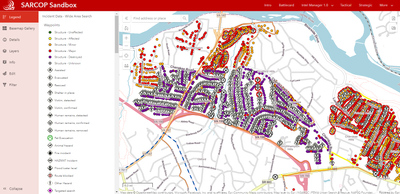 Feedback
We've received some feedback (mostly very positive) and wanted to post one example below. This is from a firefighter and member of US&R PA-TF1 Task Force who has become one of our best testers and is secretly falling in love with GIS 🙂
"I have been playing around with Intel 2.0 and so far really like the speed and ease of use especially on a mobile device. One thing I noticed and don't know if it is possible or even warranted but I feel the ease of editing and moving points is nice there is not a confirmation "click". I feel that in a heavily saturated area if someone would start making changes they could make a lot of errors without realizing it. That was probably a lot of words just for can a "confirm changes" be added after a point is moved or edited."
Then added "
I sent a feedback survey about Intel Manager 2.0 but wanted to clarify some points. I later did see a confirm changes button but felt it was hidden in the weeds. I will attempt to upload my screen record. So I went to edit my point once the edit screen goes away as to move the object, there is nothing at that point which would make the user (at least on my iPhone) think this change is not saved. Also I did get it to crash as seen in the video when I then tried to click another point. I'm using a 14 pro with 16.1.1 and that was Safari."

@KellyHutchins @julia_ @IanWittenmyer

0 Replies