New Contributor III
Mark as New

Bookmark

Subscribe

Mute
Hello,

I am using the most recent version of insights and I no longer have the option to share a workbook page as a page and when I share it as a report it includes the banner. I'd like to share the report without the workbook banner.

I have read through the resource pages and the instruction for setting up a custom report and I can't figure out how to share without a header or banner. I did use the report designer to create a custom layout. I also read through the instructions for editing the report header, but I couldn't figure out how to actually add a header, so maybe there is an option there that I'm not seeing.
1 Reply
Esri Contributor
Mark as New

Bookmark

Subscribe

Mute
Hi Sara,

While you cannot share a report (previously titled page, basic sharing of page has not changed just been retitled and moved under Publish) without the header you can style the header to make it blend in more seamlessly with your page.
Here's a blog detailing how you can edit your banner https://www.esri.com/arcgis-blog/products/insights/analytics/show-off-your-workbook-banner/

One way to not have the banner would be to use the iframe, you could take the iframe link from the "Report published successfully!" page (also where you find the link to your report) details and place the iframe within another website or story map. I frames only contain the workbook contents not the banner.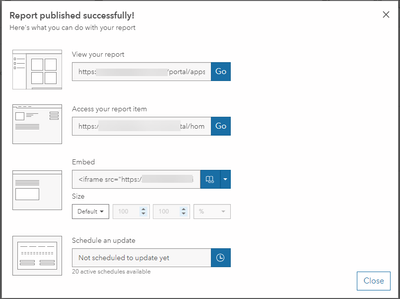 In regards to the report designer, when designing your screen sizes for web reports, this too will come with the banner which you can adjust the style of as per the blog linked above.

For the PDF reports you can add a header by clicking the edit in the top right of the page layout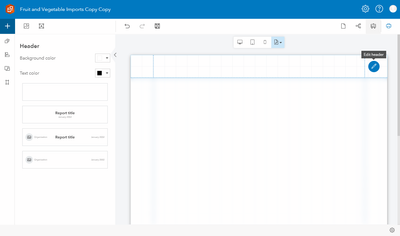 I hope this helps! If having an option to fully remove the banner is what you need we'd love to see that request on the ArcGIS Insights Ideas page (https://community.esri.com/t5/arcgis-insights-ideas/idb-p/arcgis-insights-ideas) !
Thanks,
Kate