Occasional Contributor II
Mark as New

Bookmark

Subscribe

Mute
While I'm appreciating the new ability to enhance symbology with Layer Effects in 2022.3...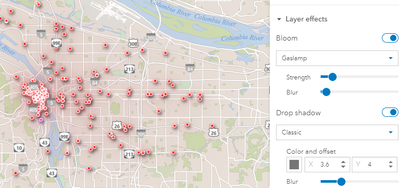 I'm looking for a way to symbolize data by Clusters like you can with a layer in a web map...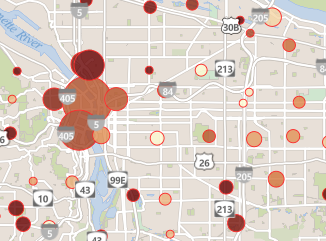 instead of by Bins in Insights...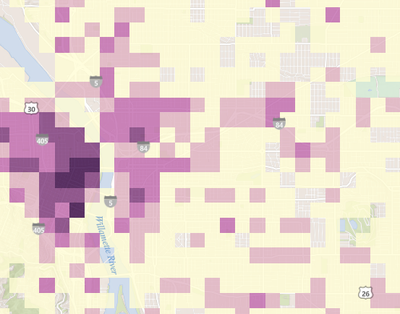 or Heat Map (Insights)...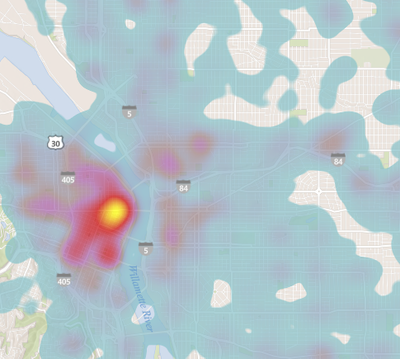 Can this be done or is it just an idea at this point?
Paul
City of Portland, Oregon
3 Replies
Esri Contributor
Mark as New

Bookmark

Subscribe

Mute
Hi @PaulCone2,
Thanks for reaching out to us on Community and for your suggestion.
At this point, we don't offer clustering. This is a neat idea, however, and I will make sure it goes on our dev team idea board for enhancement discussion. Unfortunately, we have more ideas than time and developers, but I can see this one potentially moving up our board at a quick pace, as it seems quite applicable.
One potential work-around in the meanwhile -- and I completely apologize if this is tangential to what you're suggesting or you've already thought of this and it won't work well for you...
Could you aggregate your data by area (e.g., blocks, block group, 9-digit zip code) -- and use a proportional symbol map instead? (Simply drag a 9-digit zip code boundary file over your point map to aggregate, for example.)
Essentially, I think this would potentially mimic the cluster map you're showing above. Though, I imagine you are hoping for interactivity -- e.g., points within the cluster to display individually -- when you click on the symbol, which admittedly would not happen with a proportional symbol map (you would only get count or other aggregated data).
Still, the symbolization should be quite similar.
Happy to record a quick visualization of what I mean if what I'm writing is not making sense here. But alas, it may not be what you need anyway. 😕
Thanks for the kind words on the map symbology effects! And again, for the idea of clustering. I'll post it to the ideas board -- if it's not already there. If it is, I'll add your request to the existing idea to help bump it up a few notches.
Thanks for using ArcGIS Insights, Paul, and for reaching out to us on the Esri Community.
Ian
-------------------
Ian Muehlenhaus
ArcGIS Insights Team

Occasional Contributor II
Mark as New

Bookmark

Subscribe

Mute
Ian,
Unfortunately I have never been able to get scheduled aggregation to work, but I should look into it again.
Thank you much for the meeting today!
Paul0
by
ChrisWesson

Esri Contributor
Mark as New

Bookmark

Subscribe

Mute
Many thanks for the question Paul. Glad you're enjoying the layer effects.
Our team has done a lot of research into clustering algorithms in preparation for adding such functionality going forward. So just letting you know it is in the pipeline. Thanks again!