New Contributor III
Mark as New

Bookmark

Subscribe

Mute
Is there a way to dynamically label the KPI widgets?

In this project, it would be nice to have a county name label show up on the KPI, similar to functionality in a dashboard KPI.
This image shows the total count, and the popup for the county that is picked in the second image.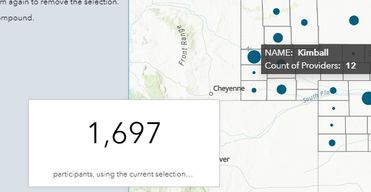 I'd like to be able to add "Kimball County" as a label in the KPI dynamically, so it would change as users click around and make additional selections.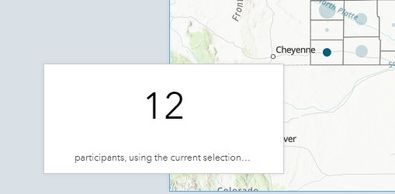 2 Replies
by
AkshayHarshe

Esri Contributor
Mark as New

Bookmark

Subscribe

Mute
@Jennifer_Parmeley Thanks for your question.
What you are asking isn't currently possible with the KPI card. However, there are other ways you can design the experience if that is suitable for you. In 2023.1, we have added a capability to turn on labelling on the map. Please see if this helps Show labels.
Or you can choose to use a summary table/Reference table card on the side and turn on cross-filtering on it so that clicking on the map will show the Name of the county and its count.
Hope that helps!
Thanks,
Akshay Harshe
New Contributor III
Mark as New

Bookmark

Subscribe

Mute
Labels don't work well on a statewide map - I did try that option.

With a table, is there a way to make the table scroll or zoom to show the selected county.
We have 93 counties and unless the name is in the initial list (Adams through Cedar shown) the county name highlight will not be seen.


Thank you for the suggestions!