New Contributor II
Mark as New

Bookmark

Subscribe

Mute

Email to a Friend
Hi Everyone! We have been attempting to perform an upgrade on our ArcGIS Portal & Server from version 10.9.1 to 11 over the past couple of weeks, and consistently encounter the following error message when attempting to finalize Configuring ArcServer.
ArcGIS Server upgrade step 2 of 2: Failed. Refresh auto-deployed services during upgrade
This occurs in both our staging and production environments. We have been working with ESRI Tech Support for the past 2 weeks to try and resolve what is causing this error to be thrown at the final stages of refreshing the auto-deployed services during the upgrade. There have been approximately 5-6 different solutions attempted by ESRI to resolve this error, which have been heavily focused on permissions and IIS configurations, but there has not been any success to date. We have been able to replicate the error across both environments with and without ESRI tech support's assistance. When researching this error, it has occurred in the past when upgrading from multiple different versions, but none of the solutions that have worked for past upgrades have not worked for the upgrade to version 11.
Has anyone else encountered this issue while trying to upgrade from 10.9.1 to 11 this year? Any advice, comments, thoughts, and possible solutions would be greatly appreciated! Thank you all for your time!
ArcGIS Server upgrade step 2 of 2: Failed. Refresh auto-deployed services during upgrade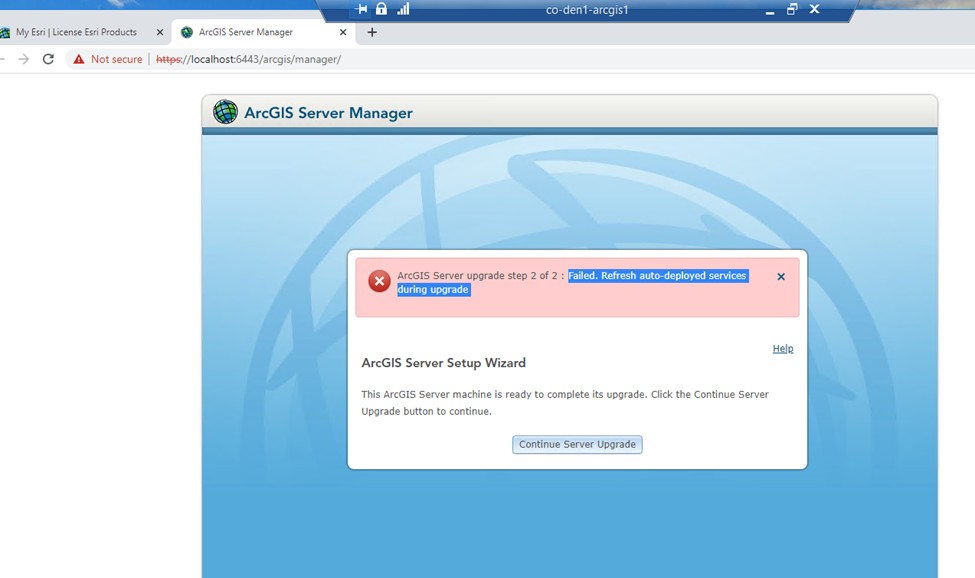 12 Replies