Occasional Contributor
Mark as New

Bookmark

Subscribe

Mute
Hello,
I just finish fresh new installation of ArcGIS Ent. on Azure. I used "ArcGIS Ent. Cloud Builder 11.0 for Ms Azure" Version 11.0.35046
After successfull deployment I login to portal and get login screen when I open the setting page. I did not notice any degredation or problem on portal.
Do you have any ideas to get rid of this issue?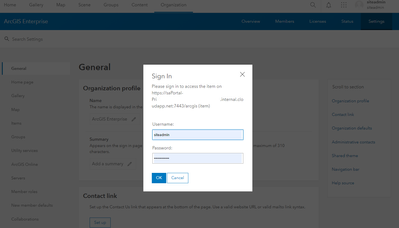 I use below configuration options:
Deployment type: Multi Machine Multi Tier
From Esri Image:- Yes
Image Name:- ArcGIS Enterprise 11.0
Total Machines:- 5
Machine Names:- saFileShare, saServer-0, saPortal-Pri, saDataStr-Pri, saJumpox
Enable OS Updates:- No
Remote Desktop:- Yes (Port 0)
ARM Resource Prefix:- sa
Preserve artifacts:- Yes
Use Cloud Storage:- Yes
Cloud Storage Option:- Azure Files (SMB)
Uses Azure Monitor Logs Workspace:- Yes
Capture Server Logs:- Yes
Automatic VM Shutdown Enabled:- No
Portal Context:- portal
Server Context:- server
Site Administrator UserName:- siteadmin
ArcGIS Service Domain Account:- False
File Share Option:- On Single Machine
File Share Host:- saFileShare
Data Store Types:- Relational
SSL Option:- CA Issued Certificate
5 Replies