Occasional Contributor
Mark as New

Bookmark

Subscribe

Mute
Any help is MUCH appreciated. I'm trying to get a widget to perform a Union on two layers, then run an Intersection on another, then report back attribute from both layers.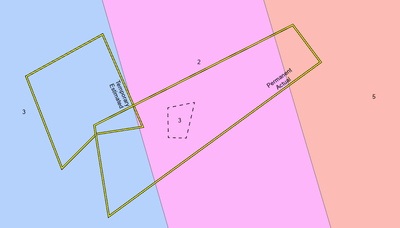 The screenshot above shows the three layers, all polygons. Union is to be performed on the polygons labeled 2, 3, 5 (poly_fs, poly_fs3). (I think) I need to union because I need to report back the square footage. The Permanent | Actual yellow polygon intersects the 2, 5, and 3 in two places.
Intersection to be performed on the Temporary/Permanent | Actual/Estimated polygon layer (poly_fs2). Actually, this layer needs to do a union on itself. We don't want to double count the area.
I've successfully executed the Intersection part, but I cannot get either the Union(s), nor the Attributes, to come back.
This is the foundation which I started. Aggregate by Spatial Relationship
And here is what is working for me right now.
// Write an expression that returns a FeatureSet.
// Documentation: https://arcg.is/3c419TD
// Samples: https://arcg.is/38SEWWz
// Portal
var portal = Portal('https://www.arcgis.com/');

// Create FeatureSet for polygons
var poly_fs = FeatureSetByPortalItem(
    portal,
    '535e3b40ca954053b1348a11f7ebfb59',
    15,
    [
        '*'
    ],
    true
);

// Create Featureset for points
var poly_fs2 = FeatureSetByPortalItem(
    portal,
    '535e3b40ca954053b1348a11f7ebfb59',
    20,
    [
        '*'
    ],
    true
);

var poly_fs3 = FeatureSetByPortalItem(
    portal,
    '535e3b40ca954053b1348a11f7ebfb59',
    5,
    [
        '*'
    ],
    true
);



// Create empty feature array and feat object for output
var features = [];
var feat;

var geom1 = poly_fs;
var geom2 = poly_fs3;
//If I uncomment this, I get an error
//var union = Union([poly_fs,geom2]);

// Iterate over time zones
for (var poly in poly_fs) {
    
    // Filter points by polygon
    var pts = Intersects(poly, poly_fs2);
    var cnt = Count(pts);
    var intersectsArea = 0;
    if(cnt>0) {
      for (var pt in pts) {
        intersectsArea += AreaGeodetic(Intersection(poly, pt),'square-feet');
        

      }
    }
    // Create feature with aggregated values
    feat = { 
        'attributes': { 
            'Multiplier': poly['multiplier'], 
            'M Code': poly['OBJECTID'], 
            'AreaSqFt': Round(intersectsArea,2)
        }
    };
    
    // Push feature into array
    Push(features, feat);
};

// Create dict for output FeatureSet
var out_dict = { 
    'fields': [
        {'name': 'Multiplier', 'type': 'esriFieldTypeInteger'},
        {'name': 'AreaSqFt', 'type': 'esriFieldTypeDouble'},
        {'name': 'M_Code', 'type': 'esriFieldTypeInteger'}
    ],
  'geometryType': '', 
  'features': features 
}; 

// Convert dictionary to feature set. 
return FeatureSet(Text(out_dict)); 
0 Replies