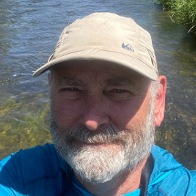 by
JoeBorgione

MVP Esteemed Contributor
Mark as New

Bookmark

Subscribe

Mute

Email to a Friend
I have seen this problem in earlier versions of ArcGIS Pro and it continues now in 2.8.2.
See https://community.esri.com/t5/addressing-questions/arcgis-pro-address-rematch-problem/m-p/790102#M14... for one of my posts. There have been others, but cannot get the forum search functionality to cooperate.
What happens when rematching is when I edit the single line input, it will return me to the first unmatched entry. This seems to happen now only when a selected set is being rematched. Here is a gif of rematching when there is no selected set: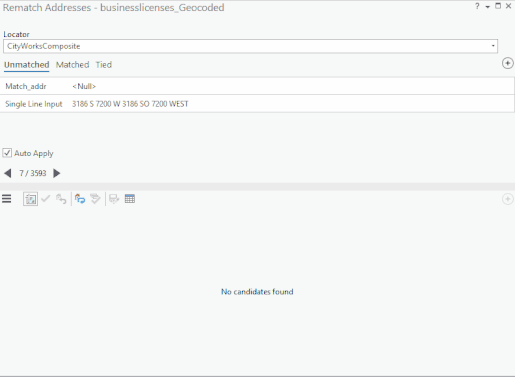 This to me is expected behavior; make an edit, get a match, move on the the next unmatched records. In the above gif, you'll notice I <Null> values as Single Line Input. In fact, of the 3,592 unmatched records in this exercise, 3,238 have <Null> addresses. For me rematching is a Zen sort of thing. When I see 3,592 unmatched records I get a lump in my throat. But having only 358 records to rematch is much easier to swallow.
With soothing sitar music playing in my cube, along with a cup of herbal tea and some incense burning, I make a selection where:
Status = 'U' and Single Line Input is not Null
With the target records selected, I settle into rematching, but once I make an edit to Single Line Input, I get bounced back to record #1. Now despite being in my happy place with only 354 records to rematch, I'm in a not so happy place starting back at the beginning of the stack. I cannot imagine this is expected behavior.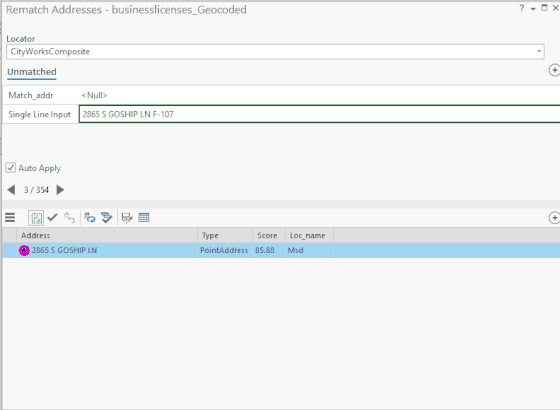 My not so happy place
I only have a few months left before I retire and I wanna stay in my happy place while I'm still working. Can I stay in my happy place? Please?
That should just about do it....
1 Solution
Mark as New

Bookmark

Subscribe

Mute

Email to a Friend
3 Replies
Mark as New

Bookmark

Subscribe

Mute

Email to a Friend
@JoeBorgione The fix to this issue did not make into the 2.8 release, but resolved in the next release of Pro. If you are part of the EAP you can test out the workflow when 2.9 Beta is available in a few weeks.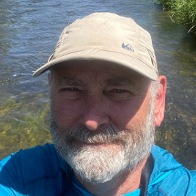 by
JoeBorgione

MVP Esteemed Contributor
Mark as New

Bookmark

Subscribe

Mute

Email to a Friend
Thanks @ShanaBritt - new releases are typically around the first of the new year, right? You'll be rid of me by then. I pull the trigger on retirement Dec 24... Happy Christmas to me! :santa_claus:
That should just about do it....
Mark as New

Bookmark

Subscribe

Mute

Email to a Friend