Highlighted

Occasional Contributor
Mark as New

Bookmark

Subscribe

Mute

Email to a Friend
I'm am trying to set up a map in AGOL with DMA (zones) so I can calculate the water loss in these areas and display it. Our basic setup is we have each of our meters GPS'd and that info is updated monthly to AGOL to reflect the new consumption in the attribute table. Our meters are symbolized with different colors to show which zone that particular meter resides in. Master/Zone meters are also color-coded to easily distinguish them from customer meters. I have also created a layer so I could draw polygons that represent each of the zones where we have our meters. I then use "Analysis" to run the aggregate tool, which totals the "consumption" field in the attribute table for each meter for each zone. It works great if you are only looking at zones that are independent of one another. But there are cases where we have one zone down stream from another. Therefore you have two master/zone meters to contend with in the summation of the "Consumption" field.
The following pic is kind of tough to see, but illustrates my issue. I have Zone 1 in magenta and Zone 2 in green. The master/zone meters are the meters with the yellow crosses where I denoted Meter 1 and Meter 2. If I wanted to calculate the water loss in Zone 2, that's fairly simple visually. Total the consumption of all the meters in Zone 2, subtract that from the Master/Zone Meter 2 and I have my loss. To use the aggregate tool I assigned the master/zone meter a negative value. That worked great if the zones are not connected in anyway. But now I'm trying to determine the water loss in Zone 1 (magenta), and I have the issue of two master/zone meters. The negative in the aggregate calculation will no longer work. I somehow have to subtract out Meter 2's consumption from Meter 1. I initially included Meter 2 in Meter 1's zone, but again, the negative now hurts me instead of helps. Does anyone have a suggestion or idea on how I can accomplish that?
Appreciate in help/advice.
Travis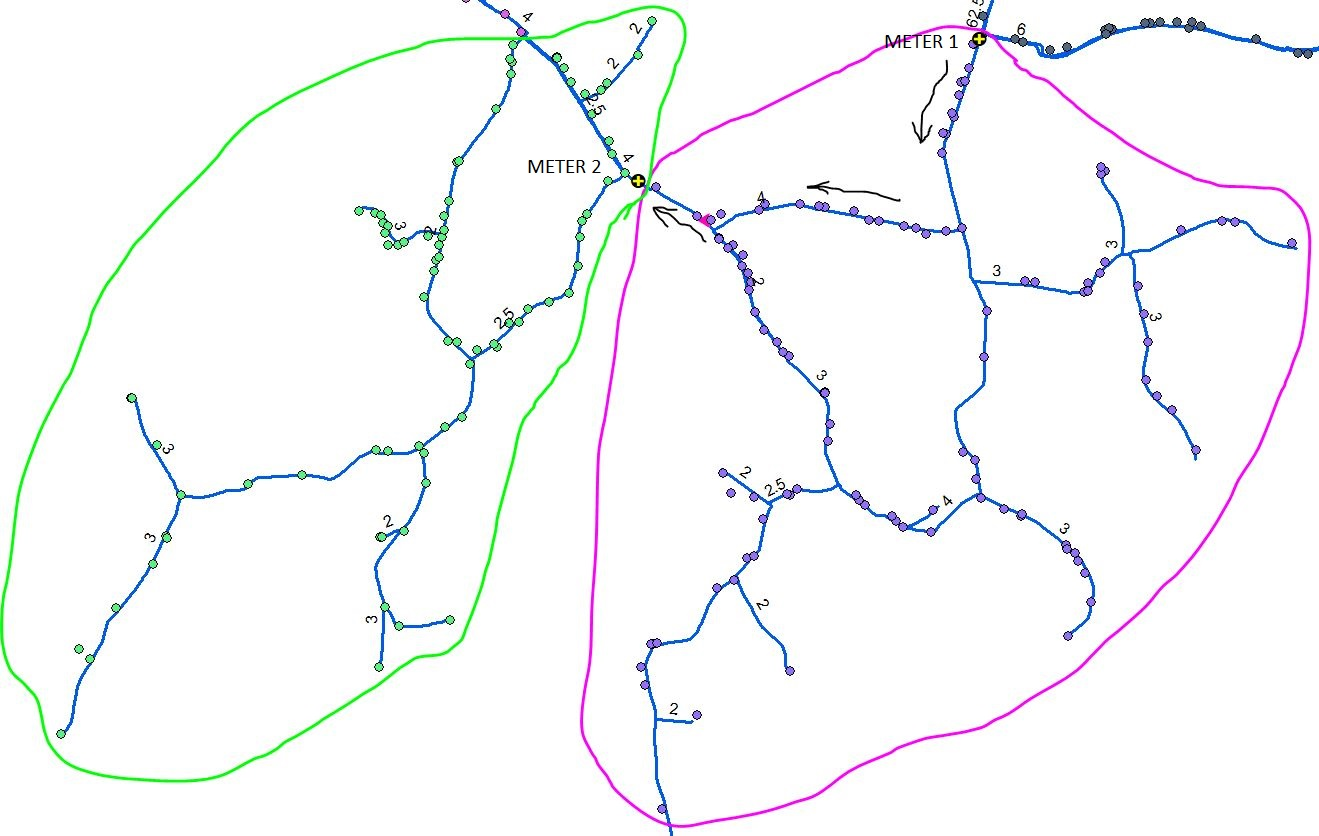 6 Replies