Preview of a new and improved CCTV processor solution
CCTV Manager is now available! Get the latest from ArcGIS Solutions for Water.

Over the years, we have had a lot of great feedback on the CCTV Processor solution. If you are not familiar with this solution, it is a geoprocessing tool for ArcMap that imports NASSCO PACP standard version 6 closed circuit sewer video inspections data. The Inspections and Conditions tables are converted into points for each observation and lines for the main surveyed. The observation images or photos are also loaded as attachments, making it easy to publish the data as a service and allow anyone in your organization to access the CCTV data. This solution simply unlocks the wealth of information captured during CCTV surveys.
Due to user requests to support other import types and the new PACP v7, we knew it was time to enhance CCTV Processor.
1: Migrate from Model Builder to a Python Toolbox: Model builder is great to define a complex process, we built a faster, easier to use, and more stable tool using a Python Toolbox.

2: Designed for ArcGIS Pro: To support the upcoming Utility Network in addition to data represented in a Geometric Network, we migrated CCTV Processor to ArcGIS Pro. This also let us streamline the code, making it faster and more reliable.
3: Resolution of BUG-000104129: The current tool works great for observation points on a pipe from multiple surveys, but we had one issue that was hard to fix in the current version. If a pipe was surveyed more than once, we only created one inspection line segment. The new version has resolved this bug.
4: Support for multiple input schemas: The update enables us to support more than just PACP v6.0.4 version data. You are now provided an option to select PACP v6.0.4, PACP v7.0.7, and Custom. Selecting either PACP options will auto fill out the rest of the tool's parameters. If you select Custom, you will need to map these parameters to your input. There is now an option to add additional schemas to the list of options. We will detail this process at release or if you want to try it, post a comment and we will provide instructions.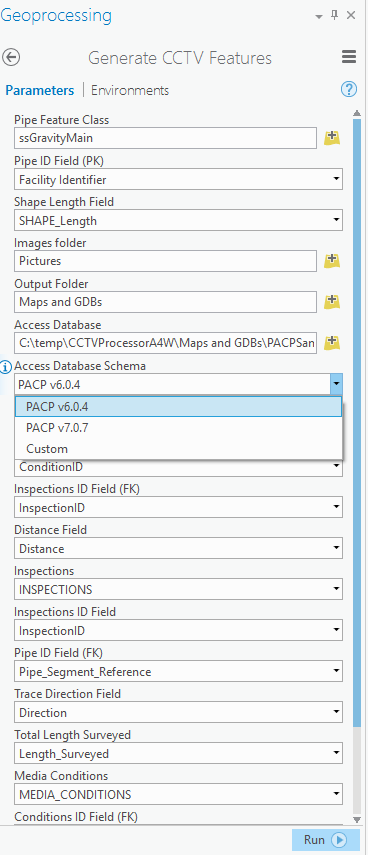 We hope you like the new version. This is just the first preview. We have not migrated all the features over yet, such as messages or link conversion.
We are also looking for some of your CCTV data to test. If you have a PACP v7 export or another schema and you do not mind sharing it with us, we would love to test it to ensure everything is 100% functional.
Getting started with CCTV in Pro
There are some installations that are required:
1. Microsoft Access Database Engine 2010 Redistributable
Since ArcGIS Pro is a 64-bit application, make sure you choose the x64 version.
2. pyodbc
You can easily install this via the Python Package Manager.
If ArcGIS Pro is crashing after the install, please see this GeoNet post for a guide on fixing the issue.
The image shows version 3.0.10. PYODBC version 4 is also supported. 4.0.17 was tested on RC2.
Mike & Paul
ArcGIS for Utilities