Occasional Contributor II
Mark as New

Mark as Read

Bookmark

Subscribe

Email to a Friend
This week we are bringing out the kids in all of us, (or just bringing out your kids) with family friendly events at the 2018 Esri User Conference.
Which events can I bring my family?
You can bring your family to:
Kids Fair
The Kids Fair is a set of stations, and hands-on activities focused on educating children ages 5-15 about GIS. Each station is designed with age appropriate activities that meet California K-12 educational guidelines.

The Kids Fair started as a way to introduce the children of attendees to GIS. Initially, it was given as a series of classes as defined by age groups. Over the years the fair has developed into a multi-day event where families can come and go as they please.
Each year stations and activities are designed with a theme. Past years' themes include Weather and The Seven Wonders of the World. This year the theme will be Biomes! Station activities include matching animals with their habitats for younger kids or a buoyancy experiment for older kids. Children can work through each station at their own pace to collect stickers for their passport. O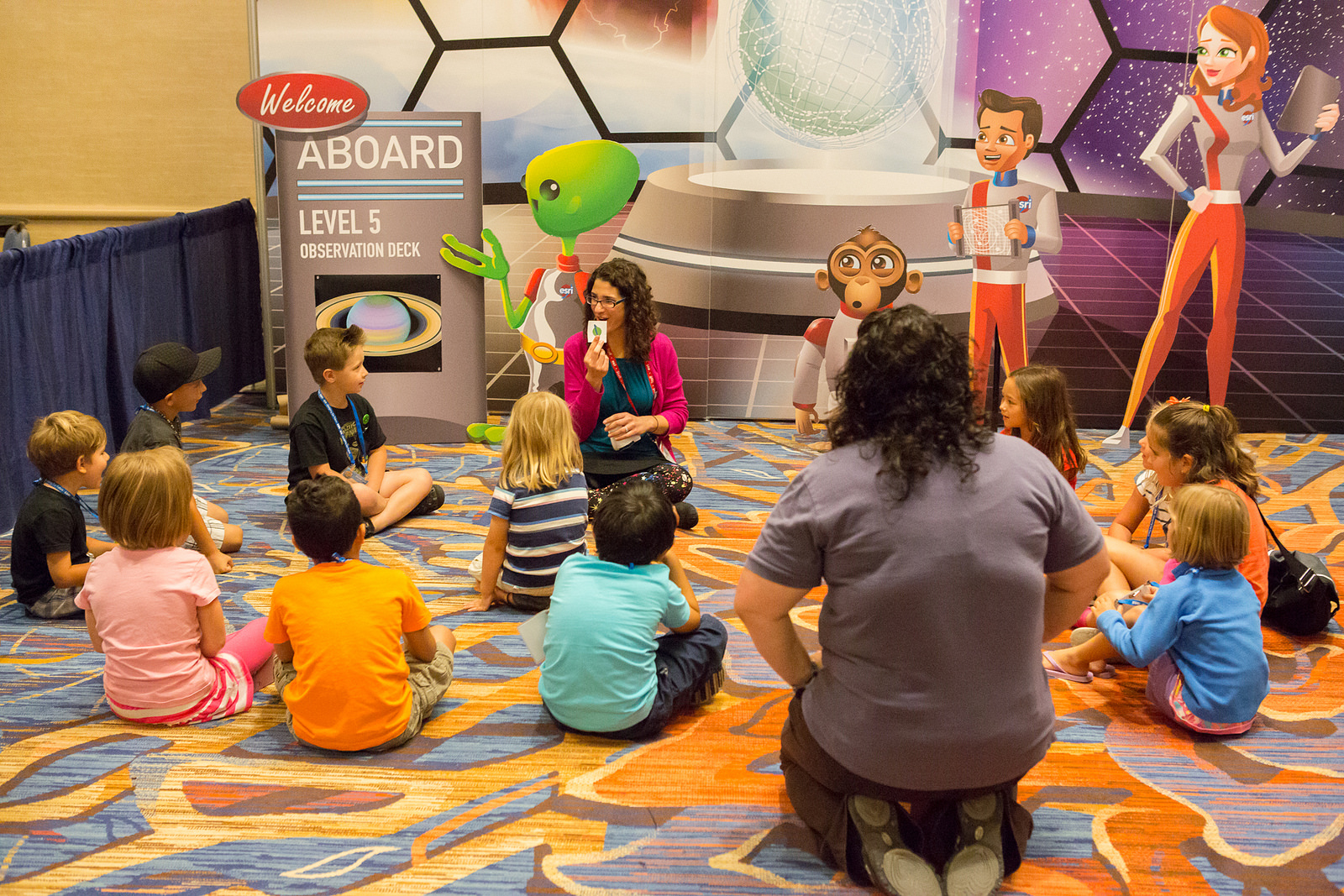 nce they have completed all stations, they will receive a special prize!
Kids Fair Details
Located at the Marriott Marquis & Marina Hotel in Marina Ballroom Salon D
Days and times:
Tuesday, July 10, 9:00 a.m. – 5:00 p.m.
Wednesday, July 11, 9:00 a.m. – 4:00 p.m.
Thursday, July 12, 9:00 a.m. – 2:00 p.m.
Some things to note:
No registration is required, though it does tend to be busy around lunchtime
A parent or guardian must accompany children at all times
Expect to spend about 1-2 hours at the fair
Family Night
This year Family Night will be held on Wednesday, July 11 from 4:00 p.m. – 6:00 p.m. in the UC Expo. It is an excellent opportunity to show your family what goes on in the UC Expo and teach them about the cool applications of GIS. Exhibitors will have fun activities, demonstrations, and be giving away special prizes for the families to enjoy. Family Night is open to anyone accompanied by a registered UC attendee.

Map Gallery and Evening Reception
The Map Gallery and Evening Reception begins immediately after the Plenary Session concludes. Mingle with other attendees and look at the wonderful projects submitted this year.
Map Gallery Opening and Evening Reception Hours
Monday, July 9
3:30 p.m. – 7:00 p.m.
Registered attendees may bring their families or guests during Monday's reception. Family and friends will not have access to the Map Gallery for the remainder of the conference.
Find more information on the Map Gallery >>
Thursday Night Party
The Thursday Night Party is an evening filled with fun activities, entertainment, and tons of food! Apart from the musicians, performers, and countless food stations around the park, each year Esri reserves seven museums in Balboa Park for UC attendees to visit. Be sure to check them out.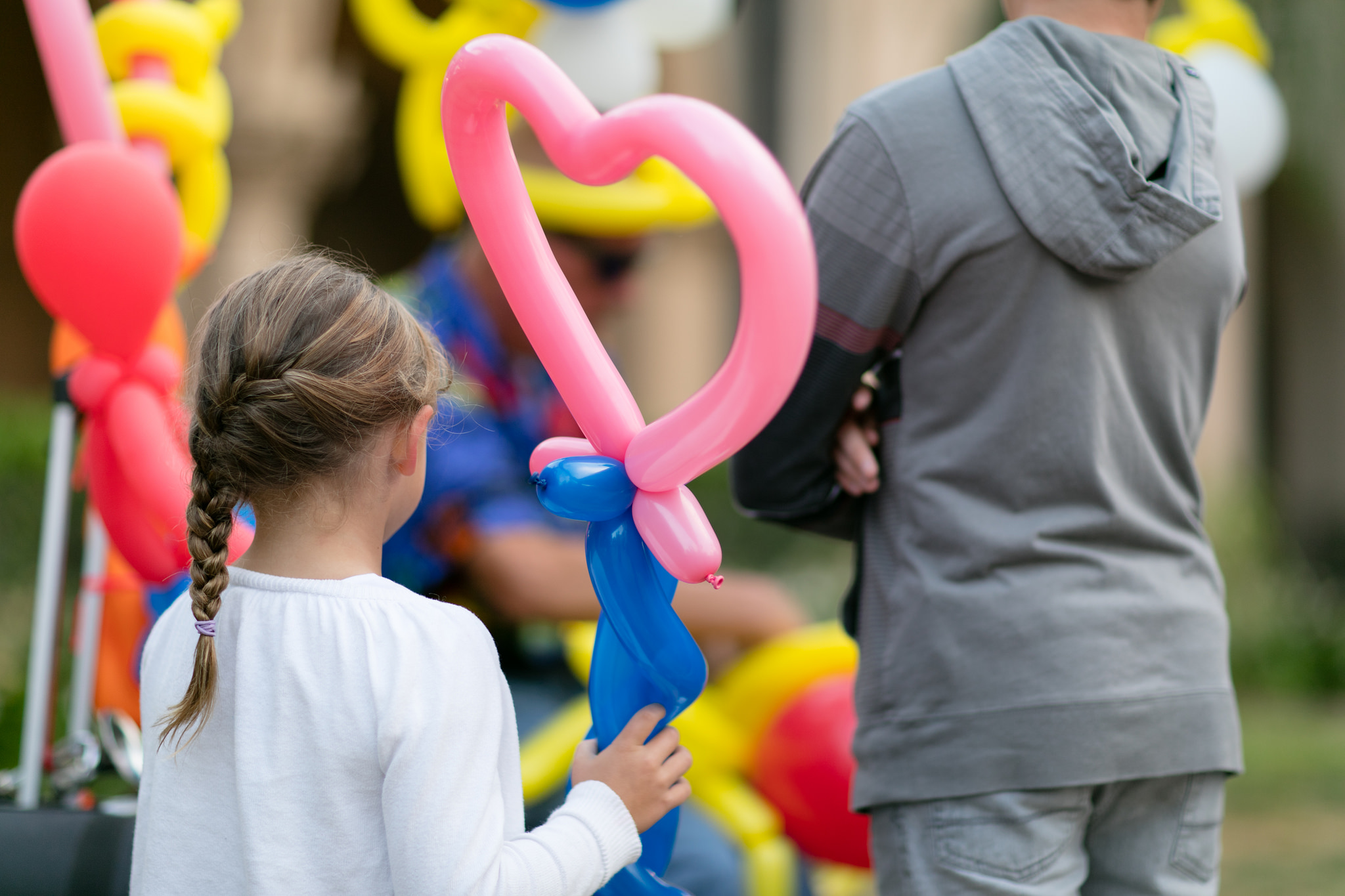 Museum Listings
Fleet Science Center
Mingei International Museum
Model Railroad Museum
Museum of Photographic Arts
San Diego History Center
San Diego Museum of Art
San Diego Natural History Museum
One of the most kid-friendly museums is the Fleet Science Center. This year, they will have a MythBusters Exhibit!
Wristband Information
Attendees can pick up wristbands at the Activities Desk or Info Booth in the SDCC Grand Lobby between 7:30 a.m. – 6:00 p.m., Wednesday – Thursday.
Conference badges are required to pick up wristbands.
Thursday Night Party tickets are $50 per person for guests or those that do not qualify with their UC registration. These can be purchased at the Activities Desk.
Children 12 and under are free.
PLEASE NOTE: Expo-Only or Student One-Day Registrations do not include the Thursday Night Party.
Round-trip shuttle transportation is available from the San Diego Convention Center, to and from the party at Balboa Park.
Attendees look forward to the Thursday Night Party year after year. In fact, last year there were over 12,000 people!
Find more information about the Thursday Night Party or view the attached PDF.
5K Fun Run/Walk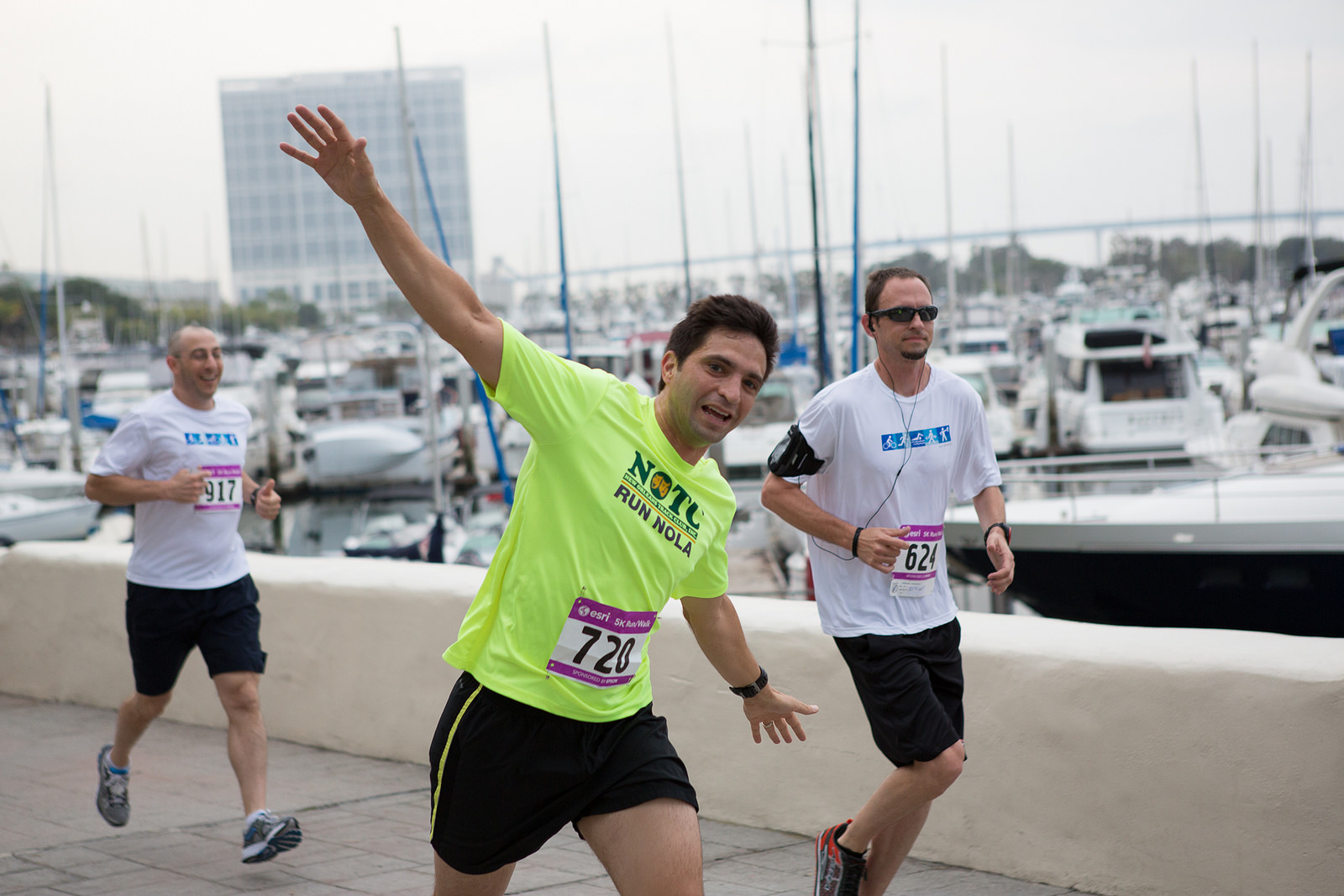 The Esri 5k Fun Run/Walk is a great opportunity to get some fresh air and take in the beautiful scenery of the San Diego waterfront before sessions start for the day. You can take this event as seriously as you would like to (I would be on the walking end of the spectrum) and families are welcome to join in!
The fun will begin on Wednesday, July 11, at 6:30 a.m. at the Hilton Bayfront – Embarcadero Boardwalk. Registration for this event is required. There is a $25 early-bird registration fee (Deadline July 5) or a $35 onsite registration fee.
Find more information about the Esri 5k Run/Walk >>
Morning Yoga
For the early birds out there, Esri will be hosting morning yoga sessions on Tuesday, July 10 and Thursday, July 12 from 6:30 a.m. – 7:30 a.m. This event is open to families. We would recommend registering early as this event does sell out every year. Each participant will also receive a yoga mat to take home after the conference.
Petco Park
Esri has teamed up with Petco Park to offer our UC attendees discounted tickets to see the San Diego Padres play against the Los Angeles Dodgers on July 9-12, and the Chicago Cubs on July 13-15th.
Get more information about purchasing tickets >>
Is there child care available at the conference?
Yes! Child care is provided through KiddieCorp for children ages six months through 12 years located at the San Diego Marriott Marquis and Marina Hotel. Here are the KiddieCorp hours:
Monday, July 9, 8:00 a.m. – 6:00 p.m.
Tuesday, July 10, 800 a.m. – 5:30 p.m.
Wednesday, July 11, 8:00 a.m. – 5:30 p.m.
Thursday, July 12, 8:00 a.m. – 5:30 p.m.
The cost is $8 per hour, per child. You can find more information on our website, or by contacting KiddieCorp at (858) 455-1718 or by email at info@kiddiecorp.com.
Tips from the Team:
Put a few band-aids in your suitcase. They can keep a minor irritation from turning into a blister
Check out a map of the facility ahead of time. Spot the restrooms, elevators, escalators, Starbuck's or anything else you anticipate needing during the week
Buy things from the Esri store early in the week
For Discussion:
Aside from our conference activities, where do you like to take your families when visiting San Diego?
You must be a registered user to add a comment. If you've already registered, sign in. Otherwise, register and sign in.