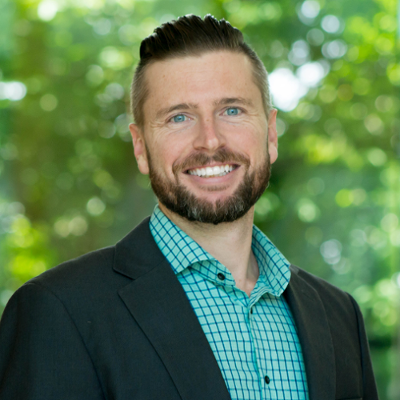 Mark as New

Mark as Read

Bookmark

Subscribe

Email to a Friend
For a variety of planning, engineering, or inspection workflows, you may want to leverage street view applications with ArcGIS in lieu of, or before sending someone to the field. There are many options for integrating street view with ArcGIS. In this blog we'll outline the options for using Esri Partner solutions as well as options for linking to Bing and Google within an ArcGIS web map pop-up.
Esri Partners
Esri has partners which offer integrated street view solutions with ArcGIS. These street view solutions can be used directly in ArcGIS Enterprise/Online, ArcGIS Pro, or Web AppBuilder for ArcGIS.
Cyclomedia - The Street SmartTM Widget for ArcGIS introduces high resolution street-level imagery to Web Apps that you build with the Web AppBuilder.
Mapillary - With the Mapillary widget for ArcGIS, you can bring Mapillary's street-level imagery into custom web applications built with Web AppBuilder.
GeoCam - 3D urban modeling for microwave line of sign analysis, macro/small cell RF propagation modeling, and road-based aerial fiber mapping.
Feature Pop-up Street View Hyperlinks
Using Arcade within feature pop-ups in a web map, you can dynamically build a URL hyperlink that will pass a map features coordinates to Google's Street View or Bing's StreetSide to automatically open up street view in a new browser tab and zoom you to a location. Here is how:
First, configure a pop-up for a feature layer in your web map and Add an attribute expression.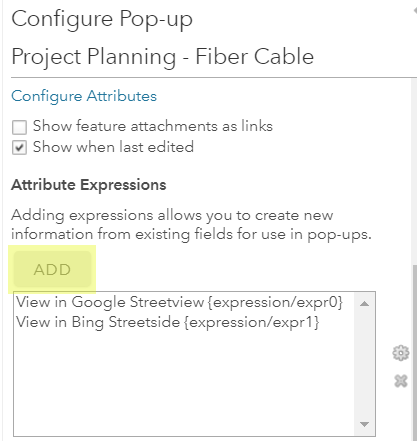 Second, use the following Arcade expression to create your hyperlink.
var

 PointGeometry 

=

 

Centroid

(

Geometry

(

$feature

)

)

;





var

 ArcadeX 

=

 PointGeometry

.

x

;




var

 ArcadeY 

=

 PointGeometry

.

y

;




var

 ArcadeSr 

=

 PointGeometry

.

spatialReference

.

wkid

;




var

 Latitude

,

 Longitude

;





function

 

AuxSphereToLatLon

(

x

,

 y

)

 

{


  

Console

(

"Converting..."

)

;


  

// Conversion based on http://dotnetfollower.com/wordpress/2011/07/javascript-how-to-convert-mercator-sphere-coordinates-to-latitude-and-longitude/


  

var

 rMajor 

=

 

6378137

;


  

var

 shift 

=

 PI 

*

 rMajor

;


  Longitude 

=

 x 

/

 shift 

*

 

180.0

;


  Latitude 

=

 y 

/

 shift 

*

 

180.0

;


  Latitude 

=

 

180

 

/

 PI 

*

 

(

2

 

*

 

Atan

(

Exp

(

Latitude 

*

 PI 

/

 

180.0

)

)

 

-

 PI 

/

 

2.0

)

;




}





if

 

(

ArcadeSr 

==

 

4326

)

 

{


  

Console

(

"4326 Spatial Reference - No Conversion Necessary"

)

;


  Latitude 

=

 ArcadeY

;


  Longitude 

=

 ArcadeX

;




}

 

else

 

if

 

(

ArcadeSr 

==

 

102100

)

 

{


  

Console

(

"102100 Spatial Reference - Conversion Necessary"

)

;


  

AuxSphereToLatLon

(

ArcadeX

,

 ArcadeY

)

;




}

 

else

 

{


  

Console

(

ArcadeSr 

+

 

" Spatial Reference is not supported - currently works with Web Maps where the basemap is in WGS84 (4326) or Web Mercator Auxiliary Sphere 102100"

)

;




}





var

 url 

=

 

"https://www.bing.com/maps?&style=x&cp="

 

+

 

text

(

Latitude

)

 

+

 

"~"

 

+

 

text

(

Longitude

)

;




return

 url

;

‍‍‍‍‍‍‍‍‍‍‍‍‍‍‍‍‍‍‍‍‍‍‍‍‍‍‍‍‍‍‍‍‍‍‍‍‍‍‍‍‍‍‍‍‍‍‍‍‍‍‍‍‍‍‍‍‍‍‍‍‍‍‍‍‍‍‍‍‍‍‍‍‍‍‍‍‍‍‍‍‍‍‍‍‍‍‍‍‍‍‍‍‍‍‍‍‍‍‍‍‍‍‍‍‍‍‍‍‍‍‍‍‍‍‍‍‍‍‍‍‍‍‍‍‍‍‍‍‍‍‍‍‍‍‍‍‍‍‍‍‍‍‍‍‍‍‍‍‍‍‍‍‍‍‍‍‍‍‍‍‍‍‍‍‍‍‍‍‍‍‍‍‍‍‍‍‍‍‍‍‍‍‍‍‍‍‍‍‍

‍

‍

‍

‍

‍

‍

‍

‍

‍

‍

‍

‍

‍

‍

‍

‍

‍

‍

‍

‍

‍

‍

‍

‍

‍

‍

‍

‍

‍

‍
Let's break down the expression. The first section grabs the X and Y coordinates and the spatial reference from the feature's Geometry and stores them as variables. Since these features are Lines, we'll grab the Centroid of the line $feature as the location we zoom to in street view.
var

 PointGeometry 

=

 

Centroid

(

Geometry

(

$feature

)

)

;





var

 ArcadeX 

=

 PointGeometry

.

x

;




var

 ArcadeY 

=

 PointGeometry

.

y

;




var

 ArcadeSr 

=

 PointGeometry

.

spatialReference

.

wkid

;




var

 Latitude

,

 Longitude

;


‍‍‍‍‍‍‍‍‍‍‍‍‍‍‍‍‍‍‍‍‍‍‍‍‍‍‍‍‍‍‍‍‍‍

‍

‍

‍

‍

‍

‍

‍
Then we'll check the spatial reference system of the web map to see if the coordinates need converting to Lat and Long for use by Google or Bing. If the web map is in Web Mercator (102100) then the coordinates will be converted to Lat and Long. If the web map is in WGS84 (4326) then no conversion necessary since the feature coordinates will already be in Lat and Long.
function

 

AuxSphereToLatLon

(

x

,

 y

)

 

{


  

Console

(

"Converting..."

)

;


  

// Conversion based on http://dotnetfollower.com/wordpress/2011/07/javascript-how-to-convert-mercator-sphere-coordinates-to-latitude-and-longitude/


  

var

 rMajor 

=

 

6378137

;


  

var

 shift 

=

 PI 

*

 rMajor

;


  Longitude 

=

 x 

/

 shift 

*

 

180.0

;


  Latitude 

=

 y 

/

 shift 

*

 

180.0

;


  Latitude 

=

 

180

 

/

 PI 

*

 

(

2

 

*

 

Atan

(

Exp

(

Latitude 

*

 PI 

/

 

180.0

)

)

 

-

 PI 

/

 

2.0

)

;




}





if

 

(

ArcadeSr 

==

 

4326

)

 

{


  

Console

(

"4326 Spatial Reference - No Conversion Necessary"

)

;


  Latitude 

=

 ArcadeY

;


  Longitude 

=

 ArcadeX

;




}

 

else

 

if

 

(

ArcadeSr 

==

 

102100

)

 

{


  

Console

(

"102100 Spatial Reference - Conversion Necessary"

)

;


  

AuxSphereToLatLon

(

ArcadeX

,

 ArcadeY

)

;




}

 

else

 

{


  

Console

(

ArcadeSr 

+

 

" Spatial Reference is not supported - currently works with Web Maps where the basemap is in WGS84 (4326) or Web Mercator Auxiliary Sphere 102100"

)

;




}

‍‍‍‍‍‍‍‍‍‍‍‍‍‍‍‍‍‍‍‍‍‍‍‍‍‍‍‍‍‍‍‍‍‍‍‍‍‍‍‍‍‍‍‍‍‍‍‍‍‍‍‍‍‍‍‍‍‍‍‍‍‍‍‍‍‍‍‍‍‍‍‍‍‍‍‍‍‍‍‍

‍

‍

‍

‍

‍

‍

‍

‍

‍

‍

‍

‍

‍

‍

‍

‍

‍

‍

‍

‍
And finally, we'll build the URL and return it as a hyperlink. For Google, use the following syntax:
var

 url 

=

 

"http://maps.google.com/maps?q=&layer=c&cbll="

 

+

 

text

(

Latitude

)

 

+

 

","

 

+

 

text

(

Longitude

)

;




return

 url

;

‍‍‍‍‍‍‍‍

‍

‍
And for Bing, use the following syntax:
var

 url 

=

 

"https://www.bing.com/maps?&style=x&cp="

 

+

 

text

(

Latitude

)

 

+

 

"~"

 

+

 

text

(

Longitude

)

;




return

 url

;

‍‍‍‍‍‍‍‍‍‍‍‍‍‍‍‍‍‍‍‍‍‍‍‍‍‍‍‍‍‍‍‍‍‍‍‍‍‍‍‍‍‍‍‍‍‍‍‍‍‍‍‍‍‍‍‍‍‍‍‍‍‍‍‍‍‍‍‍‍‍‍‍‍‍‍‍‍‍‍‍‍‍‍‍‍‍‍‍‍‍‍‍‍‍‍‍‍‍‍‍‍‍‍‍‍‍‍‍‍

‍

‍
Once you have your Arcade expression built, the X and Y geometry of the feature will be added to the street view URL.

The URL will come through as a hyperlink in your web map pop-up.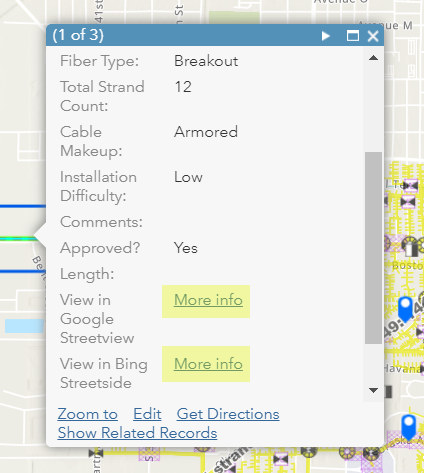 Patrick Huls
LinkedIn: Patrick Huls| Twitter: @SpatialNinja| GeoNet:Phuls-esristaff
56 Comments
You must be a registered user to add a comment. If you've already registered, sign in. Otherwise, register and sign in.