MVP
Mark as New

Bookmark

Subscribe

Mute

Email to a Friend
I updated calibration point measures to recalibrate my route. I saved edits, which end-dated my route and caused the route measures to go NAN.
I unretired the route, ran the Generate Route GP tool, and got this error message.
Executing: GenerateRoutes RailRoutes
Start Time: Thu Jan 10 14:33:57 2019
Network Layer: RailRoutes
Network definition query: (FromDate is null or FromDate<=CURRENT_TIMESTAMP) and (ToDate is null or ToDate>CURRENT_TIMESTAMP)
Regenerating route shapes in RailRoutes Network...
Total number of features to update: 1
Processing Route UP_ATCHISON YARD (1 out of 1).
Error populating network feature class
This type of cursor does not support this operation. For example, calling UpdateRow on a read-only cursor.
Failed to execute (GenerateRoutes).
Failed at Thu Jan 10 14:34:00 2019 (Elapsed Time: 2.29 seconds)
Then I tried to regenerate all routes using the catalog "generate route" in the ALRS and got this more detailed error message.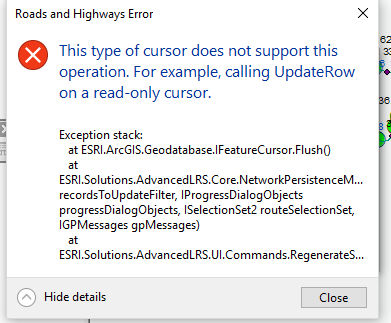 Any ideas?
0 Replies