New Contributor II
Mark as New

Bookmark

Subscribe

Mute

Email to a Friend
I need the first 13 characters of value %name% to be removed. %name% is the filename of a csv file, a field name in it is equal to the filename minus the first 13 characters. For example: filename "bench325_320_al2o3", field name "al2o3". This model will be running through over 200 hundred csv files and I need the "al2o3" (which will be different for each file) to be a new value for each csv and inserted where the red circle is in the attached image.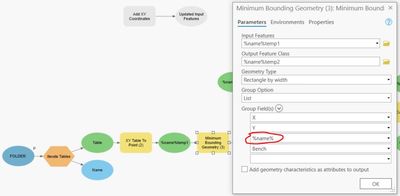 1 Solution

by
curtvprice

MVP Esteemed Contributor
Mark as New

Bookmark

Subscribe

Mute

Email to a Friend
To get this to work, use the Calculate Value tool. If your names are consistent as you say, either of these expressions would work.
r"%Name%"[-5:] # last 5 characters
r"%Name%"[13:] # characters 14-end
and connect the output of the Calculate Value as a precondition to the tool where you will be using the output variable (with % around it, for example %Value%). %Value% is entered in the tool dialog where you had %Name% entered before.
Hope this helps.
UPDATE: probably a good idea to connect the variable Name to your Calculate Value tool in the model as a precondition to make sure you have the current value of %Name% used. Also documents the model nicely. I often rename the Calculate Value tool to something like Calculate Value end of Name to make it obvious what's going on in the model.
5 Replies