Occasional Contributor III
Mark as New

Bookmark

Subscribe

Mute

Email to a Friend
I am trying to figure out what would seem a fairly normal GIS Process but put into a model so can be replicated.
1. Select feature by location i.e. pointing to a feature on the map
2. Update an attribute of the selected feature only.
Can someone show me how to do this please?
Regards
Dean
1 Solution

by
DuncanHornby

MVP Frequent Contributor
Mark as New

Bookmark

Subscribe

Mute

Email to a Friend
Dean,
You can automate all that you have discussed in model builder.
Firstly when asking questions about model builder on any forum, include images of your model or even share it, as at the moment everyone is second guessing what they think you are talking about. Also you don't even indicate which software you are using! ArcMap or ArcPro? Tag your question it helps us to help you...
Have a model of nothing more than a select by location feeding into a field calculate. As @curtvprice says all tools honour selections. Of cause you can shoot yourself in the foot, if no selection is created then the field calculate will apply to all rows in your data and potentially overwrite important data. Something to be aware of, I only have a few toes left ;)
Typically the select by location takes a layer to do the selection (which it self may have a selection on it). If you want to interactively draw a polygon on the screen that then becomes the geometry that does the selecting you need to expose the parameter as a FeatureSet. You need to expose it as a parameter so it allows you to interact with it and use it to draw a temporary polygon on your map.
So using ArcPro as by way of example (you can do this in ArcMap) here is the model, note some of the parameters have a "P" indicating they are model tool parameters.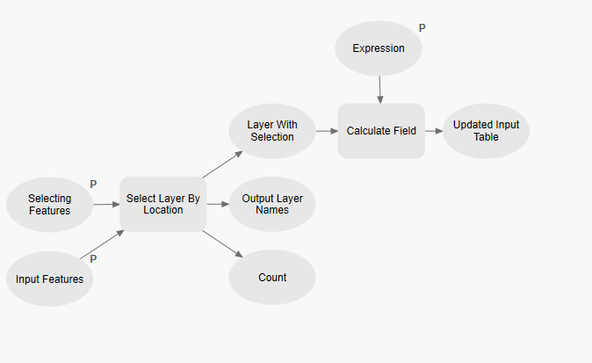 The model running as a tool looks like this: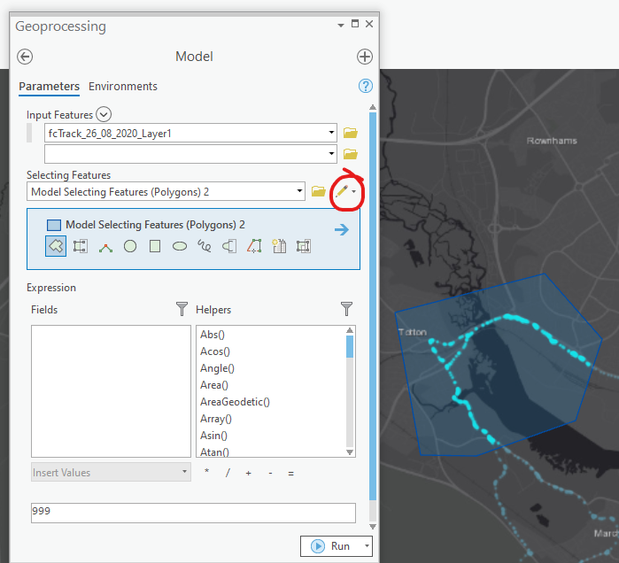 Clicking on the pencil icon allows you to draw any geometry and it is that that feeds into the select tool
8 Replies