New Contributor II
Mark as New

Bookmark

Subscribe

Mute

Email to a Friend
Hi all
I am trying to do an observer point analysis in the province of Asturias, Spain.
I was able to find an elevation file of Spain to use as the input raster here: https://www.diva-gis.org/datadown
As you can see on the image attached to this post, the resolution of the raster and therefore of the observer analysis is too low
Does anyone know where I can find and download an elevation file / raster of Asturias or Spain that is more precise / has a higher resolution? It is crucial for my analysis that the resolution is high
Thanks for your time
Jaime
3 Replies

by
PaulHartwell

Esri Contributor
Mark as New

Bookmark

Subscribe

Mute

Email to a Friend
I was recently researching terrain data for one of Esri's partners and if you can take advantage of the Imagery Services in the ArcGIS Living Atlas they have pretty good resolution across Spain. The attached is a quick example of part of your area of interest and you will see the Terrain (or in this case the derived tinted hillshade) is much finer resolution than what you had sourced. Take a look at the Elevation Coverage Map at https://www.arcgis.com/home/item.html?id=3af669838f594b378f90c10f98e46a7f that shows all sources and resolutions of terrain data across the globe. Even if you can't use the Living Atlas service you can try the origin agencies Esri has collaborated with for their authoritative sources.

New Contributor II
Mark as New

Bookmark

Subscribe

Mute

Email to a Friend
Hi Paul
Thanks for your reply
I downloaded the elevation coverage map from the link you sent, used it as the input raster in an observer point analysis and got the error shown in the screen capture attached. Do you know why this may be? What I could do to fix it?
Thanks for your time
Jaime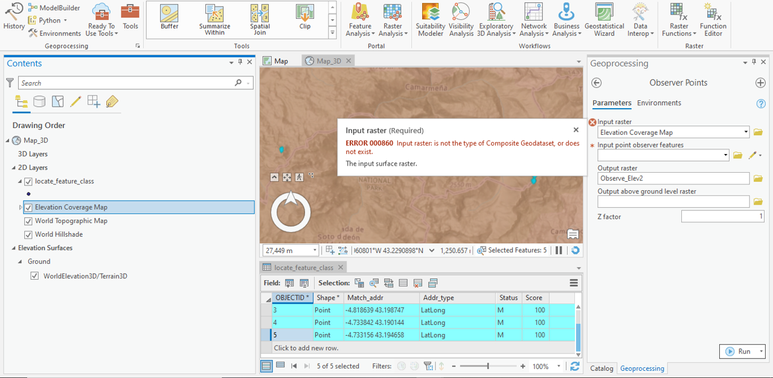 by
PaulHartwell

Esri Contributor
Mark as New

Bookmark

Subscribe

Mute

Email to a Friend
Jamie, I'm not a real user of ArcGIS Pro but it looks like it might be something simple like instead of using the Elevation Coverage Map, which is just a reference to show what are sources/resolutions of elevation data have been used in the actual service, try as input the Terrain layer from the Living Atlas. Details on that are at https://www.arcgis.com/home/item.html?id=58a541efc59545e6b7137f961d7de883