by
KellyGerrow

Esri Frequent Contributor
Mark as New

Mark as Read

Bookmark

Subscribe

Email to a Friend
You may have noticed that Map Viewer Beta was updated earlier this week. Here is a quick overview of the new and improved functionality that you can now access.
Support for Authoring Maps in all Coordinate Systems
Map Viewer Beta now supports the ability to author maps using basemaps in different coordinate systems. With the initial releases of Map Viewer Beta, the web map coordinate system was determined by the default basemap, which is typically Web Mercator. With the most recent update, you can now search for layers in all coordinate systems and add tile layers as a basemap, which updates the coordinate system of the web map. Read this article written by John Nelson about this new capability and some great examples of non-Web Mercator coordinate systems.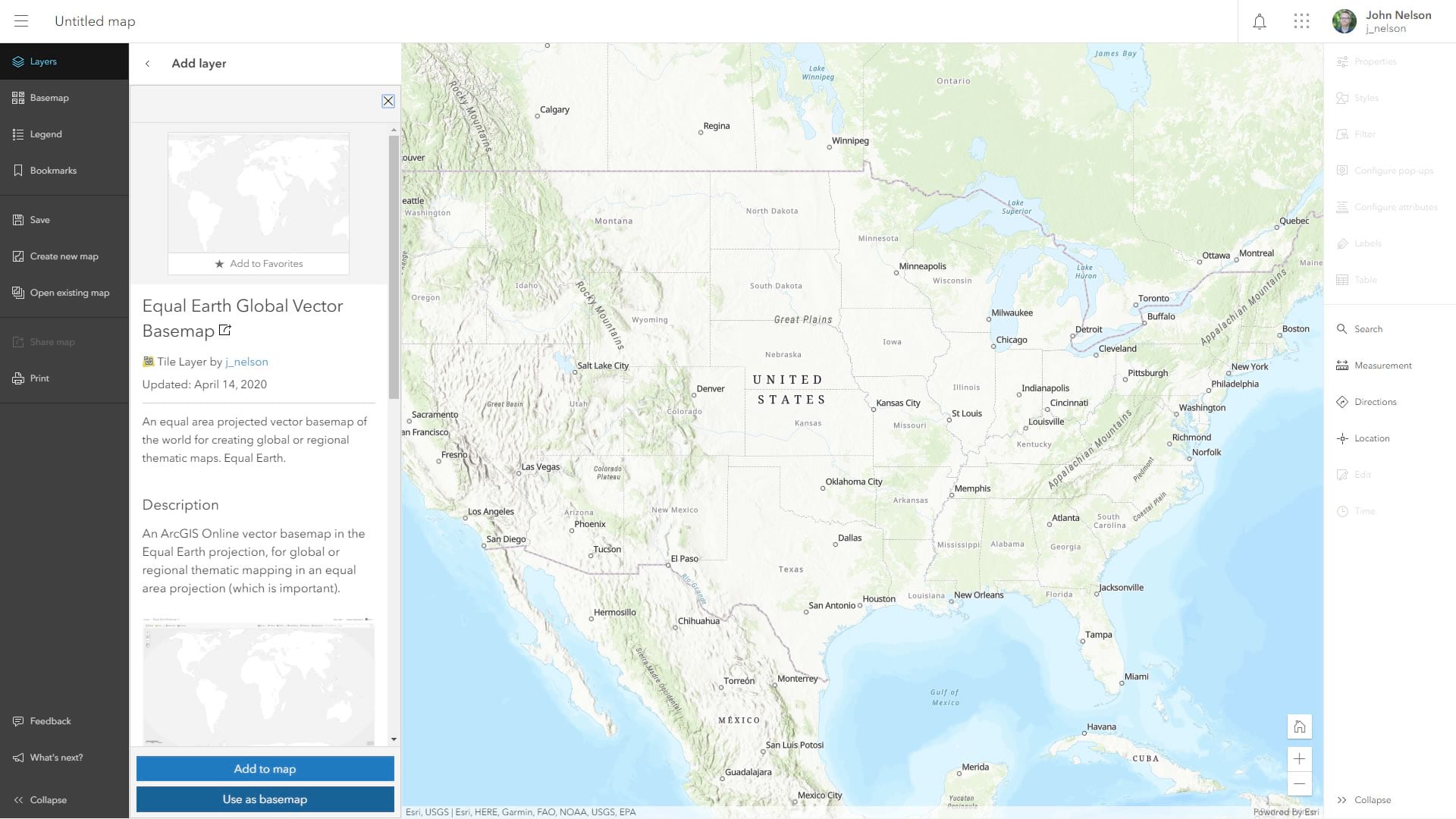 Ability to auto-size symbology based on scale
Map Viewer Beta now has the capability to adjust the point sizes and line widths of your features based on the scale of the map. With interactive mapping, designing a map that looks great at both large and small scales can be challenging as more detail and larger sizes are needed as you zoom in. Now, you can select the option to adjust the size automatically when authoring your map. Check out this article written by Kristian Ekenes for examples and details about configuring this new setting.
Now one size doesn't need to fit all scales.
Small Scale size 3.7 Large Scale size 3.7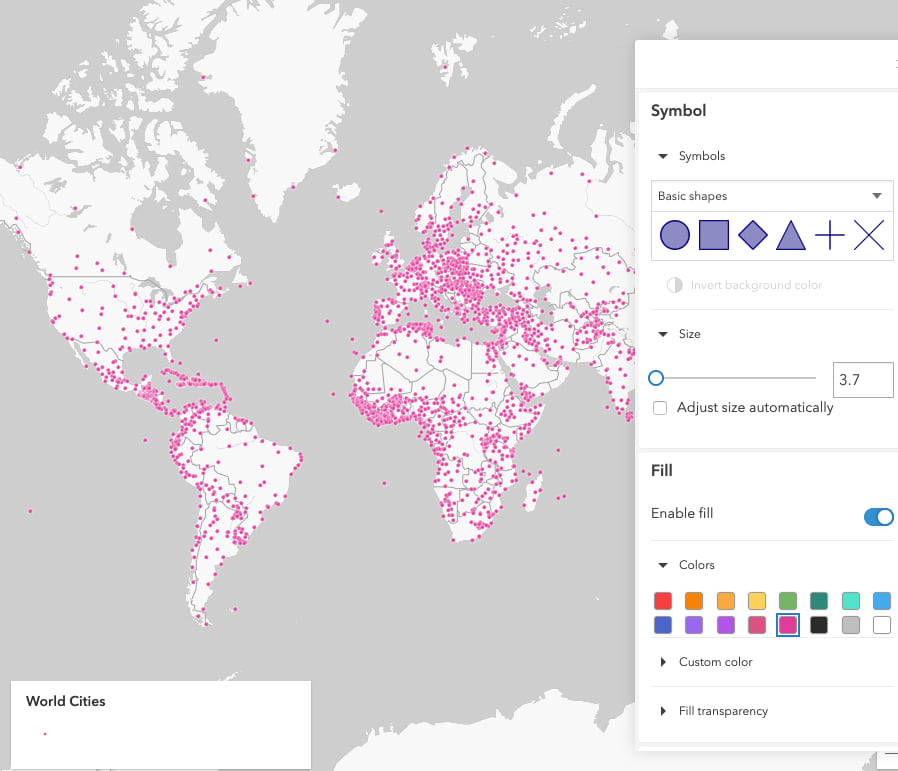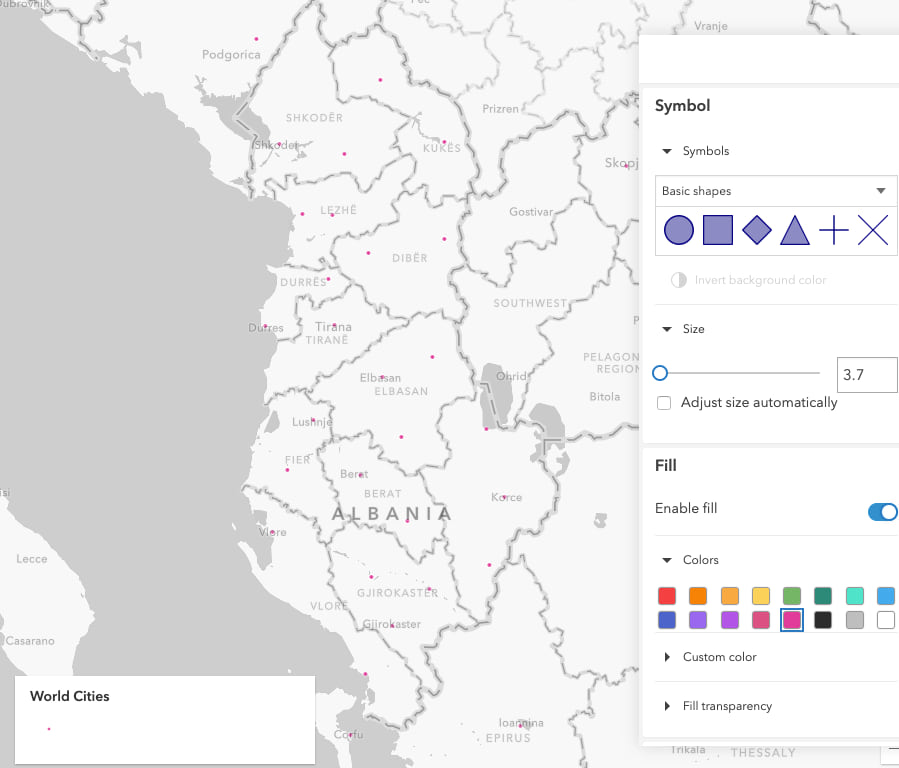 Improvements made to labels
Some improvements have been made to the labelling capabilities in Map Viewer Beta. A new font called BellTopo is now available in beta. Check out more details about this font designed by Sarah Bell in this article. Label classes were introduced to ArcGIS Online in February 2020. To ease the management of multiple label classes, it is now possible to name the label classes so you can easily identify the class you want to modify. Line feature labelling has also improved to better follow the geometry of lines.
More Smart Mapping Styles
New smart mapping styles are available now to visualize time in your maps. Time styles reveal patterns of new and old, and showcase the age of things on the map based on date and time data. Check out this article by Lisa Berry about the time styles and how to apply them to your data in Map Viewer Beta. Explore the different styles and options for your time data and display your changes immediately in Map Viewer Beta.
We plan to make a lot more functionality available over the spring of 2020, so keep checking in to learn about the updates and let us know your feedback as you explore the latest enhancements and new features.
15 Comments
You must be a registered user to add a comment. If you've already registered, sign in. Otherwise, register and sign in.