New Contributor II
Mark as New

Bookmark

Subscribe

Mute

Email to a Friend
I am wondering why I am seeing alignment issues with Landsat 8 Pansharpened and World Imagery, both layers added from ArcGIS directly from within ArcMap (10.5). Below are screenshots of my issue. The polygon is just a digitized forest boundary. You can see how the boundary makes sense when viewing the World Imagery, but it's misaligned when viewing the same polygon with the Landsat underneath.
Below are the Source Properties from both layers. As far as I can tell they are the same. I made no adjustments to anything after they were added from Arc, as far as I am aware.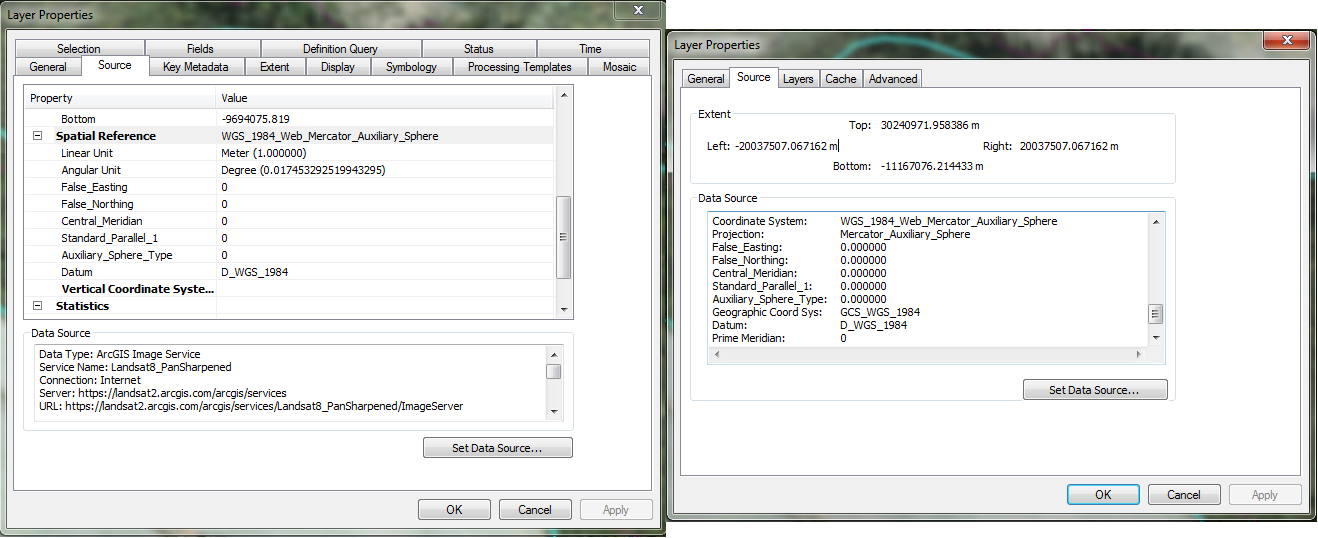 Below is the Source info for the Data Frame, in case that is helpful information.
NAD_1983_HARN_Virginia_Lambert
WKID: 3969 Authority: EPSG
Projection: Lambert_Conformal_Conic
False_Easting: 0.0
False_Northing: 0.0
Central_Meridian: -79.5
Standard_Parallel_1: 37.0
Standard_Parallel_2: 39.5
Latitude_Of_Origin: 36.0
Linear Unit: Meter (1.0)
Geographic Coordinate System: GCS_North_American_1983_HARN
Angular Unit: Degree (0.0174532925199433)
Prime Meridian: Greenwich (0.0)
Datum: D_North_American_1983_HARN
Spheroid: GRS_1980
Semimajor Axis: 6378137.0
Semiminor Axis: 6356752.314140356
Inverse Flattening: 298.257222101
Under Transformations within Data Frame Properties, I have GCS_WGS_1984 Into: GCS_North_American_1983_HARN Using: NAD_1983_HARN_To_WGS_1984_2.
Not sure what I'm missing here. This misalignment doesn't matter for my purposes, but I am curious about why it occurs. Any information would be helpful, and thanks in advance for the help.
EDIT: I've tried adding these two layers, World Imagery and Pansharpened Landsat in a new MXD, and I experience the same issue. It appears that in relation to the World Imagery, the Landsat layer experiences a subtle slide to the southeast. I don't believe this is just due to the resolution being substantially different, as this consistent directional shift is pretty apparent everywhere as far as I can tell. It also doesn't seem to be shadows making it look like a slide, but I guess that's possible.
EDIT AGAIN: Does this have something to do with the fact that both of these layers are made up of stitched together remotely sensed imagery, each tile of which is essentially a "flat" representation of a curved surface, so there will be some distortion at the edge of each "tile?" I would understand if that was the case, but it still appears to be a uniform misalignment, with the Landsat always sliding southeast relative to the World Imagery, so I don't know how this explanation would apply.
5 Replies