Highlighted

New Contributor
Mark as New

Bookmark

Subscribe

Mute

Email to a Friend
Hi, 

I have a multiple raster datas (~ 450 DEM´s) and I want to merge them into a new single raster data. 


I want to use the mosaic DEM to determine the slope

.

 
Does anyone have any idea how to merge them together into a new raster data the easiest way? 
I tried it with the tool "Mosaic to new raster". But maybe there is a better way and I don´t know it yet?  
Although the input datas (coordinate system, number of brands, pixel type,...) are the same, 
the following error appears with the "Mosaic to new raster"-tool: 


Error 000999: Failed to get raster. Please check if the input parameters is correct. 
I was wondering if this is because the raster data has a compression (RLE). 
However, the individual raster datas are displayed in ArcMap. 


Does anyone know if it could be due to this fact? Or what else could it be? 
I

 am very grateful for any help.
1 Reply
Highlighted

Regular Contributor II
Mark as New

Bookmark

Subscribe

Mute

Email to a Friend
Manuel
I would recommend you use a Mosaic Dataset. Mosaic datasets—ArcGIS Pro | ArcGIS Desktop
This allows you to create a virtual mosaic of your input datasets without duplicating all of the data in a new file.
Once you have the DEMs in a single mosaic dataset, you can apply the SLOPE raster function to create an instantaneous slope dataset. This can be used immediately for analysis, and can be configured so the output is DEGREES or PERCENT RISE.
List of raster functions—ArcGIS Pro | ArcGIS Desktop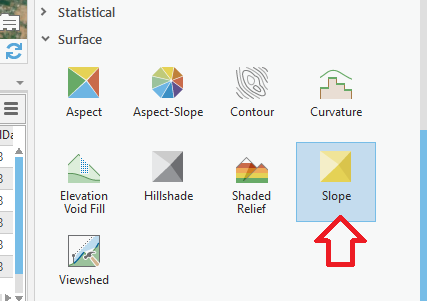 If you are going to be doing a lot of work with this mosaic dataset of DEMs (e.g. adding more over time, replacing older DEMs with new datasets, adding multiple functions for hillshade/slope/aspect/ellipsoidal height, sharing with colleagues, etc.) I would recommend you read through our best practice recommendations at http://esriurl.com/ImageryWorkflows, and search specifically for Elevation. However for a short term project you can just follow my brief notes above.