by
EmilyWindahl

Esri Contributor
Mark as New

Bookmark

Subscribe

Mute

Email to a Friend
This post provides a starting point for users to share questions, answers, and general comments regarding the Managing Browse Imagery workflow. Run into an issue? Have suggestions for using or improving the workflow? Share it here.
Esri's imagery workflows offer tools and best practices for managing, analyzing, and using imagery and rasters. Check out the Imagery Workflowspage to explore them all.
2 Replies

Occasional Contributor
Mark as New

Bookmark

Subscribe

Mute

Email to a Friend
This seems a bit out of date, or not yet updated........
"Browse Imagery workflow coming soon. In the meantime, check out the downloadable workflow scripts here."
I'm looking for a solution that would allow my users to search through a 'catalog' of raster datasets to find those they are interested in. Unfortunately, I cannot figure out how to allow users to 'flip' through images that lay on top of each other.

Esri Regular Contributor
Mark as New

Bookmark

Subscribe

Mute

Email to a Friend
Jayson
This downloadable script is focused on organizing your data in a mosaic dataset for management and access, either from ArcGIS Desktop (ArcMap or ArcGIS Pro), or ArcGIS Image Server, if you have large collections/large # of users.
The user interface for accessing those images is a separate topic. If you'll be building a web client for image access, I'd encourage you use Web AppBuilder developer edition, and note that you'll want to add the image service widgets, and specifically the Image Selector widget.
Links:
Web AppBuilder for ArcGIS (Developer Edition) | ArcGIS for Developers
Image service widgets: http://esriurl.com/WABIS
For an example, although not exactly a "browse" implementation, see the Landsat Explorer app here Landsat Explorer
In this case, the image selector is using the DATE field. It's labeled the "time" selector here, but the widget is general purpose - you can use any field in the attribute table to select images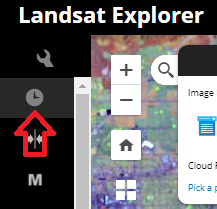 When the widget opens, note you can use the time slider view where there's a tic mark for every available image
or you can switch to a pulldown list to see dates