New Contributor III
Mark as New

Bookmark

Subscribe

Mute

Email to a Friend
I am currently working with Landsat 8 imagery and an having a hard time pan-sharpening the imagery to get a better resolution. Then option under properties>pan-sharpening to choose an infrared image as the 4th band is greyed out. I am not sure if I am going about this right. Should I create an new mosaic dataset first, then a natural color image and follow that with the pan-sharpening? Any tutorials on this would help.
Second question is, when I clip the raster image from the study area boundary, the color of the pixels changes. How do I prevent this discoloration and maintain the natural color of the pixels? My analysis is dependent upon the pixels maintaining their natural color. Any help would be appreciated.
1 Solution

Esri Regular Contributor
Mark as New

Bookmark

Subscribe

Mute

Email to a Friend
Norman
1) re: clip and color changes, yes your understanding is correct. try that, and if you're still seeing a color change, then we have to figure out what's wrong. You are correct in expecting that you should be able to see exactly the same, before and after... HOWEVER, I'd put this on hold until you consider other advice - I'm not sure you should use "clip" on anything before perhaps a final, classified raster... ( If you "clip" you end up with an exported version of the imagery and will typically lose connection to the metadata, and that metadata is critical for doing classification).
2) I'm glad you're on 10.3.1! That is the good news... The bad news is, I think you should start over re: workflow. There's no need to copy pixels into a GDB - it just duplicates data and may break the link to original metadata. When you have time to read, I'd encourage you to learn more about the Mosaic Dataset and understand alternatives by reviewing our "Image Management Guidebook" = http://esriurl.com/6007 but that is not a very direct answer to this question... What I would recommend is
for working with an individual image, you can use the Raster Product (expand the little satellite icon in Catalog) - you'll see the Pan Sharpened output is prebuilt for you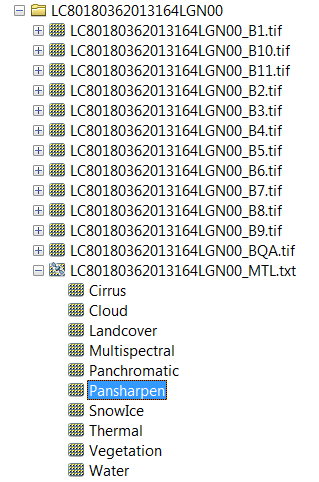 (A second #1. I love auto formatting) If you're working with multiple images, create a mosaic dataset, then when you "Add Rasters" be sure to use the Landsat 8 Raster Type. That will add function chains to derive the pan sharpened product automatically.
You can also use the supervised classification tools directly on the mosaic dataset (but NOTE pan sharpened imagery is NOT appropriate for classification...)
note all of your work will be done "on the fly" (without duplicating disk space) so when you get a good classified result, you can either export it, or just save the MXD to return to the output products you create.
I think I had a fourth recommendation but need to run to another meeting - my apologies - I will revise this or add a follow up post as possible...
Cody B.
16 Replies