New Contributor III
Mark as New

Bookmark

Subscribe

Mute

Email to a Friend
I have a number of Historic Aerial images georeferenced that I'd like to clip, mosaic and publish for use in ArcGIS online either as a layer or a basemap using ArcGIS Pro 2.3.
The images have a collar and some collar information that can be totally removed. I have a fair amount of ArcGIS online experience but am new to desktop.
Can someone give some advice about how to go about doing this using ArcGIS Pro 2.3?
Are there any advantages to publishing as a basemap vs. a layer?
Are there are ArcGIS Pro training plans that address this product/workflow specifically?
thank you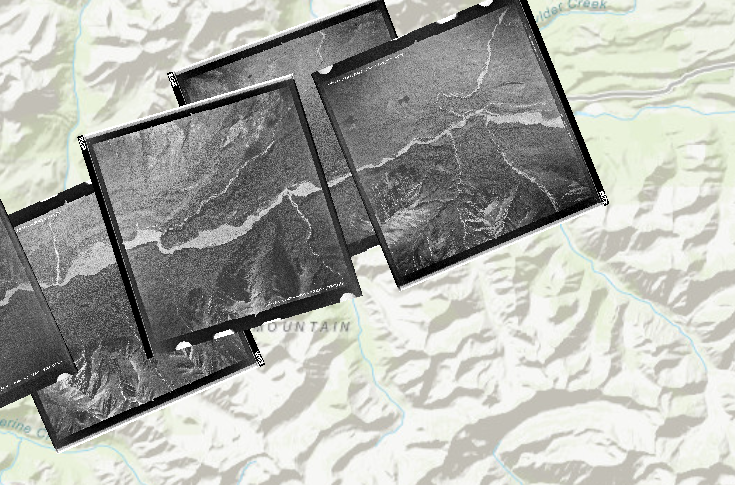 1 Solution

Esri Regular Contributor
Mark as New

Bookmark

Subscribe

Mute

Email to a Friend
Based on what you've said, I'll give abbreviated advice
At a high level, there are three primary options, described here only briefly. It sounds like you're in the first case, and for the benefit of other readers who may see this, I'll describe the two other options afterward:
Presuming a low number of photos and you do not need high accuracy, then use the Georeferencing tools. Note this will not orthorectify the imagery (will not fit imagery to the terrain). Specifics:

Georeference each image independently.
Start with first order transformation to get started, but depending on your ability to find ad-hoc control points, use higher level transforms such as spline (a minimum of 10 tie points required to enable this transform). For reasonable accuracy you will want control points distributed around image and on terrain extremes.
Use "Save" which will georeference using tie points in a small *.aux.xml file that can be edited (improved) later if necessary. In this scenario recommend you do not use "Save As" which creates a new image file.
Create a mosaic dataset to dynamically mosaic the images together. (any image can be viewed, so pixels in overlap are not lost).
Use Footprint feature class to clip the black collar (pixels not permanently removed, just hidden)

For highest accuracy, scalable to large blocks of film, users should apply photogrammetry via the Ortho Mapping capabilities (ArcGIS Pro Advanced license,

Scanned Film

workflow)

Should have the camera report to define parameters such as focal length - this will most likely be available from

USGS Earth Explorer

Need to create* a table with approximate exterior orientation listing the (x,y,z) location and camera heading angles (kappa) for each image. This can be estimated if necessary. May be created manually for small to medium size blocks of film.
Need to provide a DEM – this can be exported from ArcGIS Online World Terrain image service, use an existing DEM, or generate a DEM from the imagery after block adjustment

If you have limitations on inputs for #2 for Ortho Mapping (e.g. no exterior orientation table and/or not able to see fiducial marks on film) use the

Drone

workflow in Ortho Mapping to generate an approximate mosaic.

For some use cases, this may produce adequate products.
For users seeking the highest accuracy results, use results of this process as input to the

Scanned Film

workflow in Ortho Mapping
We'll be publishing a deeper discussion on this on http://esriurl.com/ImageryWorkflows soon - I will plan to update this post when that is published.

Cody B
9 Replies