New Contributor III
Mark as New

Bookmark

Subscribe

Mute

Email to a Friend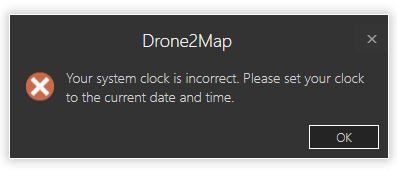 I just installed the August 2019 release of Drone2Map and licensed it with my authorized named user. I also "took it offline" prior to closing the app, in prep for use in the field or without internet. I closed the app, and went to reopen it and now I get the above message when I attempt to "sign in" to authorize the software. Weird, because I did authorize it for offline use, before closing it.
I have a 60 day trial authorized to my named user within my AGOL org. Esri please advise. I can find little to no documentation on this specific error message - specific to Drone2Map. I have also tried changing my system clock to MT, CST, EST from PST...to no avail the app will not launch due to this error. I am based in California, our AGOL admins are across the country...I work for USGS.
2 Replies

Esri Contributor
Mark as New

Bookmark

Subscribe

Mute

Email to a Friend
Hi Amber,
I'm working with a customer with the same problem on Drone2Map. Did you find a solution? If so, please tell us.
Regards,
Rafael

by
AmnoyAm

Esri Contributor
Mark as New

Bookmark

Subscribe

Mute

Email to a Friend
This error usually comes up when your system clock changed 24 hrs forward or backward. If you've already switched your system clock back to the current date and time and still getting this error, do the following:
1. On the client machine where Drone2Map was installed, open your Registry Editor and go to HKCU\Software\ESRI\Drone2Map\Licensing. Look for the key, ARCPROWORKOFFLINE, and change the value from TRUE to FALSE. This will allow you to start Drone2Map with the AGOL login dialogue.
2. Your AGOL organization still thinks you've taken the Drone2Map license offline. Contact Esri's Customer Service to remove the offline status from your account.
You should be able to start and log in to Drone2Map with your AGOL account afterward.