New Contributor
Mark as New

Bookmark

Subscribe

Mute

Email to a Friend
Hello everybody,

My name is Andres Martin, this is the first time I write in the forum.


I am having problems when generating multi lod mesh in slpk format with drone2map.
I have more than 10 different flights in different locations made with my drone (mavic2pro) and I am having a problem that I do not know why it is happening. When I configure the products that I want to obtain and the program begins to process everything, it generates almost all of them without problems. Both the DTM, DSM, Orthomosaic and point cloud in LAS and SLPK formats, generates them without problems. However, the product that interests me that is the MESH in SLPK format, generates a 1k file. The process ends without problems and without notifying me anything weird, but that product that as I say is the one that interests me, because I want a 3d scenario, it does not generate it. I send you a screenshot where you can see it.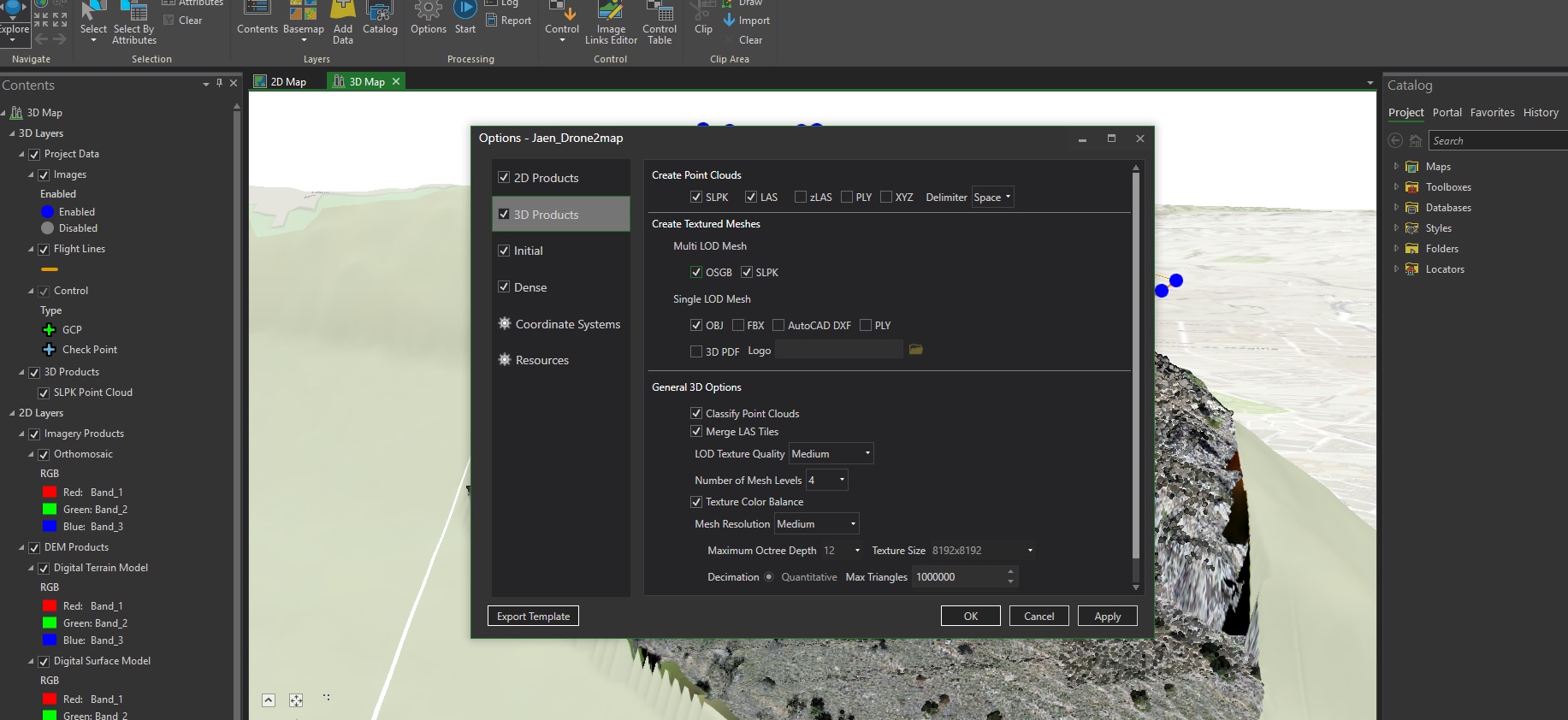 In the Multi LOD Mesh option it doesn't generate anything, just a 1k file, however the Single LOD Mesh option, it does generate a file that is a 3d object and which I can open without problems in a 3d viewer but, like I say, it is not the product that interests me (I also attached a screenshot of the obj format in the 3d viewer so you can see that it is generated well).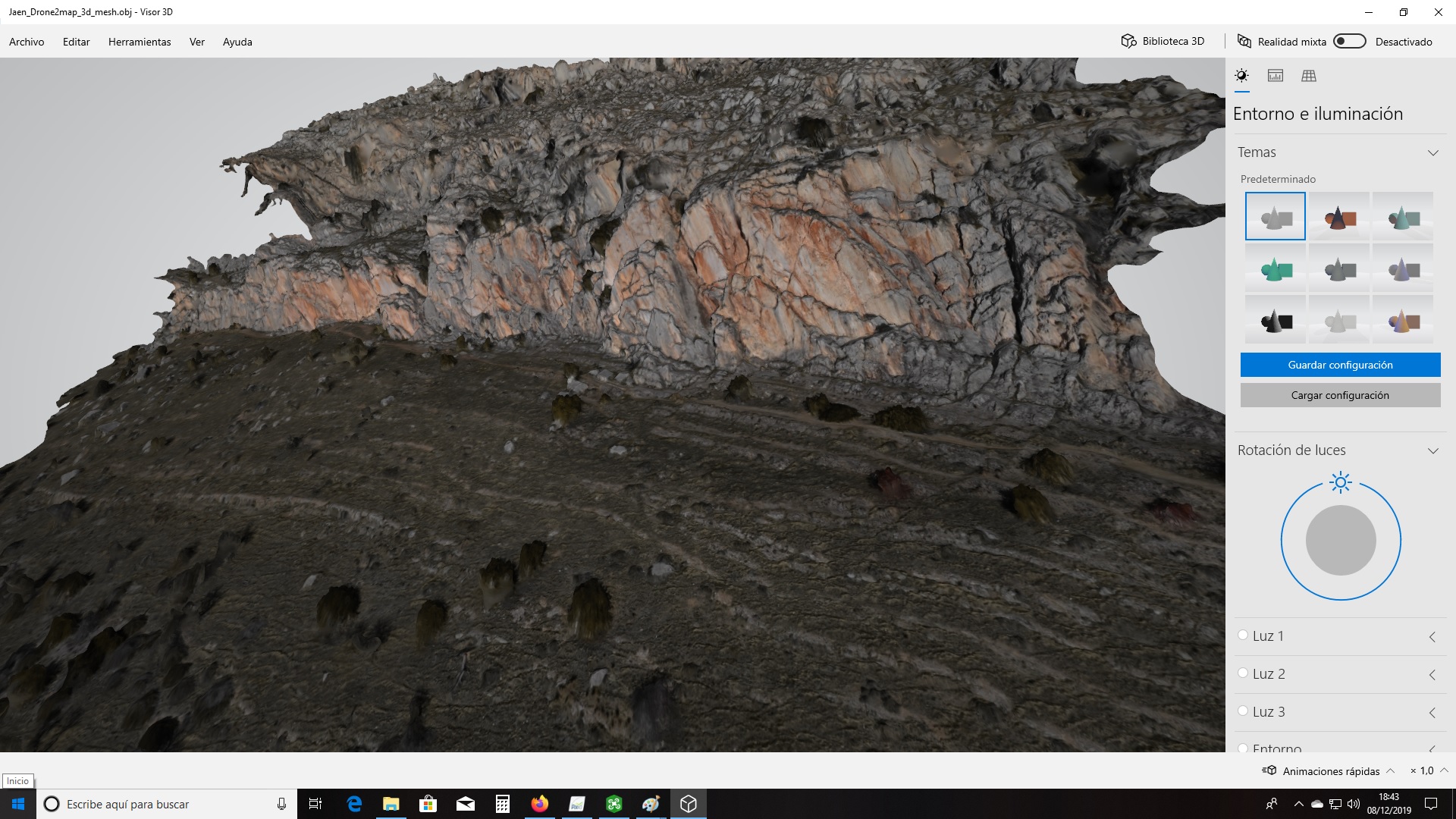 As I say, I have done it on 10 different flights and with different locations and the same thing always happens to me. I have downloaded pix4d, in its trial version, since the drone2map engine is the same as that of pix4d, and it generates the first mesh without problems, in obj format, which is what pix4d offers. I cannot understand what may be happening.
I think I'm doing things right, it doesn't seem very complicated, but I'm totally stuck.

Someone could tell me what could be happening?
3 Replies

Esri Regular Contributor
Mark as New

Bookmark

Subscribe

Mute

Email to a Friend
Andres
I've asked our development team about this, and we don't know any reason that this should happen. We have successfully processed Mavic Pro data in the past...
Can you contact support@esri.com and open a support ticket? We'd like to get a sample of your data if possible.
Thanks
Cody B.
New Contributor
Mark as New

Bookmark

Subscribe

Mute

Email to a Friend
It's strange. 
When I define the processing options, if in the tab 3d products I mark in general options 3d, 
lod texture quality, medium and mesh reoslution medium, which is what comes by default, 
it always generates a 1k file that has no information and no allows me to visualize anything.
After watching esri events webinar and hearing that it is advisable to mark in these two 
high options, in this case, if it generates the mesh but, as I say, if I leave the medium option, 
which is the one that comes by default, it generates me a 1k file. 
I do not understand why. After watching the webinar, I repeated the process by checking both options, 
high, and it came out but I find it strange that in the default medium option, I didn't generate anything. Tell me what you want me to send you. Thank you

New Contributor III
Mark as New

Bookmark

Subscribe

Mute

Email to a Friend
I am experiencing the exact same problem. I want to like Drone2Map, because I would rather purchase it over Pix4D, but the textured mesh is main product that I need from the processing...
Has this issue been resolved?