Mark as New

Mark as Read

Bookmark

Subscribe

Email to a Friend
Wayback imagery is a digital archive of the World Imagery basemap with more than 80 different versions of imagery captured over the last 5 years.
The World Imagery Wayback app lets you browse for changes in your area of interest and lets you make a map with versions of interest. Swipe mode is a newly added capability that makes it easy to compare selected imagery, and pushes it even higher up my favorite Living Atlas app list.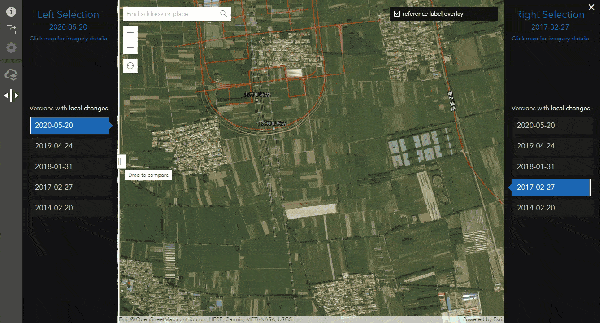 One of the things I really like is that you can click share (or copy the URL) when in swipe mode and get a link that captures the chosen imagery and the location. This makes it really easy to look at change over time and share that with others. Here's a couple of examples:
View change over time in Las Vegas, Nevada
View change over time at Beijing Daxing International Airport
Here's my colleague @RobertWaterman blog article announcing the new capability and encouraging you to Do the Wayback swipe.
Another great feature is that you can select the imagery you want and make a map directly from the app. I've used this to solve problems that a couple of users wrote me about. One was in rural Canada and an imagery updated introduced some clouds in their area. Another was in the northeast U.S. and an imagery updated had snow on the ground, something they did not want.
Using Wayback it was easy to go back to a previous vintage to get the desired imagery. The workflow is covered in Use World Imagery Wayback to create a custom basemap.