Mark as New

Mark as Read

Bookmark

Subscribe

Email to a Friend
Earlier today someone asked me about a way to shorten a URL to an app hosted in their ArcGIS organization. Not only did they want to shorten it, they wanted to create a custom shortlink that would be easier to remember.
I found a list of 9 URL Shorteners to Shorten Long Links and tried a couple of them. Most just shorten a link - this is good, but results in jibberish that's good for copy/paste, but not much else. One of them (which I did not try) offers domain-based short URLs for a fee.
But a reasonable alternative, and also one that's free, is from Tiny URL. While not quite a total custom URL, or one that is based on your domain, it does offer a solution for something that's easy-to-remember.
I took this impossible to remember and lengthy URL:
http://story.maps.arcgis.com/apps/MapJournal/index.html?appid=9b5f19e06a2b4aaba75844d147251d2b
And ran it through TinyURL to create something I could remember. I tried a couple of strings which were already taken, but found one that wasn't and settled on this as the short URL: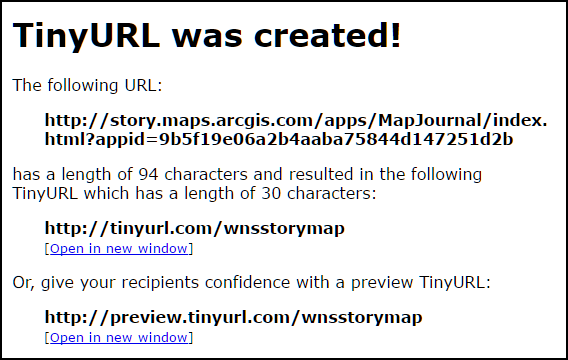 Note that it also includes a preview, just in case someone might be suspicious and wants to view the expanded URL before opening.
Try them out:
http://tinyurl.com/wnsstorymap
http://preview.tinyurl.com/wnsstorymap
Note that this isn't an endorsement, but hopefully it's something useful. Let me know if there are others you find.
You must be a registered user to add a comment. If you've already registered, sign in. Otherwise, register and sign in.