Introduction to Geospatial Concepts for Intelligence Class Resources
This two-day Esri ArcGIS Pro course introduces students from defense and intelligence communities to foundational-level geospatial concepts and how to apply them to support the intelligence cycle. In the context of real-world scenarios, you will get hands-on practice applying ArcGIS Pro tools and workflows to prepare, visualize, analyze, and disseminate data that supports intelligence operations. Below is a collection of Esri resource links covering the topics of each lesson.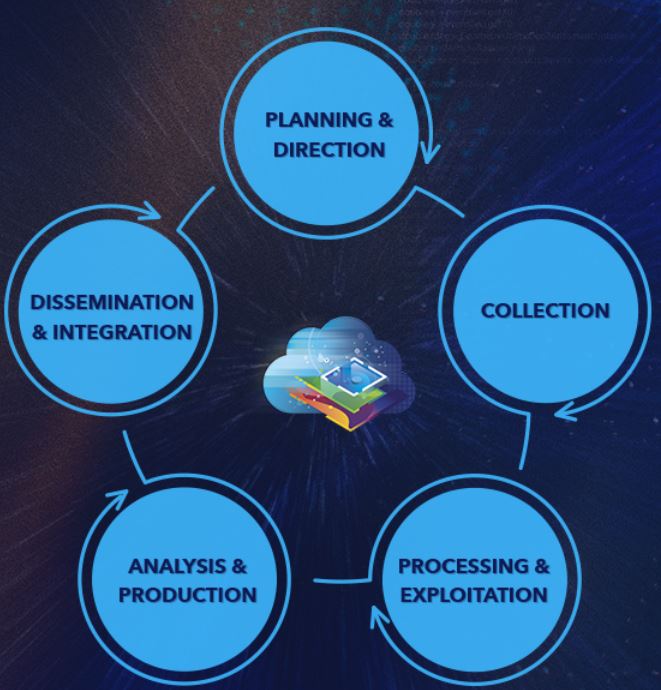 Table of Contents
Resources
Lesson 1: Data preparation for operational planning
Lesson 2: Data and layer properties
Display Layers at certain scales
Select By Location and Select By Attribute
Lesson 3: Spatial reference
Lesson 4: Raster fundamentals
Lesson 5: Working with vectors
Lesson 6: Introduction to spatial analysis
Lesson 7: Map production
Additional Web Based and Instructor-Led Training
Get Started with ArcGIS Pro Intelligence: This seminar will introduce ArcGIS Pro Intelligence, a configuration of ArcGIS Pro designed for the intelligence analyst in mind.
Learn ArcGIS: Guided lessons based on real-world problems.
Map Projections: Story Map focused on choosing a specific map projection depending on the purpose of the cartographic presentation and on which geometric characteristics to preserve.
Using ArcGIS for Geospatial Intelligence Analysis: This Instructor led course teaches geospatial concepts and recommended workflows that support the production of timely, accurate, and actionable intelligence.
Portal for ArcGIS: User Workflows (for Defense and Intelligence): This course prepares you to efficiently work with content on your organization's geospatial content portal to support intelligence production and dissemination.
Image Exploitation for Defense and Intelligence: This course introduces essential remote sensing and imagery concepts related to visualizing and analyzing imagery using ArcGIS Pro and ArcGIS Image Analyst software.
Technology Resources
Map Distortions: An interactive web-based tools showing map distortions of user selected Projected Coordinate Systems.
ArcGIS Solutions: Free industry-specific configurations for ArcGIS.
ArcGIS Solutions for Defense: ArcGIS Solutions for Defense includes a set of freely available maps, applications, templates, and widgets to support mission-critical activities of military forces.
Military Tools for ArcGIS: Military Tools for ArcGIS is a collection of new, mission-focused enhancements to simplify defense and intelligence workflows in ArcGIS.
Webinars
What's new in ArcGIS Pro 2.6
Introducing Coordinate Systems and Map Projections
Intel Ops and Analysis with ArcGIS Pro for Intelligence Webinar