Mark as New

Mark as Read

Bookmark

Subscribe

Email to a Friend
Update, 2 June 2016: Google Chrome 51.0.2704.79 was just released; it fixes the change that caused a blank screen for ArcGIS Online, Portal for ArcGIS, and applications built with the ArcGIS API for JavaScript. If you are affected by this, please click the Customize and control Google Chrome button and navigate to "Help > About Google Chrome" to force an update check and upgrade to this latest patch level.
The previous version was 51.0.2704.63, and the fixed version is 51.0.2704.79.
Update, 27 May 2016: KB 13156 has been published on the Support website to provide additional information about this issue.
---------------------
Google released an update to Google Chrome (version 51), which was pushed out to the public on Wednesday, May 25th. Unfortunately, this update included a change that impacts anyone using Google Chrome to access ArcGIS Online or Portal for ArcGIS versions 10.3, 10.3.1, 10.4, or 10.4.1.
This change impacts many apps built on the ArcGIS API for JavaScript (versions 3.8 - 3.16), several subsets of custom apps built by users, partners, and Esri Professional Services (for example, any app that uses the feature table or an analysis widget), and, most notably, the "home app" in ArcGIS Online and Portal for ArcGIS.
You may be seeing a screen similar to this after logging in: a blank screen with few or no elements.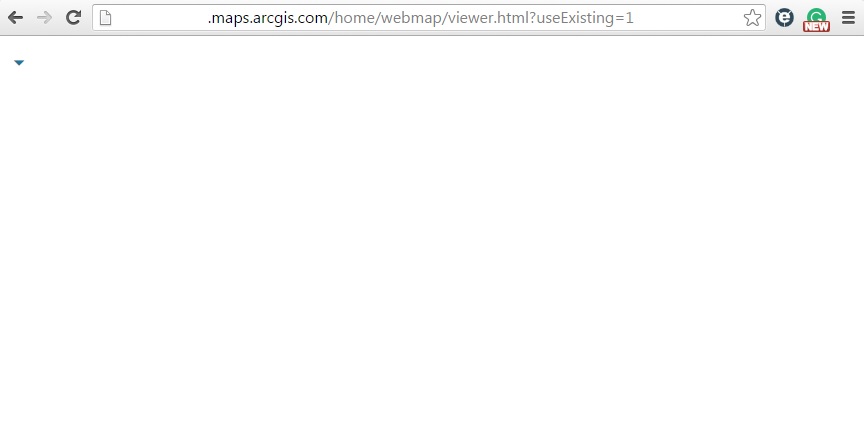 What you can do:
If you are using Google Chrome to access ArcGIS Online, the above listed Portal for ArcGIS versions, or apps built with the above-listed versions of the ArcGIS API for JavaScript, please turn off auto-update in your Chrome browser now. If Chrome was updated, you will need to temporarily use another browser (such as Internet Explorer or Mozilla Firefox) until patches have been released.
What Esri is doing:
The ArcGIS Online team is preparing fixes that will go live this evening.
We are still working on a solution for Portal for ArcGIS.
Developers using the hosted version of the JavaScript API are unaffected, as it has already been patched.
We are working on a solution for JavaScript API developers that use either a custom build of the API or use it locally.

We will provide updates at the top of this blog post regarding Portal for ArcGIS and ArcGIS API for JavaScript as soon as we have more information. A technical article has been released for this issue, KB 13156, which provides some additional detail about this problem.
If you have run into any problems as a result of this bug that impact your workflows, please contact Esri Support Services at 1-888-377-4575.
---
Gregory L. - Online Support Resources
You must be a registered user to add a comment. If you've already registered, sign in. Otherwise, register and sign in.