by
JessiMielke
Esri Contributor
Mark as New

Mark as Read

Bookmark

Subscribe

Email to a Friend
Once you've chosen the certification you'd like to pursue, preparing for the exam is the next challenge. Candidates often fall into the trap of thinking that there isn't a need to prepare - Perhaps you've been in the field for many years, or maybe you are just exiting a degree program or taken Esri Training courses, so preparation isn't something you feel is a priority. Keep in mind, while Esri Technical Certifications are created for experienced industry professionals and veteran users of ArcGIS software, these exams are challenging and creating a preparation plan is strongly recommended.
Step 1: Build Your Foundation
When preparing for certification, it's important to understand the foundation for success with Esri exams. Formal GIS education and ArcGIS focused training – Esri courses are important, and can certainly help a candidate to expand or improve their use of the software. This alone does not guarantee success on an exam. Esri exams are built to test a candidate's proficiency in using ArcGIS, so practical, hands-on application, and familiarity with Esri best practices are the best chance at success.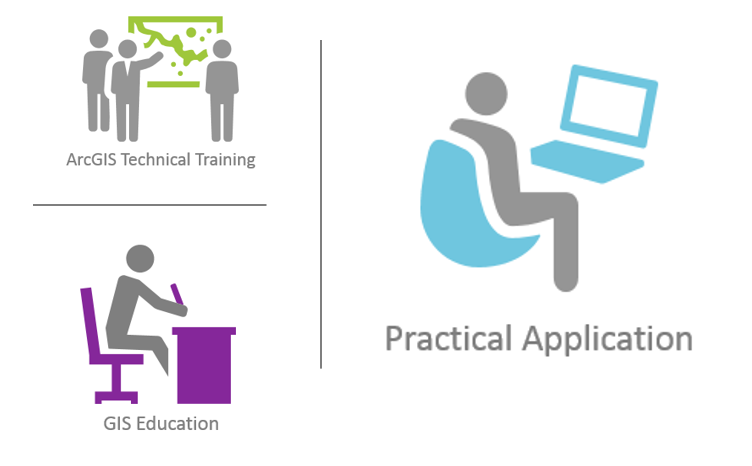 Step 2: Measure Your Skills
No doubt you've already spent a good deal of time reviewing the exam offerings and selecting the exam that best fits your skill set. Even so, we'd encourage you to revisit the skills measured by the exam and thoroughly review the sections and concepts on the exam. If you see a concept listed, you can guarantee it will appear on an exam as this content is driven from the exam blueprint. Reviewing the sections and concepts presented within each will help you to identify any gaps in your knowledge or simply find areas where you want some refresher knowledge before your exam appointment. Use this as a checklist and identify areas of strength and opportunity. Ensuring you are familiar with the skills measured is instrumental in achieving an Esri Technical Certification.
Step 3: Focus Your Preparation
Once you've determined which areas you need to spend the most time preparing there are some key ways you can forge ahead on your preparation journey – Get hands-on practice, review best practices and applied knowledge. Each exam webpage features a list of preparation resources with options, broken down by exam section, to provide training options.
We offer specific certification resources including sample question web courses for each of our exams. These are intended to give candidates a better understanding of the types of questions that might be asked on an exam. We also recently released an Esri ArcGIS Desktop Associate Certification Study Guide for the 10.5 exam which can be purchased from your favorite book retailer (http://esripress.esri.com/display/index.cfm?fuseaction=display&websiteID=354&moduleID=0). The structure of the guide follows the skills measured. We have begun authoring a similar guide for the ArcGIS Desktop Professional exam and hope to offer many more of these in the future.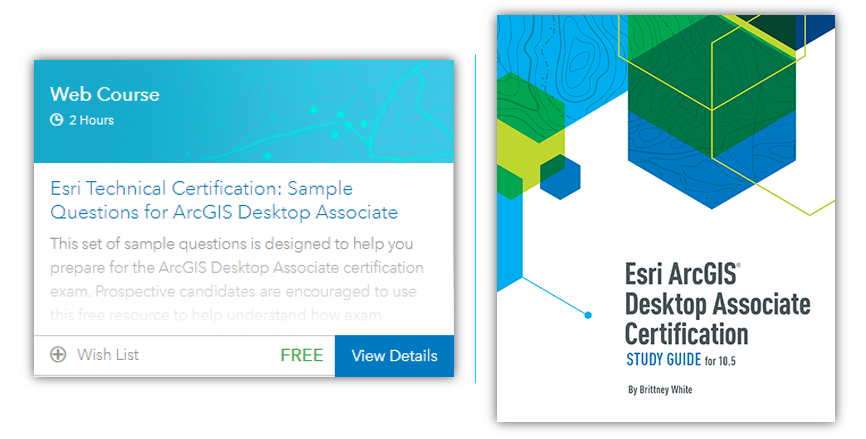 It is also recommended that you take advantage of the wealth of information found on the Esri Support site (https://support.esri.com/en/) and in ArcGIS documentation (http://doc.arcgis.com/en/).
Next Steps
Preparing for your exam doesn't have to be an arduous process. Take this opportunity to broaden your skills, learn new concepts, and engage differently with our technology. Achieving your certification will be the well-deserved outcome for all your hard work and preparation.
What are your tips for exam prep? How do you break down your study time versus hands-on learning/exploring? Tell us about your experience getting ready for certification.
18 Comments
You must be a registered user to add a comment. If you've already registered, sign in. Otherwise, register and sign in.