Highlighted

New Contributor II
Mark as New

Bookmark

Subscribe

Mute

Email to a Friend
I have downloaded the 30 year means (1961-1990) of the CRU data from the IPCC website and want to load it into ARCGIS and make shapefiles for each of the datasets (max temp, min temp, precipitation etc). My issue is that the data is formatted to be laid out as east to west in the file from left to right, and north to south going down the file, all in half degree spacing. This is for January and the same layout repeats below for each month in turn.
Is there a way I can load this into ARCGIS and create a shapefile where each row in the attributes table is a single coordinate and each column is as follows: Latitude, Longitude, January, February, March... etc
The data is downloaded from here. When opened with notepad++ the data displays as follows. N.B I can't zoom out enough to show all of the data but if I were to scroll across it would display the world starting from longitude 0.25 right round to 359.75. From the top it starts at latitude of -89.75 and goes down to 89.75 which represents January. Immediately below that, with no break, February follows, then March etc.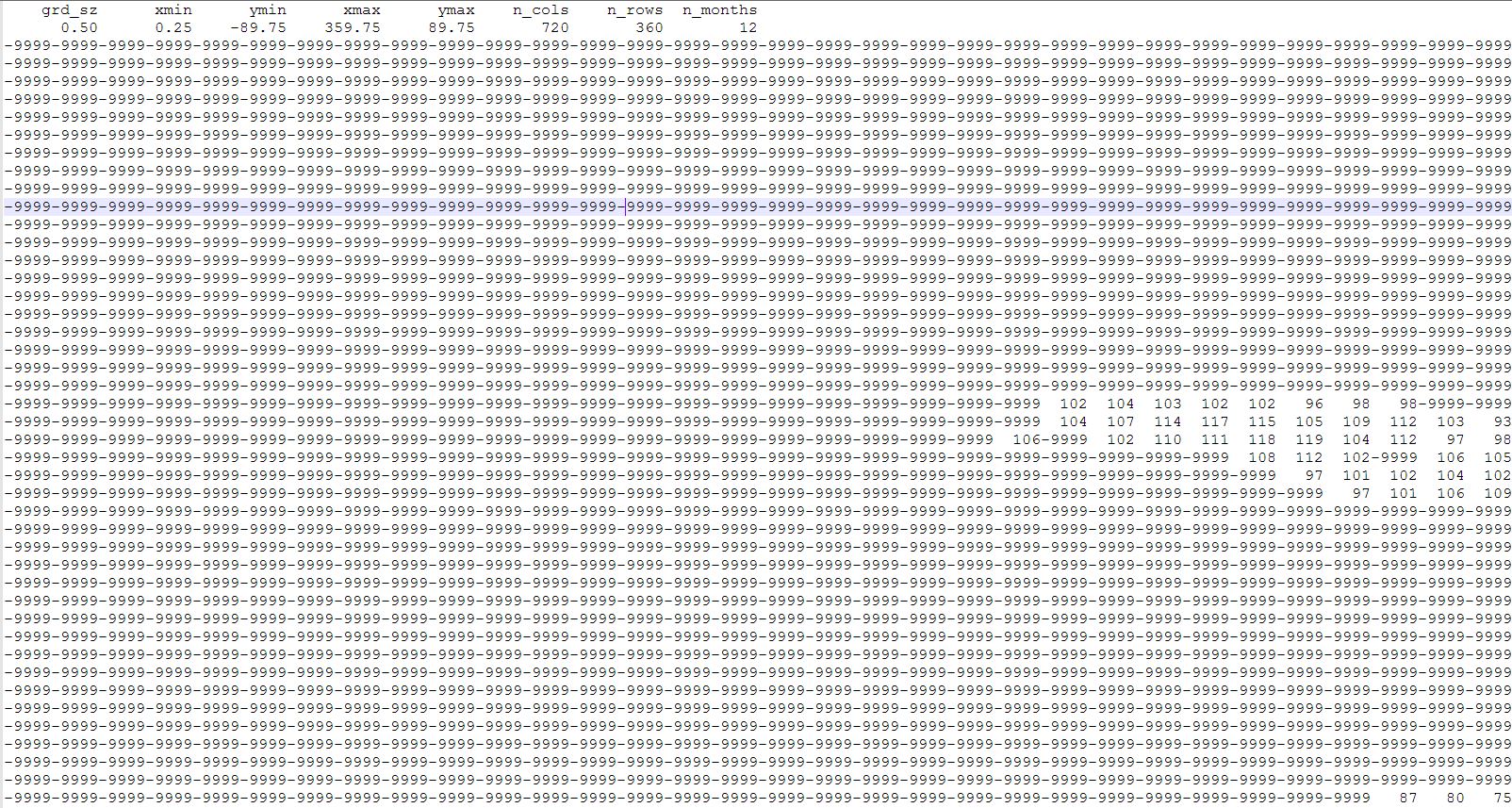 1 Solution
Highlighted

by
XanderBakker
Esri Esteemed Contributor
Mark as New

Bookmark

Subscribe

Mute

Email to a Friend
Hi Suzie Milner ,
Find attached a ZIP with the 12 rasters (ASCII grid format) created with the script posted earlier.
If this answers your question, could you mark the post with the correct answer as such?
Kind regards, Xander
13 Replies