Teaching Spatial Data Science with ArcGIS Notebooks Webinar
Published on
‎03-21-2023
09:40 AM
by
RosemaryBoone

|
Updated on
‎04-06-2023
11:44 AM
Scripting and modeling are key components in a spatial data science framework, and they are core capabilities to teach in data science related courses. ArcGIS Notebooks allows you to work with Python code and spatial data within the ArcGIS system[to avoid confusion with "ArcGIS Platform"]. It has features such as Jupyter notebooks, ArcGIS API for Python and ArcPy libraries, and machine learning capabilities combined, making it a powerful tool for teaching spatial data science.

Join this webinar, Teaching Spatial Data Science with ArcGIS Notebooks, on May 4 at 10:00 a.m. (PT) to
Learn the options for ArcGIS Notebooks and how to use the software as a tool for teaching Python scripting courses.
Discover best practices to manage your course contents with ArcGIS Notebooks.
Get resources to start using ArcGIS Notebooks for your teaching.
Webinar presenters you can look forward to hearing from:
Song Gao - Associate Professor, Department of Geography, University of Wisconsin-Madison
Nicholas Giner, Product Manager – Analytics and Data Science
Lingtao Xie, Product Engineer – ArcGIS Notebooks
Canserina Kurnia, Sr Solution Engineer, Education team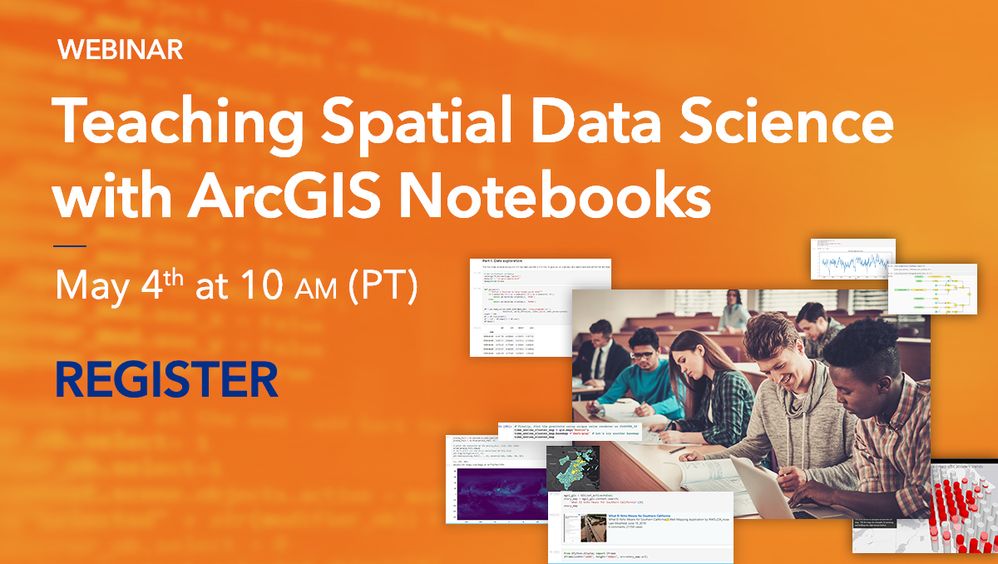 ---
Featured Guests

CanserinaKurnia

Esri Contributor
---
Event has ended
You can no longer attend this event.
Start:
Thu, May 4, 2023 10:00 AM PDT
End:
Thu, May 4, 2023 11:00 AM PDT
0 Comments