Higher Ed Webinar - GIS in Urban Planning: A Panel Discussion with Higher Education Faculty
Published on
‎02-17-2021
11:48 AM
by
RosemaryBoone

|
Updated on
‎02-17-2021
12:31 PM
Planners help create sustainable, vibrant communities where issues related to climate change, inequity, and transportation are uncovered and solved. GIS exposes the complex dynamics at play in the built, social, and natural worlds and provides a framework to conduct analysis, visualize scenarios, and present information.

Register for the upcoming webinar on Wednesday, February 24, at 10:00 a.m. (PST) to hear from a panel discussion of higher education faculty on:
Using GIS as a key component in curriculum
Understanding the value of GIS in a planning degree program
Updates to ArcGIS Urban and ArcGIS Hub
Panelists you can look forward to hearing from:
Dottie Ives Dewey, Ph.D., Professor of Planning, Department of Geography and Planning, West Chester University
Shin Kue Ryu, Ph.D., Assistant Professor, Department of Political Science, Idaho State University
James Sipes, Lecturer in Geodesign, Department of Landscape Architecture, Penn State University
Dan Meehan, Geodesign Program Manager, Stuckeman School of Architecture and Landscape Architecture, Penn State University
Register here >> https://go.esri.com/urban-planning-higher-ed-webinar
**Note** Selecting "Yes" you will be attending does not automatically register you for the webinar.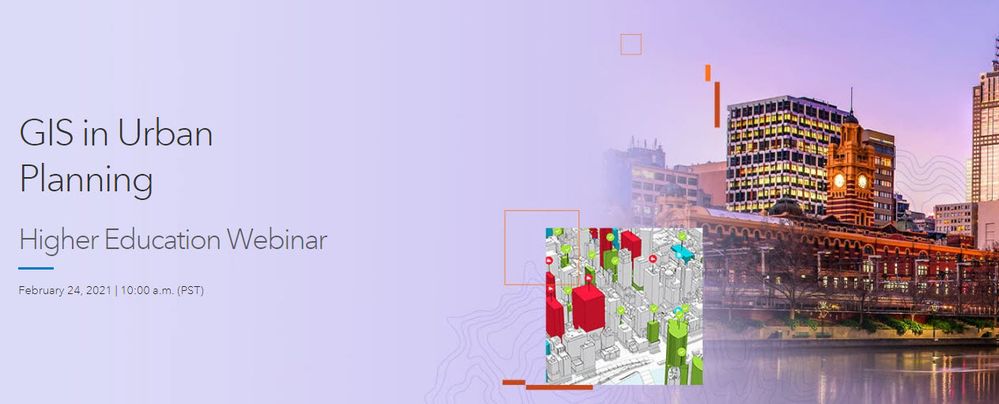 ---
Featured Guests

BrianBaldwin

Esri Contributor
---
Event has ended
You can no longer attend this event.
Start:
Wed, Feb 24, 2021 10:00 AM PST
End:
Wed, Feb 24, 2021 11:00 AM PST
0 Comments