by
JosephKerski

Esri Frequent Contributor
Mark as New

Mark as Read

Bookmark

Subscribe

Email to a Friend
A few years ago, I walked on the pier at Manitowoc, Wisconsin, and after mapping my route, reflected on issues of resolution of scale in this blog. After recording my track on my smartphone in an application called RunKeeper, it appeared on the map as though I had been walking on the water! This, of course, was because the basemap did not show the pier. Recently, following the annual meeting of the Association of American Geographers, I had the opportunity to retrace my steps and revisit my study. What has changed in the past 2 1/2 years? Much.
As shown below, the basemap used by RunKeeper has vastly improved in that short amount of time. The pier is now on the map, and note the other difference between the new map and the one from 2012 below it–schools, trails, contour lines, and other features are now available. A 3-D profile is available now as well. Why? The continued improvement of maps and geospatial data from local, regional, federal, and international government agencies plays a role. We have a plethora of data sources to choose from, as is evident in Dr Karen Payne's list of geospatial data and the development of Esri's Living Atlas of the World. The variety and resolution of base maps in ArcGIS Online continues to expand and improve at an rapid pace. Equally significant, and some might argue more significant, is the role that crowdsourcing is having on the improvement of maps and services (such as traffic and weather feeds). In fact, even in this example, note the "improve this map" text that appears in the lower right of the map, allowing everyday fitness app users the ability to submit changes that will be reviewed and added to RunKeeper's basemap.
What does all of this mean for the educator and student using geospatial technologies? Maps are improving due to efforts by government agencies, nonprofit organizations, academia, private companies, and the ordinary citizen. Yet, scale and resolution still matter. Critically thinking about data and where it comes from still matters. Fieldwork with ordinary apps can serve as an effective teaching technique. It is indeed an exciting time to be in the field of geotechnologies.
My walk on the north pier at Manitowoc, Wisconsin.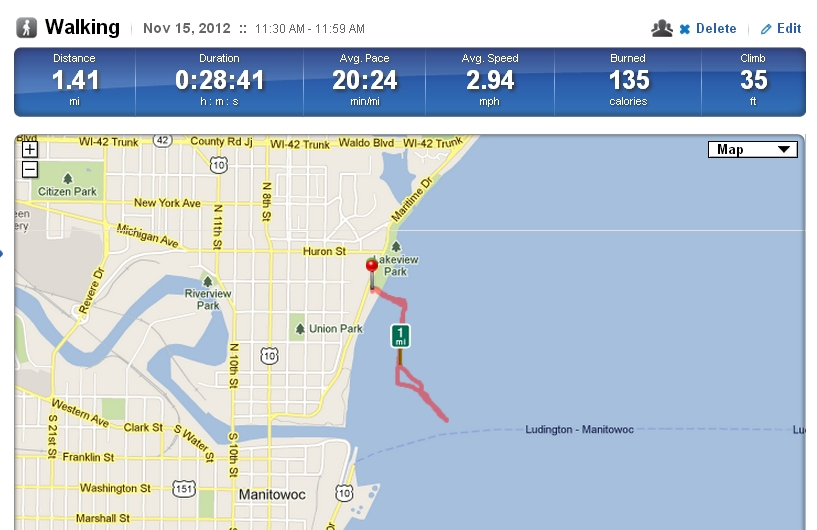 From my track, it looks like I am walking on the water!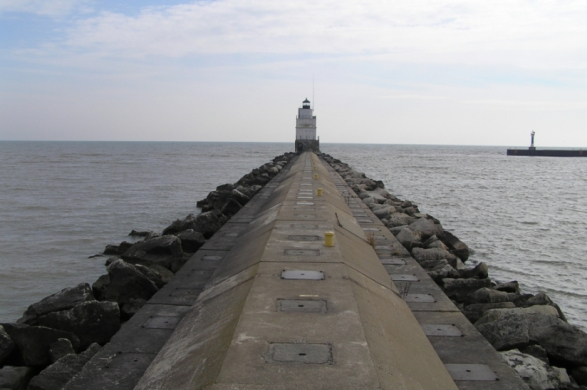 The pier that I was actually walking on.
You must be a registered user to add a comment. If you've already registered, sign in. Otherwise, register and sign in.