by
JosephKerski

Esri Frequent Contributor
Mark as New

Mark as Read

Bookmark

Subscribe

Email to a Friend
I recently gave presentations at the University of Wisconsin Milwaukee for
GIS Day
, and took the opportunity, as most geographers would, to get out onto the landscape. I walked on the Lake Michigan pier at Manitowoc, enjoying a stroll in the brisk wind to and from the lighthouse there, recording my track on my smartphone in an application called Runkeeper. When my track had finished and been mapped, it appeared as though I had been walking on the water!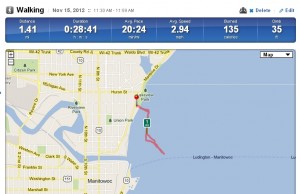 Map of my walk from Runkeeper.com.
Photograph of my destination: The lighthouse at the North Pier, Manitowoc, Wisconsin.
According to my map, I walked on water. Funny, but I don't recall even getting wet! It all comes down to paying close attention to your data, and knowing its sources. Showing these images provides a teachable moment in a larger discussion on the importance of scale and resolution in any project involving maps or GIS. In my case, even if I scrolled in to a larger scale, the pier did not appear on the Runkeeper's application's base map. It does, however, appear in the base map in
ArcGIS Online
. In the book that Jill Clark and I wrote entitled
The GIS Guide to Public Domain Data,
we discuss how scale and resolution can be conceptualized and put into practice in both the raster and vector worlds. We cite examples where neglecting these important concepts have led not only to bad decisions, but have cost people their property and even their lives. Today, while GIS tools allow us to instantly zoom to a large scale, the data being examined might have been collected at a much smaller scale. Much caution therefore needs to be used when making decisions when the analysis scale is larger than the collection scale.
What example have you used in class that well illustrates the importance of scale and resolution?
- Joseph Kerski, Esri Education Manager
You must be a registered user to add a comment. If you've already registered, sign in. Otherwise, register and sign in.