Mark as New

Mark as Read

Bookmark

Subscribe

Email to a Friend
What is a GIS Club Kit? Who uses it? GIS Club Kits began in March 2020 as a direct response to the COVID-19 pandemic as a solution for parents who homeschool their children and youth serving programs to use Esri's GIS technology WITHOUT activating a Schools Mapping Software Bundle so you are able to access logins, activities, and instruction from a managed organization account.
The Kits are a small set of pre-configured logins, using no personal identifiable information (PII) – with the exception of the requestor, for adults and youth in a short-term group, with an Org that is managed by Esri. This allows for the use of GIS in homeschooling or youth-serving programs.
The GIS Club Kits allow for up to 9 adult accounts and 99 youth accounts to be added in total and is managed inside the K12 ArcGIS Online Org. You are not an administrator of the account, which allows for educators and parents to have the freedom from managing the account – and make time for more precious teaching!
There is one requirement in order to utilize the Kits: you must be a parent, guardian, or educator who homeschools or is assisting in youth serving programs within the United States. Only adults in the United States are able to request this at the present time. The purpose of the Kits is similar to that of the School Mapping Software Bundle, where the program allows for just instruction in K12 for students. However – no private, personal, commercial or administrative use.
One additional positive is that GIS Club Kits are - F R E E.
What does it come with?
The GIS Club Kits give you access to a suite of Esri technology. The technology software that you have access to includes: Map Viewer including analysis functions, plus Scene Viewer, configurable web apps, ArcGIS Survey123, ArcGIS Field Maps, ArcGIS QuickCapture, ArcGIS StoryMaps, ArcGIS Dashboard, ArcGIS Community Analyst, and ArcGIS Business Analyst. Users can create and save content and choose to share within their group for the limited duration of the project.
The Kits are great for folks looking to utilize Esri technology for short-term projects that require few logins. Kits are also ideal for those not wanting to manage an entire Org for just a simple + quick project where the content does not need to be permanent.
How to get started?
Request access to a GIS Club Kit by filling out this form which will route it to be reviewed by the Esri Education Team. Once approved, you and your students are able to immediately gain access to ArcGIS Online and begin your GIS and mapping projects. Such projects can range anywhere from analyzing community data in your neighborhood using ArcGIS Community Analyst, tracking cookies sales, collecting signs of Spring, or testing creativity using an interactive narrative map with ArcGIS StoryMaps! For more ideas on GIS projects and tutorials, view Mapping Hour videos.
It is important for students to understand how we use geospatial thinking in our daily lives, it lives everywhere! In the way we organize our bedrooms or desks, to finding spaces to stuff away the clutter – geospatial thinking is a skill most already know but do not realize or may not take full advantage of. Explore these story map activities to encourage geospatial thinking and improve geo-literacy.
"Like Tetris, we are taught to manipulate shapes in our minds. This is the same kind of thinking as things in space and how they fit together and relate to each other. Maps help us learn that way of thinking!"
-Kylie Donia, Esri Education Industry Specialist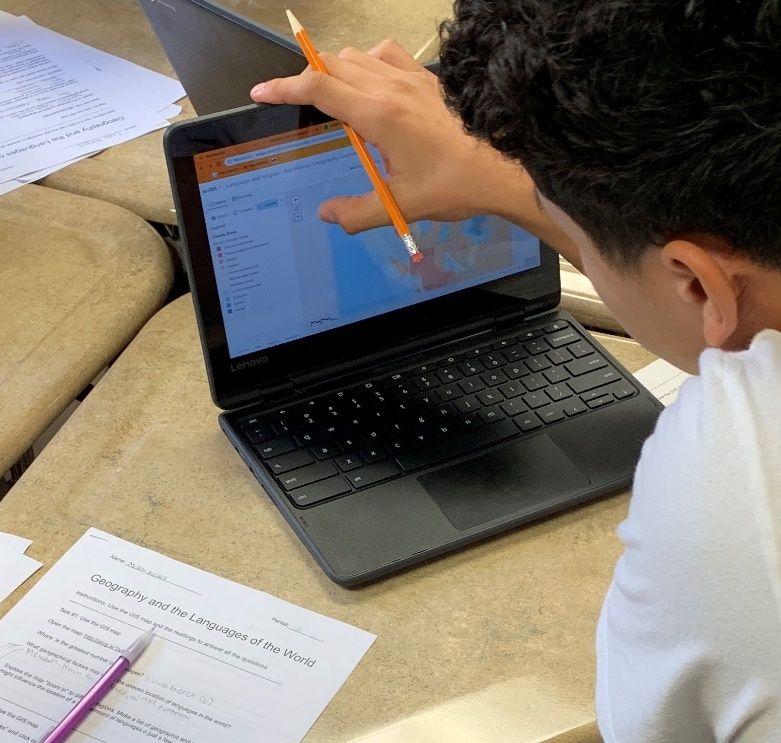 Overall, the GIS Club Kit is designed to help parents / guardians, or educators who homeschool or participate in youth serving programs looking for a quick, and free solution to assist in teaching geospatial thinking to their learners. Using GIS in school instruction helps to teach our students the importance of geography, which they use already from re-organizing their bedrooms to coloring in-between the lines! The earlier the better, as these skills can help in understanding our world geographically in the years to come.
For questions, email k12schools@esri.com.
You must be a registered user to add a comment. If you've already registered, sign in. Otherwise, register and sign in.