by
JosephKerski
Esri Frequent Contributor
Mark as New

Mark as Read

Bookmark

Subscribe

Email to a Friend
When I visited Mark Guizlo, Professor in the Department of Geography and Geospatial Technology at Lakeland Community College Ohio and his colleagues not long ago, I was very impressed at what the faculty and students are doing with geospatial technologies. Recently, Mark was asked by the college president to write the weekly Lakeland "Musings" newsletter. Mark did so, focusing on a student project and Story Map that was featured on GIS Day to a packed auditorium for a presentation by Kurt Lieber of the Ocean Defenders Alliance. Several things stand out to me about the story map and article below: (1) This was the professor and the students' first work with story maps, and yet the map is rigorous and communicates their research well; (2) the students in this course haven't been using GIS all that long, and yet it shows why GIS is an appropriate research tool; (3) this is the perfect illustration of the important work that community colleges are doing with GIS, research, and communications; (4) the fact that the work incorporates fieldwork (in this case, wet field work; that is, in the water!) is something near and dear to my heart as a geographer.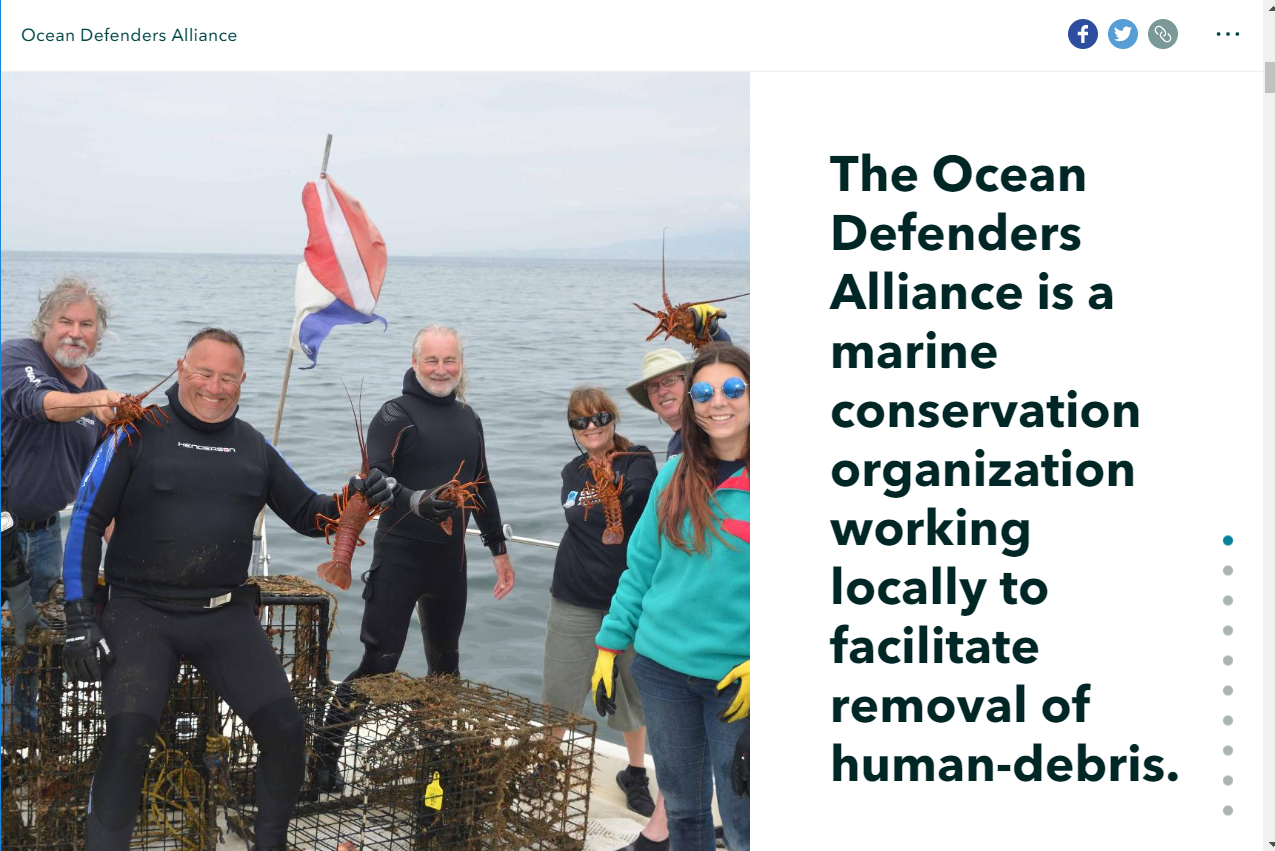 Ocean Defenders story map.
Mark writes, "Kurt Lieber got sick and tired of letting ghost gear ruin his dives off the coast of Southern California. Ghost gear consists of abandoned fishing gear and traps that accumulate in some of the most diverse, fragile, and beautiful marine ecosystems. He wanted to help clean up ocean waste, so he joined the Sea Sheppard Foundation in the 1990s, then went on to found Ocean Defender's Alliance (ODA) in 2002. ODA depends on donors and grants to run expensive boats and pay for the equipment needed to remove abandoned fishing gear from coastal waters in California and Hawaii. They also clean up beaches. In Hawaii, mounds of trash routinely wash up on beaches from the giant central Pacific garbage gyre.
Kurt spoke at Lakeland's GIS Day on Wednesday, November 13. A native of Northeast Ohio, he told stories of swimming through dead fish, garbage, chemicals, and debris as a Timberlake teenager in the late 1960s and early 1970s. Kurt threw himself into the marine conservation effort when he moved to California to pursue his work as an engineer and his passion for diving.
ODA has collected data for every dive and cleanup event from 2002 to the present, and Kurt sent the spreadsheet just a few weeks ago. It was messy. The spreadsheet contained coordinates for their activities for hundreds of dives and some beach cleanups, but it needed a lot of work to prep it for mapping. In other words, it was data from the real world, and not the perfectly tuned data we often use with GIS tutorial manuals. The ODA data was rough, poorly behaved, with a vague whiff of abandoned lobster traps. It needed a cup of coffee and a good shave. This was far from the normal experience of our introductory GIS students in GEOG 1700, where the data they encounter just got dressed up to take grandma to church and sits quietly waiting for instructions.
The students looked concerned reviewing the data in class. I proposed that we throw out the original plan (you know, the project in the syllabus) and map the ODA data before GIS Day. Their reactions ranged from keen interest to outright fear.
They had a lot of questions. I didn't have a lot of answers. I proposed that we would make a Story Map for their project, and with confidence said "this ODA project is perfect for a story map." I didn't tell them I had never made a story map myself. Sometimes, what doesn't get us fired makes us stronger. We would figure it out later.
Kurt Lieber joined us in class by video link and we planned the project together. I helped the students divide tasks, and they prepped the data. With about 48 hours remaining before GIS Day, the students mapped and created their story map. It was good enough to show on GIS Day.
After Kurt spoke at GIS Day, the students did a great job of presenting their story map with no preparation or even prior warning that they would be on stage. They are Melissa Dopriak, Mason Kirchner, and Josh Lupas, and Ben Sulecki.
Most people think GIS Day is about technology. Sure, there is a lot of technology present, but that isn't really why we do this annual event. GIS Day is just like the field it represents - it is about people and their ideas, demonstrated through mapping technologies. We seek to build communities of practice that translate creativity, experience, and knowledge into solutions for humanity. In academic terms, we don't think of the geospatial technology program as a "tech program." It is in a department that is unique for Lakeland – the Geography and Geospatial Technology Department has a split personality, and it was designed that way on purpose. The traditional liberal arts and sciences meet up with the mapping sciences and technologies. We engage in the study of places, society, and the earth's environment, and do it through a highly sophisticated set of technological tools. Those tools change constantly, and the key survival skill is thinking and adaptation, rather than just technological mastery. Students are expected to develop a sense of lifelong learning as part of their bridge from being "student" to being employed. I am convinced that we cannot do that without both the general education and the technological sides of our department.
GIS Day is a worldwide celebration of mapping technologies, made possible at Lakeland because of support from the college and the participation of a large number of GIS Professionals. Our Geospatial Program Assistant and Part Time Faculty, Lisa Stanich, organizes GIS Day. Associate Professor Bobby Oliver manages the student volunteers who run hands-on mapping activities with real-world live data. One the best things about GIS Day is that our graduates come back as GIS Professionals to represent their employers and engage in conversations with the students who are just starting out. I can't imagine a better way to celebrate GIS Day than that."
Thank you Mark! Kudos to you and your students for the inspiring work you and they are doing! --Joseph Kerski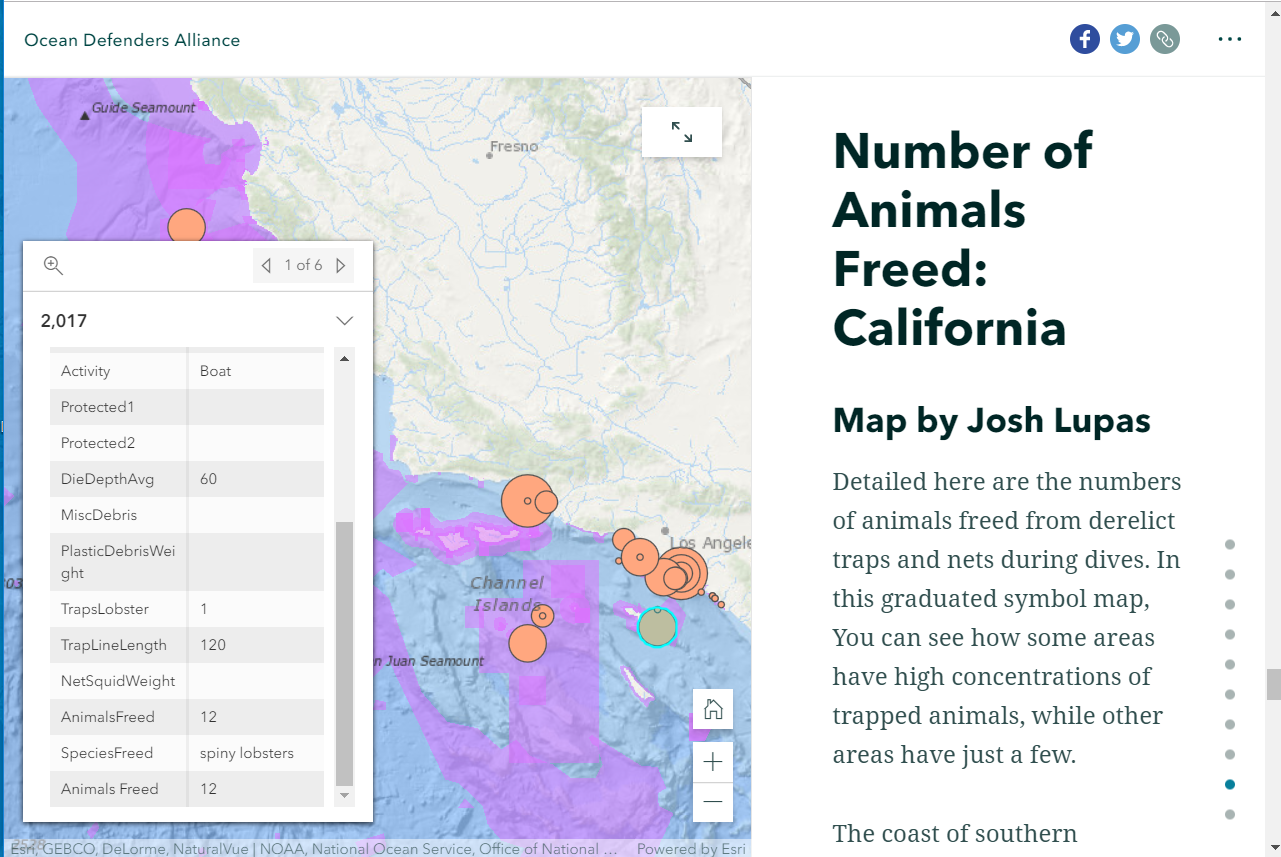 One of the sections of the ocean themed story map showing the number of and types of species freed from traps and nets.
You must be a registered user to add a comment. If you've already registered, sign in. Otherwise, register and sign in.