by
AngelaLee

Esri Contributor
Mark as New

Mark as Read

Bookmark

Subscribe

Email to a Friend
As more disciplines recognize the value of GIS in research and learning, more educators and students are recognizing the value of libraries in supporting GIS across their institutions. The evolution of GIS from complex desktop systems to simple web maps and apps lowered barriers to mapping and spatial analysis and raised demands for training and support. In many institutions, those increased demands are met by GIS librarians.
Why are librarians and others working in academic libraries great partners for supporting GIS education?
The mission of academic libraries is to support curriculum and research within the institution. Their goals are aligned with educators' and students' goals. Through collaboration, everyone can accomplish more without working more.
Libraries play a crucial role in cultivating information literacy, including data literacy. These foundational skills apply to all disciplines. The skills gained through library workshops in finding and evaluating information will pay dividends in your courses because you won't need to cover that material.
Libraries typically have a mandate to serve all students, faculty, and staff and therefore aren't in direct competition with academic departments for majors. They often occupy a central position in the administration and have stable funding.
Because they are centrally positioned and serve multiple disciplines, libraries have broad subject matter expertise and can draw on extensive networks when highly specialized expertise is required.
Librarians typically have a "customer service" mindset and want to help others succeed. Great librarians combine curiosity with strong interpersonal skills and find satisfaction from both addressing the intellectual issue and supporting the patron's need.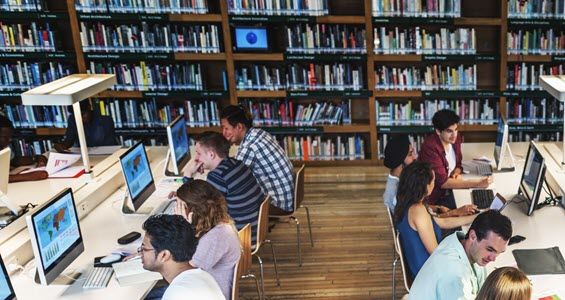 Academic libraries provide a range of GIS support services that vary by the size of institution, the knowledge/skills of library staff, and the nature of GIS activities elsewhere on campus. The following section outlines types of GIS services often provided by libraries, along with links to exemplary institutions.
Data management. Collections traditionally have been the core of any library, although the nature of collections has evolved with the rise of digital information. Libraries increasingly manage access to networks of web services rather than build on-premises collections. Examples of such geo-portals include:
Research consultation. Through research consultations, GIS librarians provide one-on-one help for research projects to faculty and students. In some cases, particularly in institutions without a department of Geography, these consultations serve as an introduction to GIS and spatial analysis. Examples of institutions with robust GIS research support are:
Instruction. GIS instruction in libraries can take many forms, including workshops offered by library staff, guest lectures in courses, or co-teaching with a librarian embedded in a semester-long course. Most academic libraries also offer access to self-study learning resources, such as tutorials, videos, web courses or software workbooks. Examples of library-based instruction include:
Community and communication. Because of their centrality in the information infrastructure and mandate to serve all, libraries are well positioned to coordinate communication and community-building activities related to GIS. LibGuides are a common tool for providing information about available resources and services. Many libraries also host events to showcase GIS-based research projects as both a way to celebrate the accomplishments of scholars and a way to draw others in to learn about available GIS services. Examples of research project posters can be found at:
If you're intrigued about the opportunities for collaboration with your library, reach out to the subject specialist for maps, GIS or data services. Not all libraries will have a GIS Librarian per se, but most will have a Data Services Librarian or Data Services unit that works with GIS and geospatial data. You can also consult the Online Guide to U.S. Map Collections created by the Maps & Geospatial Information Round Table of the American Library Association.
You must be a registered user to add a comment. If you've already registered, sign in. Otherwise, register and sign in.