by
GeriMiller

Esri Regular Contributor
Mark as New

Mark as Read

Bookmark

Subscribe

Email to a Friend
There are multiple ways of how we communicate with one another and work together as a community. Yes, virtual and in-person meetings and events continue to be integral part of this collaboration. Email blasts and newsletters continue to be a preferred method as well.
Another strong, yet underutilized, method to communicate information and collaborate, is the Esri Community, particularly our Education Community and Education Blog.
As an Education team at Esri, we do share a lot of information about education program changes, product updates, educational resources, events, and many other education-related matters via this blog. We strongly encourage discussions via this community also – you can contribute.
If you are wondering questions such as "What was updated in the most recent release of ArcGIS Online", or "What Educational Resources are available for Climate Action", "How are colleague transitioning to Modern GIS practices in teaching", or "Sunsetting ArcMap: What to Expect in the Education Programs", you can find this information on the Education blog, and comment/ask additional questions.
Please do subscribe to this Education blog, which will ensure you get immediate feeds of news and postings. The way to do so is by clicking the "Subscribe to This Board" in upper right corner. Subscribing to a board will automatically alert you via email when a new blog is posted making valuable content available to you immediately.

In addition, please tweak the Notification Settings under My Settings --> Subscriptions & Notifications, to allow push and email notifications, or as desired.

The use of Labels could be an effective way to filter the stream of information to your desired topic of discussion.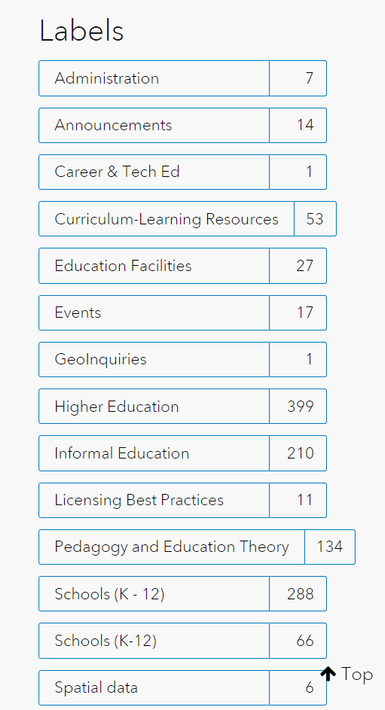 Note: Subscribers did not carry over from the old GeoNet platform. Even if you had these settings before, you will have to re-enable them on the new Esri Community.
Let us know what else we can do to help bring this community together, short of scheduling even more virtual meetings. We are proud to share that of all other Esri industry communities, Education has strongest presence – please let's leverage this to its fullest extent.
Your feedback as always is greatly appreciated.
You must be a registered user to add a comment. If you've already registered, sign in. Otherwise, register and sign in.