by
JosephKerski

Esri Frequent Contributor
Mark as New

Mark as Read

Bookmark

Subscribe

Email to a Friend
Introduction
SENCER (Science Education for New Civic Engagements and Responsibilities), the signature initiative of the National Center for Science & Civic Engagement, is a national project focused on empowering faculty and improving STEM (Science Technology Engineering and Mathematics) teaching and learning by making connections to civic issues. As someone who admires and respects the tenets of the SENCER network, I was honored to recently accept the invitation of the organizers of one of the conferences that SENCER sponsors.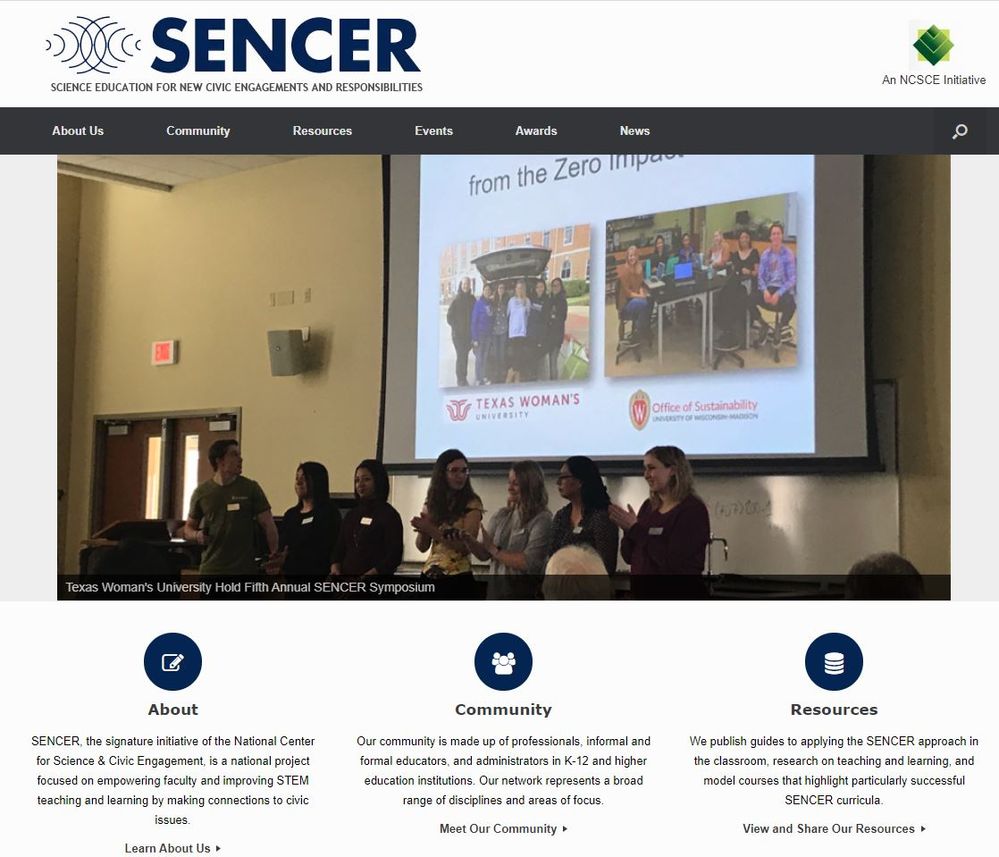 SENCER--Science Education for New Civic Engagements and Responsibilities
Science at Esri
Science is fundamental to the work that my organization, Esri, was founded on back in 1969 and it continues to guide our day to day work. We work closely with weather and climate science, ocean science, solid earth science, geographic information science, and social science communities. Esri currently leverages and contributes to over 200 open-source projects while delivering over 350 open-source projects of its own. In fact, our Chief Scientist, Dr Dawn Wright, explains that "Science underpins everything that Esri produces. We're very excited about all the things that we're doing across all of the environmental sciences. This is embedded in what we do, to strengthen the foundation of our software and services; to research, publish, communicate, and serve alongside the scientific community; and to inspire positive change in society." These statements are aligned closely with the SENCER goals of communication and empowering students and faculty to be change agents.
Connecting GIS to Science Narratives
I firmly believe that the spatial and critical thinking and problem solving that the use of Geographic Information Systems (GIS) fosters is very well aligned with science research and teaching. I also believe that the web mapping applications such as story maps, as well as dashboards, infographics, and interactive maps that students and faculty can create with GIS is well aligned with communication in science, or, said another way, science narratives.
As the conference theme stated, "As scientists, science educators, and science communicators, we employ narrative in a variety of ways to shape the stories we tell about our work. Narrative can be a powerful way to connect the public to the work that we do. For more, see this recent article from the Chronicle from Higher Education discussing the need for civic education intertwined with science education. The presenters at the virtual SENCER conference focused on the many ways that they use narrative to teach science and engage the public. Over 100 participants from all over the USA and abroad spent some glorious and fruitful hours networking and learning from each other.
My keynote presentation, which I delivered as a story map, is entitled Spatial Research and Communications: Using geotechnologies to solve problems and foster dialogue. I showed examples of how web GIS tools such as ArcGIS Online, ArcGIS Insights, ArcGIS Pro, the 3D scene viewer, and others can be combined with spatial data to tell compelling stories about key 21st Century issues. But even more importantly than showing tools and ways to use them, my main message was that scientific phenomena, trends, and patterns are often spatial, and hence, maps and GIS are the perfect tools to highlight those spatial patterns, to understand the whys of where. I showed how visualizations empowered by smart mapping technologies, citizen scientists, spatial statistics, and 3D tools move us from mapping "what is there" to "what should be there". Telling stories through maps is powerful, inviting people to take action--about land use, health, habitat, and other key issues.
Dozens of SENCER practitioners gave compelling presentations about innovative use of tools, data, and approaches on a wide variety of topics ranging from climate change, health and sustainability, atoms in art and culture, citizen science, concept sketching, microbial communities, urban trees, animal behavior, and even "broadening the science storytelling toolkit with quilts!" Yes, quilts! The other keynote presenter was Jeffrey Perkel, Technology Editor for Nature magazine. For the full program, my keynote, and all recordings from the presentations, see this link [ncsce.wildapricot.org]. I especially appreciated the collaboration and support from St. Johns University, Paula Lazrus and Alison Hyslop, and the others for inviting me and who helped make it a success.
The Science Narrative Movement
While the conference was wonderful and a joy to be a part of, what excites me most is the movement that the conference represents--the idea of "science narratives." Science narratives brings together, as the event above well illustrates, people from a wide diversity of backgrounds and expertise--from A to Z, literally, anthropology to zoology, and most every discipline in between. And these people come from multiple parts of the world and from levels of education, filling many roles--primary, secondary, university, community college, educators, researchers, administrators, and others.
Our present day and time sees an incredible need for holistic and scientific thinking, for open data portals, for rigorous and accessible tools such as geotechnologies, for the research and teaching community to band together, and for clear communications. As through my presentation at this event I sought to illustrate, GIS tools, spatial data, lessons and tutorials, and a community of practitioners exists for you also to become a "science narrator" and to encourage your students to do the same.

Take Action
How are you using maps and visualizations to tell the story about the work you are doing in science? How are you using GIS to encourage your students to do so? I encourage you to comment below.
You must be a registered user to add a comment. If you've already registered, sign in. Otherwise, register and sign in.