by
JosephKerski

Esri Frequent Contributor
Mark as New

Mark as Read

Bookmark

Subscribe

Email to a Friend
GeoInspirations is my column in Directions Magazine where we are sharing the stories of innovative people for the purpose of inspiring Directions readers to pursue their own dreams. In the column, I interview some people who have changed the face of the geospatial industry, shining a light on the importance of geography. It is my hope and the hope of Directions Magazine that you are inspired to make a difference in your corner of the world. I also hope that as you read these very diverse stories, you are encouraged to dream big and think outside the box.
These interviews are published as articles, and increasingly over the past year, as podcasts. They are published every few months and the archive is always available, stretching back over five years.
The column has featured people of a variety of backgrounds, interests, ages, and skills. Ashok and Ishu Wadwani successfully started their own geospatial business and keenly supported educational outreach as business owners and managers. Dr Lesley-Ann Dupigny Giroux is the climatologist for the state of Vermont, professor at the University of Vermont, and is an active leader in the K-12 education community. Madison Vorva is a student at Pomona College who has been working since age 11 as a "voice for change" in the areas of environmental science and deforestation. Robert Saveland is a lifelong learner, war hero, and geography educator. Dorothy Drummond is a writer, traveler, and educator. Grant Ian Thrall's work has been bridging the fields of economics, business, and geography. Bob Dulli has influenced thousands of geography educators through his work at National Geographic Education. Michelle Ellington is a facilities manager at the University of Kentucky, using GIS to make the entire campus safer and more sustainable. Jasmine Du is developing the next generation GIS tools from an R&D Center in Beijing.
You can use this column to inspire your students, and to encourage them to think about the types of career pathways that are possible. What sort of risks did these people take in their careers? How did mentors help them along the way? If you know someone that should be highlighted as a GeoInspiration in this column, please let me or the Directions editors know at jkerski @ esri.com or editors @ directionsmag.com.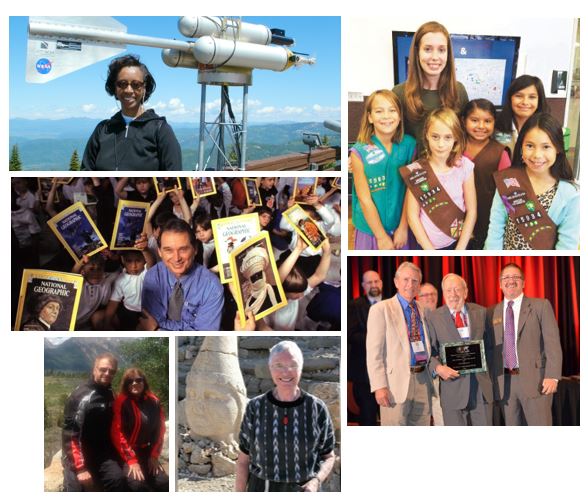 Some of the GeoInspirations who have been featured in Directions Magazine. Clockwise from top left: Lesley-Ann Dupigny-Giroux, Madison Vorva, Robert Saveland, Dorothy Drummond, Grant Ian Thrall, and Bob Dulli.
You must be a registered user to add a comment. If you've already registered, sign in. Otherwise, register and sign in.