Mark as New

Mark as Read

Bookmark

Subscribe
"It is far more impressive doing powerful work with modest tech than doing modest work with powerful tech." -- Me as an 8th grade geography teacher, circa 1989.
Decades later, one of the most common questions I hear is "Can my students do GIS on just Chromebooks?" Absolutely, using ArcGIS Online. On my own basic, $250 retail, 2-year-old, off-the-shelf Chromebook, I test things all the time, and would happily teach with these.
The biggest tech constraints on K12 students in schools and homes are (a) access to a device and (b) bandwidth, not device horsepower. I have been in classrooms with 30 students on very low end Chromebooks but strong wifi who could cruise comfortably through GIS activities, while, at the same time, schools with impressive hardware but meager bandwidth could only crawl.
The magic of a Chromebook (and similar devices) is putting a capable device with a solid browser into kids' hands day after day. With bandwidth sufficient to meet the greatest demand, students can explore, create, collaborate, and build capacity at high speed, constrained far more by weak guidance, adult avoidance, and crummy connections than by the device. When adults ask how they can ensure their kids will succeed, I answer "Provide devices and bandwidth, and promote frequent use."
Below are screenshots from my Chromebook using ArcGIS Online: choosing a tool from the ArcGIS Online App Launcher, accessing GeoInquiries (classic and new Map Viewer), measuring in a combined 2D/3D web app, viewing a storymap, altering classification inside of Business Analyst, engaging analysis (buffer and layer enrichment) in a geoprocessing exercise in Map Viewer. My process was impeded only by my own diversions and indecision, not by the device.
Kids demonstrate constantly that they can do GIS with a Chromebook, if given access, encouragement, and bandwidth. Esri provides to K12 schools, for free for instruction, a remarkable bundle of software including logins so students and teachers alike can create, save, and share. And if logins are just not desired, we still provide an enormous raft of capacity for free with no login required.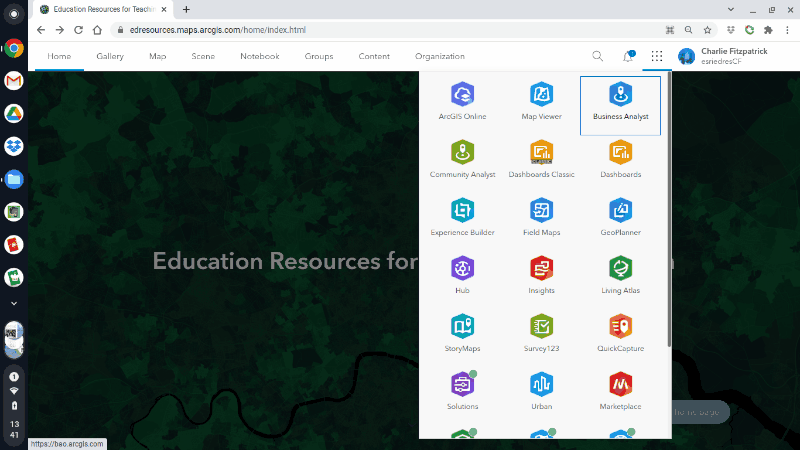 1 Comment
You must be a registered user to add a comment. If you've already registered, sign in. Otherwise, register and sign in.