Mark as New

Mark as Read

Bookmark

Subscribe

Email to a Friend
On opening day of Esri's 2010 User Conference, two high school seniors stepped on stage to present … sporting helmets with headlamps. Ernie Cottle and Tia Bakker, recent graduates from Bigfork High School in Montana, told the story of the Bigfork High School Cave Club. They had recently returned from Washington DC with teacher and club leader Hans Bodenhamer, having received the President's Environmental Youth Award. (See also the profile of Bakker.)
Cave Club had started a few years before Cottle joined in 10th grade. "Recruited for my writing skills," he laughed. Facing inner turbulence of teen years, this quiet, hard worker joined many clubs, where experiences helped him ask questions and seek answers. "I hoped I would find the one club that's going to be the thing that would identify me for the rest of my life … I never expected it to be the Cave Club." The club worked with a lot of maps, gathering data by hand underground, and making it digital with ArcMap back at school.
"All of us found something we needed in Cave Club. In high school, my dream job was journalism. People can say 'This is just a rock,' but to me it's a really exciting rock and you can see its life journey. The thing that did it for me was when we did the survey for Kicking Woman Cave, the first cave Tia and I had surveyed for cave resources. It had a 6-foot deep pile of Wood Rat feces; someone came with us there on a later trip and took a core sample and carbon dated the very bottom to 3000 years ago. There were samples from extinct tree species. This was the moment I thought 'Understanding this is more important than I could ever imagine about being a journalist.' That was the turning point in my life. Being the person who 'did the thing' rather than writing about the person who 'did the thing;' that's what changed for me. I owe a lot of that to Hans; he inspired that."
After high school came a swirl of college experiences, internships, jobs, and changes. GIS tugged at him. "I started doing GIS coursework as a junior, with no training beyond my work with Hans. My first course was for PhD students, and I was the youngest, but got the highest grade, and felt I was well prepared. I ended up getting three separate bachelors degrees, in Physical Geography, Anthropology, and Geology, plus an Applied GIS certificate. I used a lot of my high school experiences in college; everything I learned with Cave Club and GIS made it easy to feel comfy in the degrees I chose. In my GIS classes, I hit the ground running and could knock out in 20 minutes a lab that was supposed to take hours. My foundation was so solid going in, I kind of became a tutor in a lot of my courses. I enjoy being a coach … that's how Hans taught us, not standing at the front and lecturing. For my entire life, I will be indebted to him."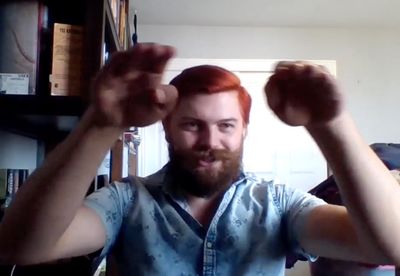 Those experiences still influence how Cottle sees the world, at work or play. Having worked at Starbucks since high school, he reached the level of a supervisor. "Understanding space the way GIS teaches it, I see that space every time I look at anything. I see everything that way -- the store, the people, the neighborhood. I've worked in five stores and can identify the good things and bad things of how each is laid out. Lots of polygons in my world. I do that when I go hiking, and I'm up high and look down, this would be a layer, and that would be a layer…" just like he started doing a dozen years earlier, underground.
And now, with COVID changing lives so dramatically? "I got offered a position as a logistics technician with the county, to orchestrate the flow of traffic and people at different mass vaccination clinics in the county." But change happens fast, and Cottle is now "a Logistics Technician Site Lead, and help make sure my site runs smoothly for patients and employees from start to finish. It's honestly been the most rewarding job I have had." Seeing patterns and relationships, mapping flows and gaps, documenting with detail to preserve the fragile … such skills have staying power.
The Bigfork Cave Club still works at bringing caves to light, mapping the extraordinarily complex 3-D spaces, to help preserve these fragile environments. And, for a second time, Bigfork Cave Club members have earned the President's Environmental Youth Award for US EPA Region 8 … first for 2009, awarded in 2010, and again for 2019, awarded in 2020.
All schools and youth clubs can engage K12 students with GIS, for free, with or without headlamps.
You must be a registered user to add a comment. If you've already registered, sign in. Otherwise, register and sign in.