by
GeriMiller

Esri Regular Contributor
Mark as New

Mark as Read

Bookmark

Subscribe

Email to a Friend
Some of the first questions about ArcGIS that students, faculty, and staff ask are: "How can I get access?", "What do I have access to?", and "Is there any support available?" Ensuring that the answers to these questions are readily available in a website makes everyone's lives easier.
For GIS administrators/license coordinators, this could be a lifeline in terms of saving time and resources. It enables self-service and reduces inquiries directed towards one person or group, in addition to providing easier and consistent support for stakeholders across the institution for ArcGIS-related work. It minimizes one-off interactions and frees up time for other tasks, enhancing the level of GIS support.
In addition, as an Education team at Esri, we often get asked the below questions directly by students and faculty:
Does my university have ArcGIS?
How do I get access to ArcGIS?

I am a faculty at X university and would like to introduce ArcGIS – how do I get access?
We would like to be able to point them to an authoritative website for your institution.
We have seen a range of websites designed to provide this information, from non-existent, to websites listing outdated software that need updating, to websites that communicate clearly what is available and how it can be accessed. Therefore, we wanted to provide recommendations for what to include in a website, along with examples from other institutions.
Main items to include:
Technology

List of available software (at least commonly used applications), along with next steps of how to access.

Services/support

Providing a link to any existing services for geospatial support, or outlining what kind of support is provided, and specifically - where to go for help.

Learning resources

Materials that could enable students, faculty, staff to self-learn and help themselves.
Technology available:
ArcGIS Online – start with cloud/SAAS offering, as it provides easy entry and increasingly advanced capabilities.
ArcGIS Pro - provide instructions on system requirements, accessing executables and login instructions, running ArcGIS Pro on MAC computers
ArcMap – we would like to shift focus away from ArcMap but do realize some people still use it.
Any other technology that will be helpful or commonly used by your stakeholders – some institutions provide direct links to ArcGIS Story Maps, for example.
Examples of institution websites: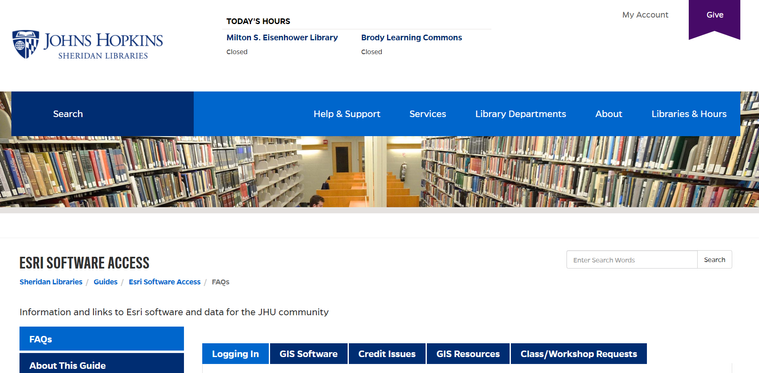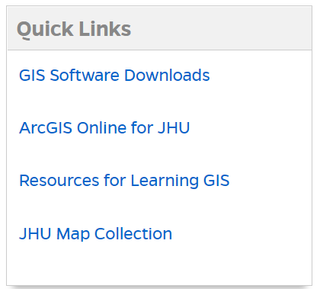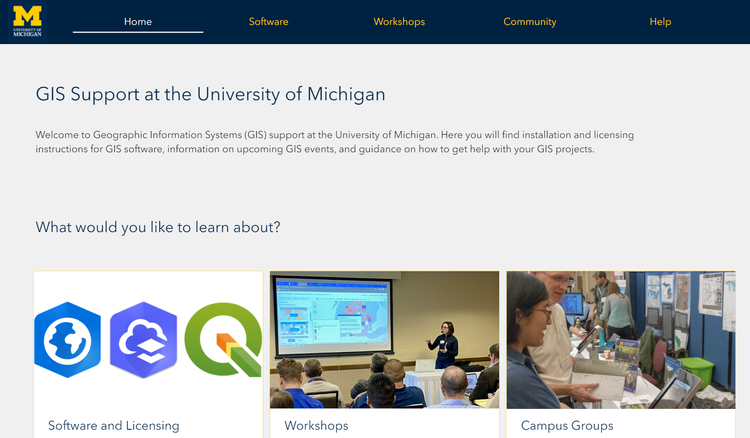 UNIVERSITY OF MINNESOTA - University of Minnesota ArcGIS Access Pages – outlining how students and employees get access, terms and conditions, available resources. Note direct Software pages, outlining what a particular tool/application is, and how to access, focus being placed on ArcGIS Online and ArcGIS Story Maps as a start, moving to ArcGIS Pro and other technologies.
PENN STATE UNIVERSITY - Penn State Software Access Pages – starting with ArcGIS Online, simple overview of technology, how to access, along with additional tabs for support, resources, etc.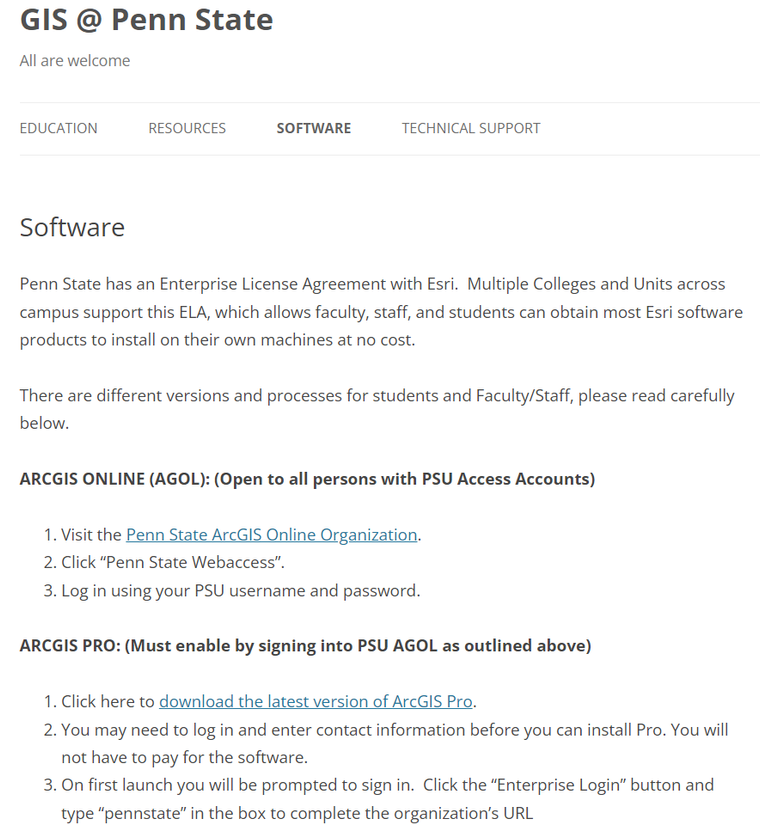 Additional item to consider is adding your ArcGIS access website to your institution's central software repository listing if they have one. Stakeholders at your institution may already be used to going to one place to find software.
We welcome any feedback to enhance this blog and help peer institutions make this information easily available in a website.
You must be a registered user to add a comment. If you've already registered, sign in. Otherwise, register and sign in.